Beaver Falls in Oregon is the perfect quick hike to an absolutely breath taking water fall.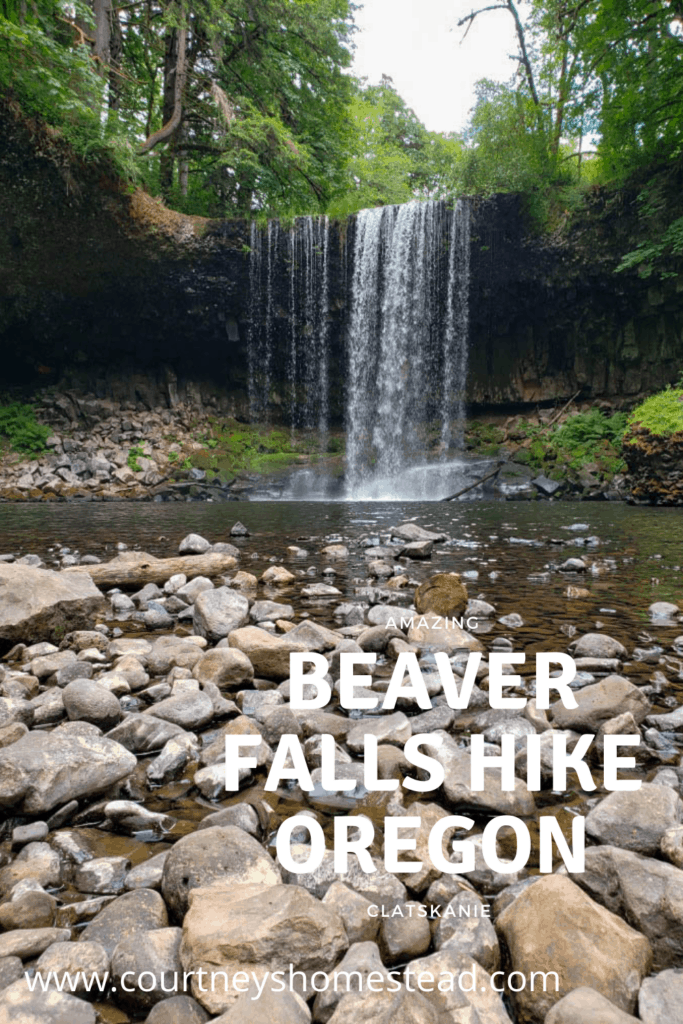 This incredible waterfall spans 40 feet of crushing water with a beautiful basalt amphitheater surrounding it and is only about 75 minutes from Portland, Oregon, or about 56 minutes from Astoria, Oregon.
This would be a great day trip from either spot. We camped in Vernonia, Oregon, and drove about 40 minutes to the trailhead.
Whatever your location start this isn't a short hike you want to miss.
Quick Beaver Falls Hike Details;
Length- 0.7 miles round trip
Kid-friendly- Yes, if you are holding small children's hands. *At your own risk
Terrain- Steep and rocky, no railing and drop off on one side
Difficulty- Easy.
Season- Open year-round.
Sun exposure- The trail itself is shaded, the falls are shaded with the sun.
Type- In and out.
Bathrooms- none.
Dog friendly- Yes.
Where is the trailhead of Beaver Falls?
When we went to Beaver Falls trailhead there was no marking what so ever.
We knew we were there because our GPS told us and there was a half circle parking pull out I'll post a picture below.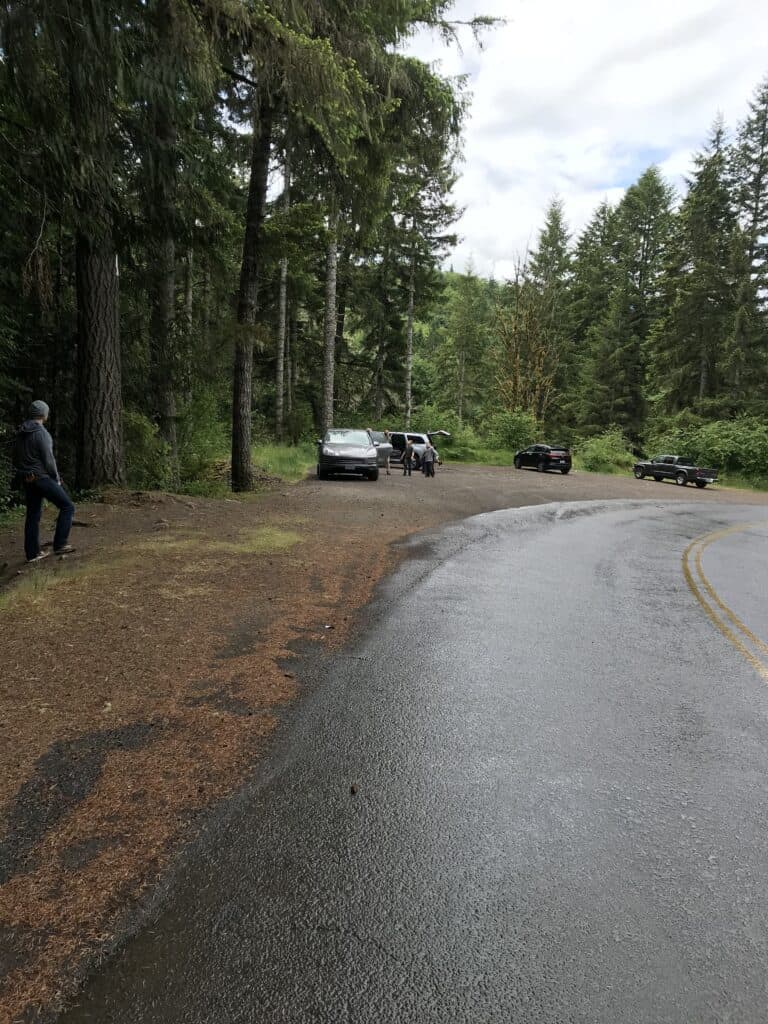 There is also no marking saying which trail is which. If you're looking at the half-circle your trailhead will be to the far left of the parking lot.
There is a large wooden post that has nothing on it where it starts, stay to the left of the trail and follow that down.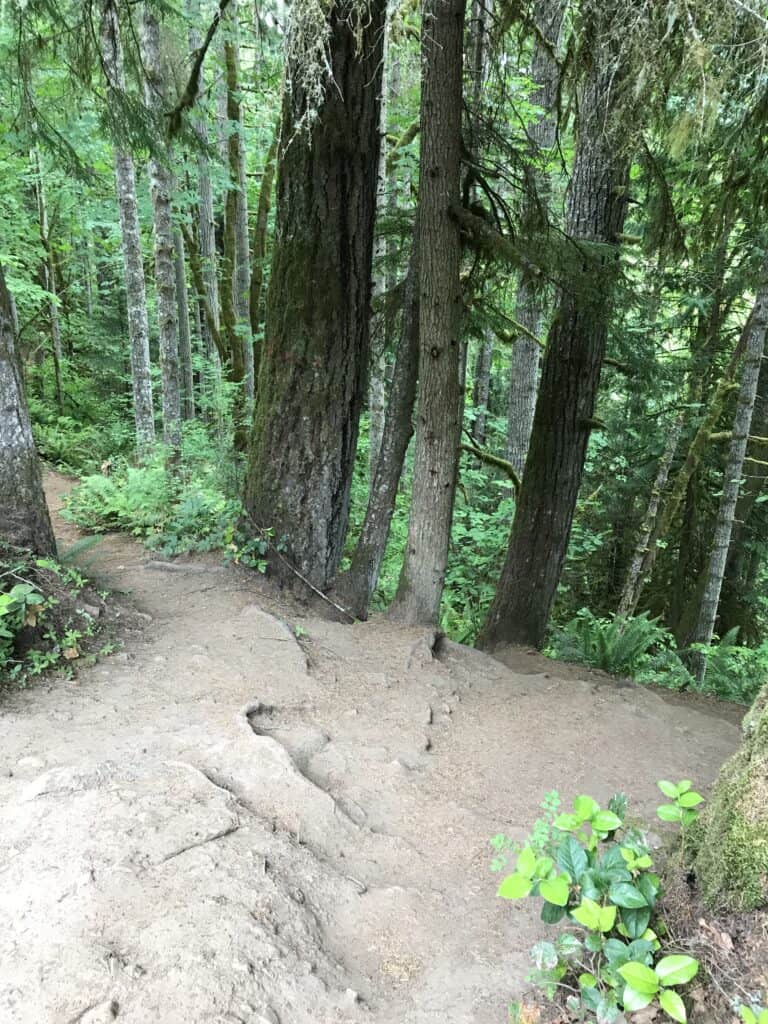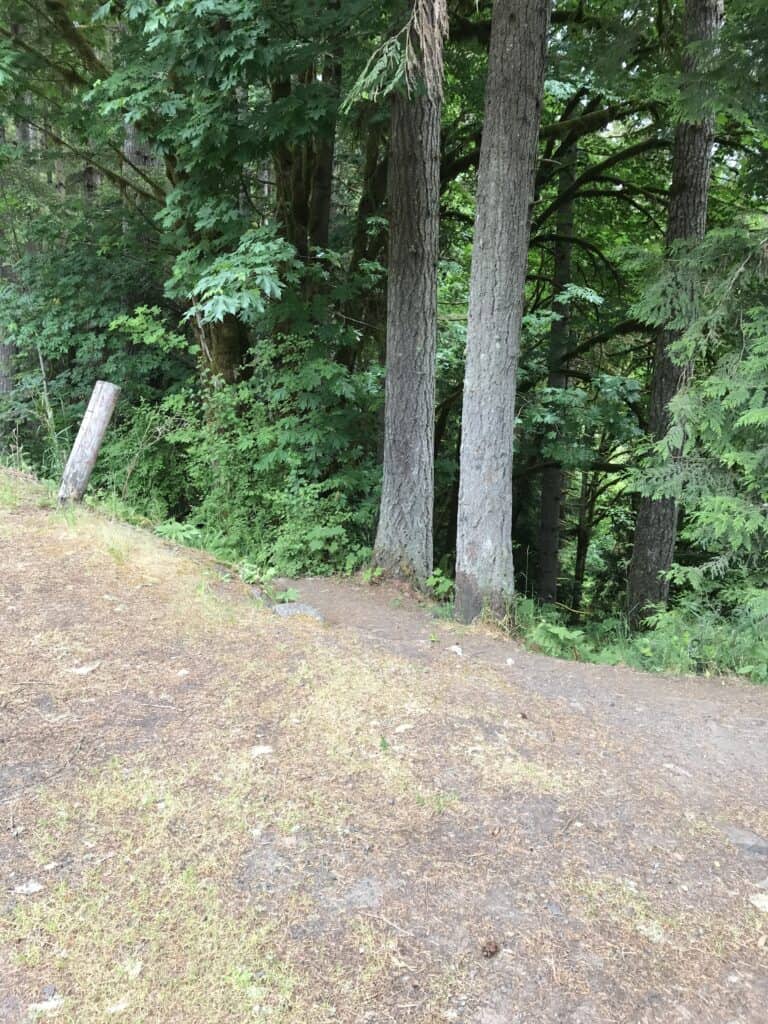 Above is the post in the ground marking the trail *which actually has no markings but look for this and you will be on the correct trail.
I will post some pictures of the hiking conditions.
Is the Beaver Falls hike kid friendy?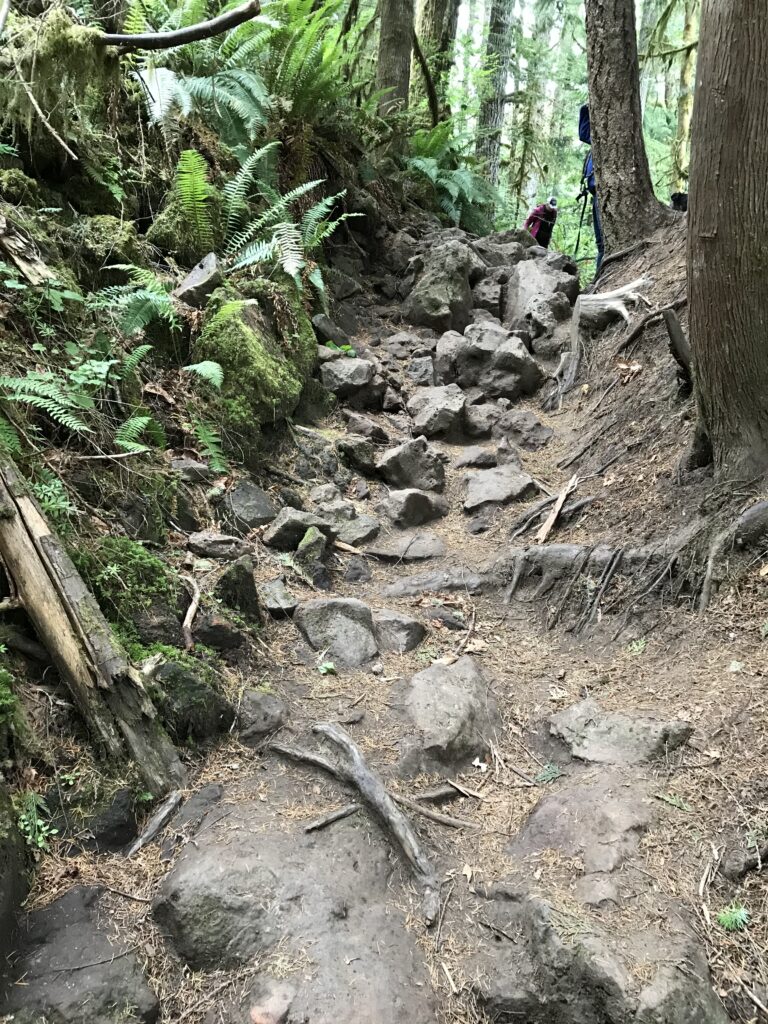 Yes and no. The hike is steep and very rocky. We took four kids, 10, 9, 7, and 4. They all did really well and we held the hand of the 4-year-old.
It's a hike you definitely want to teach hiking safety and have them hug the side away from the drop off.
But they handled it quite well.
Is the hike crowded?
It was not when were there. But I imagine on a hot day it's going to get pretty crowded in the afternoon. I would go mid-morning unless you want to swim.
According to some other sites it isn't a very crowded hike.
Can you swim in beaver falls?
There are no signs that say you can not. Everything I read said locals have been swimming in it for years. It looks like an amazing place to swim.
Can you go behind the Beaver falls in Clatskanie Oregon?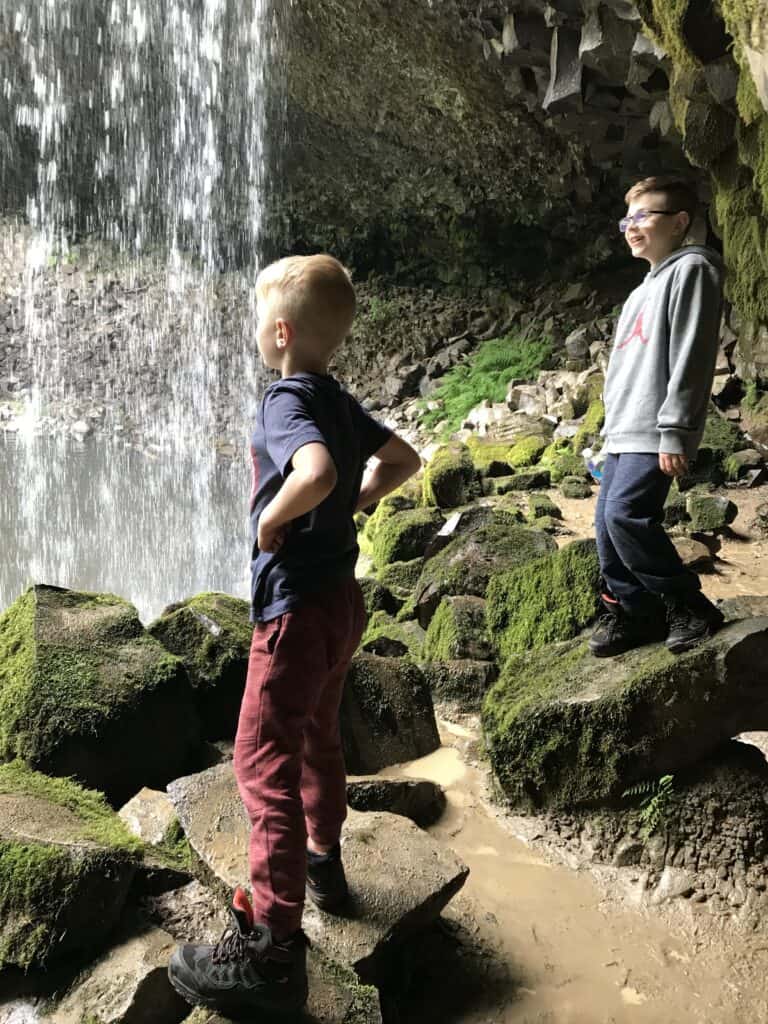 Yes! You can either walk on the left side below the basalt amphitheater but I imagine it would be quite slippery so I would be very cautious.
We went across some rocks that are sticking above the water. Of course, proceed with caution but our family plus another family got across and none of us fell in.
The rocks behind the waterfall are very slippery and have some kind of slippery clay back there. But it's an amazing view being behind the waterfall.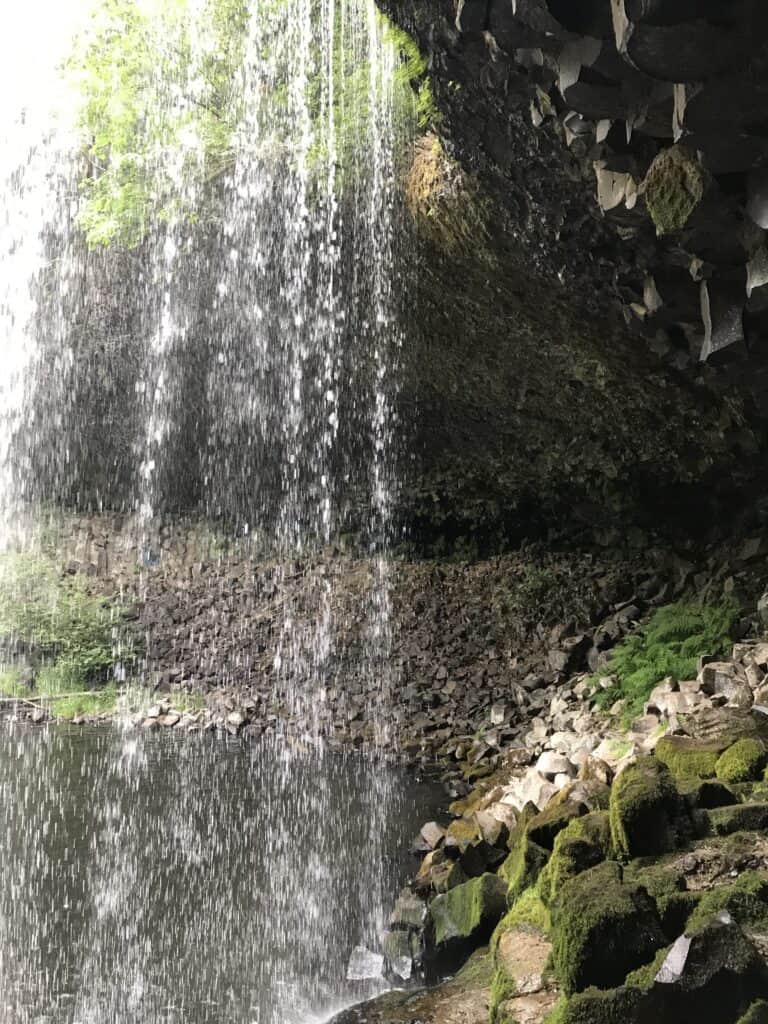 Can you see it without hiking?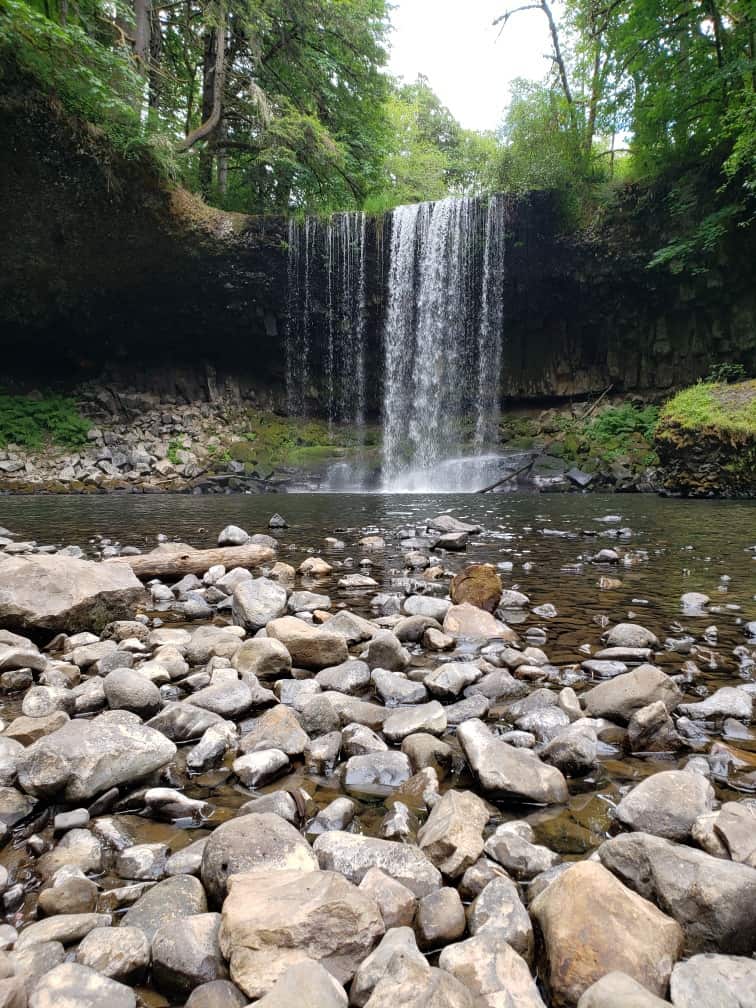 Yes, there are some unmarked pull-outs and to get a good view you would want to be on the shoulder of the old road. I would proceed with caution doing so, but yes you can.
However, if you are able to make the hike down it's absolutely gorgeous!
On your drive out of the falls watch the side of the road for the upper falls. There is a pull-out near the upper falls, again use caution when viewing. You can hike down to these falls but we did not.
Want to check out some other resources on Beaver Falls?