After driving around the entire country of Iceland, we decided it would be a great idea to finish our trip with a relaxing dip in the Blue Lagoon. There is heavy marketing toward the Blue Lagoon when researching Iceland, when landing in Iceland, and even driving around Iceland. The Blue Lagoon is one of Iceland's crown jewels, and they want to make sure everyone knows it. The feeling one may surmise with all this marketing is it a tourist trap? In a way it is, but definitely worth a visit.
We pre-purchased our tickets online months in advance and printed them out prior to arriving at the Blue Lagoon. Which is an absolute must! You can technically pay at the door, but often just about always, the Lagoon is sold out for the day, and you will then not be able to purchase a ticket. I would highly recommend booking the Blue Lagoon when you book your flight.
The price you pay is determined on your arrival time you choose, you are allowed to stay until close, but different times charge you different amounts. Early morning and late evening are cheaper, and less crowded.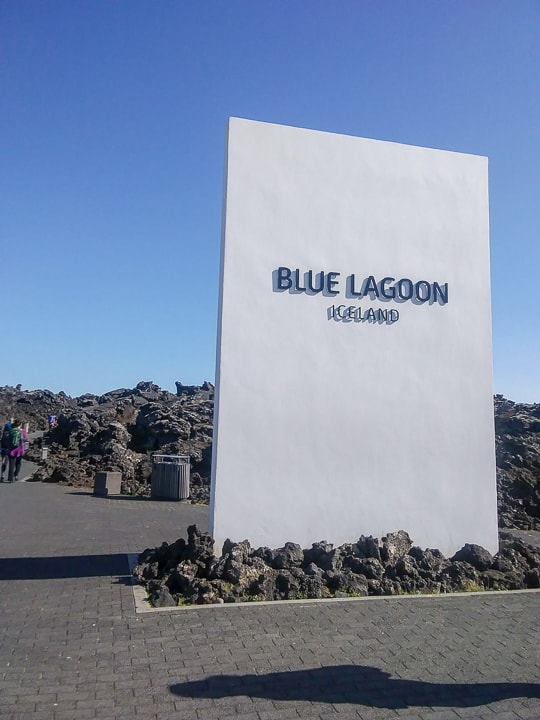 What do you get for the price?
Remember you are paying for an experience when you enter here, so the price you pay will reflect this.
Entry into the Lagoon will be anywhere from $56-$566 USD per person as of this writing March 2019. The large range of the price range is solely dependent on what you want from your experience. The basic entry known as "comfort" is an entry to the Lagoon, towel, included drink, Silica mud mask and locker use. The next package up, known as "premium" provides all the aforementioned amenities, as well as a bathrobe and slippers, an additional mud mask of your choice, a reservation at their restaurant if you so desire and white wine with your dinner should you choose to dine there.
Finally, for the most significant amount of money, one can choose the "spa retreat." The spa retreat allows you to have access to the retreat spa, a separate location from the general Lagoon for four hours, your own private changing room, access to the Lagoon's minerals to rejuvenate your skin, and an included drink.
More on current prices and hours here.
When you arrive at the Blue Lagoon during the time slot, know that likely there will be a significant line. It took about 35 minutes to get through the line, so make sure you allow for this time. Once you arrive at the front of the line and check in, you will receive a wrist band. The wrist band is electronic and will help you open your locker, and will allow you to purchase snacks, and drinks while enjoying the Lagoon. You will pay for all your purchases once you leave the locker rooms. The wrist band is a nice convenience that you will not need to carry anything such as cash or a credit card, but rather just enjoy your experience.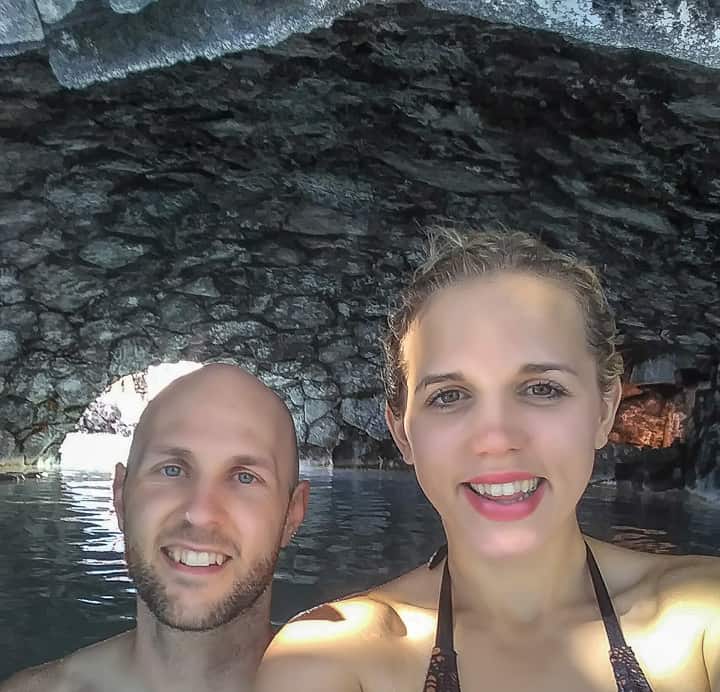 Let's talk about the changing room
The women's and men's changing rooms are on totally different floors. Have a chat with whoever you're going with, that you'll meet somewhere after the locker rooms. You both come out of different locations and I remember being flustered that we didn't have a plan, rest assured- we found each other.
If your not used to European customs, you may be in for a shock, you will see naked people in your locker room, and that's completely acceptable. It's not a bad thing, remember it's just a part of the experience. Just mind your own business, do your thing and pretend you're not close to other naked bodies.
The lockers-
The lockers- oh jeez, these lockers are no joke confusing. I probably spent 15 minutes, just trying to figure the darn thing out. It works with your wrist band, and some voodoo magic. There are pictures and explanations up all over the locker room, but I ended up having to ask one of the nice staff members walking around. They squared me away and I was good to head to the showers.
Showers-
Speaking of showers, the Lagoon highly suggests you shower naked. They want you clean before entering their pool. If you don't feel comfortable being in the open naked, they do have private shower stalls. Don't let this be the reason you miss out on the Blue Lagoon.
Protect your hair
HAIR- ladies...and men, follow the hair care recommendations! The Silica mud is great for your skin and awful for your hair. It will not damage your hair, but it will leave it dry and difficult to work with until the minerals are out. There is a way to combat this. 1. Wash your hair with their conditioner before going in, then put a whole boat load in your hair and leave it there. Leave it in until you're about to leave the Blue Lagoon. I put the conditioner in and then tied my hair in a tight bun, then washed my hair out several times in their shower with their conditioner. 2. You could put a shower cap on to avoid getting your hair wet at all, but most people want the iconic Blue Lagoon picture without a shower cap ruining your photo.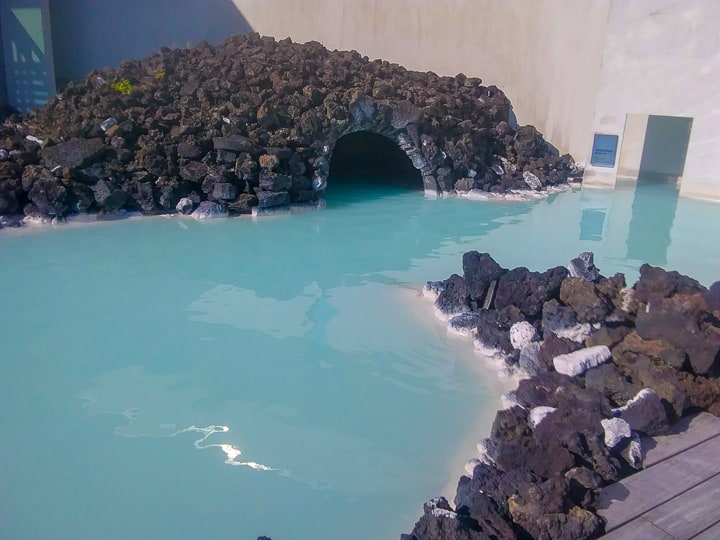 Entering the Lagoon
There are two main ways to enter the Lagoon. One way you go straight from inside, through a door that is in the water (sounds odd, but it's really cool), then you go through an awesome cave into the lagoon. This is the best option if it's freezing outside, you stay in that toasty warm water the whole way. The second option is going outside and walking directly into the Lagoon as if you were entering a pool. I would try them both!
Once you are in the water you will notice how warm it is, it runs between 98-104 F year round. The water feels like a big hot tub without the bubbles. You also will notice that different parts of the pool are different temperatures. So, if you're in a hot pocket, move around. Regardless of temperature pockets, move around! You need to enjoy every square inch of that baby for what you paid!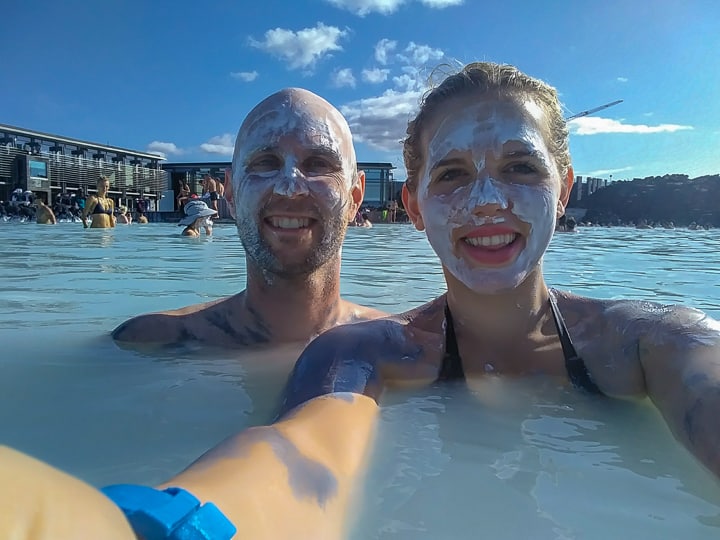 Face mask with Silica mud....yes please!
An interesting find within the water, you will feel the silica mud under your feet. The mud is an interesting mix of sand and mud, they say it is great for your skin. Included in your purchase is a chance to put the silica on your face at the walk up face mask bar, contained within the Lagoon itself. The employees will tell you to let this mask dry before rinsing it off to allow the minerals to soak into your skin.
Swim up bar... uhh yes!
Some other highlights of the Lagoon include a bar in the water. The bar contains both alcoholic and non-alcoholic drinks. We indulged in a non-alcoholic frozen drink which was quite refreshing in the warm pool. The day we went it was 70 F out, and to be in a pool that warm, made for warm bodies. The drink really made the experience that much better. A drink was not included when we went, but one is included in every ticket now, so everyone can experience a refreshing beverage.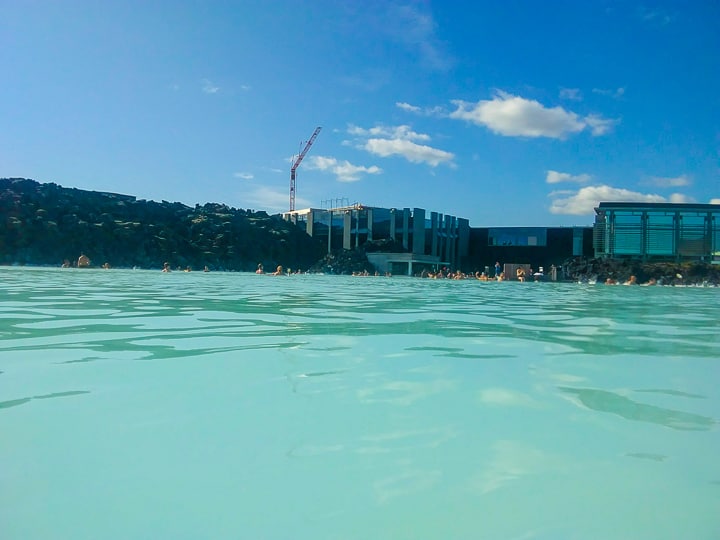 About the water-
It sounds a little gross when you think of this water attraction with no chlorine and thousands of people visiting, but rest assured it's pretty clean. The Blue Lagoon is filled with geothermal seawater, approximately 9 million liters! It also self renews itself every 40 hours, which is an amazing fact. Due to the type minerals contained within the water: silica and algae, most germs can't live within the waters. Phew!
What if you can't swim??
Don't worry about it. The Blue Lagoon is quite shallow, I am only 5'1" and never had to swim once. They do have a map to show you the deeper spots in the pool, but the deepest spot they have is 4'7" feet. Please take note that the Blue Lagoon floor is naturally uneven, so if you're shorter that 4'7 and cannot swim stick to the map.
How is the water that color?
Well, as stated before the Blue Lagoon water has silica, algae and other minerals contained within it. When the sunlight hits the silica in the water, the pretty blue color is reflected back. The green tint then comes from the algae. The combination of the silica and the algae both make up the GORGEOUS colors of the Blue Lagoon.
Where did the Blue Lagoon come from?
I am sad to break it to you, but the Blue Lagoon is man made. In 1976 a geothermal power plant was built in Iceland. The "waste" water run off from the plant happened to form a pool. Five years later in 1981, people heard the minerals had healing powers and started bathing in it. It took roughly another 10 years (1992), a company figured out how to market the pool, thus the Blue Lagoon.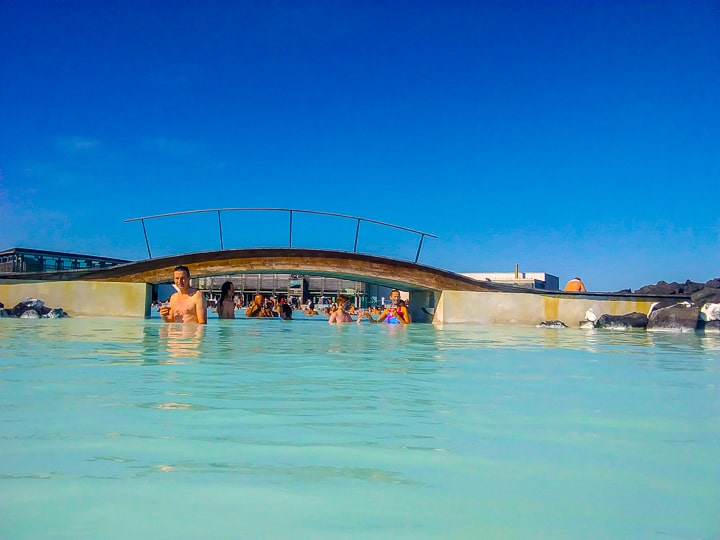 Crowds?
Yup, you guessed it, it's crowded! I mean who doesn't want to check out that beautiful water. The best tips for this is visit mid week. The weekends are worse than during week, but it will likely still be busy. Go the first slot in the morning or later in the evening if you want to have more pool and less crowd.
What about the weather?
It doesn't matter what weather is going on around you, it will still be amazing. There is something magical about the water. We went on a sunny day, I kind of wish it was not so sunny because we needed sunglasses to be more comfortable, which we didn't bring. But it was still awesome. I hear in the rain or snow it's pretty magical, as you can enjoy the cold while being warm.
Location, location.

The Blue Lagoon isn't far from the KEF Airport. It's about a 20 minute drive and tons of tour buses frequent it. From Reykjavík It's about 45 minutes, so plan ahead.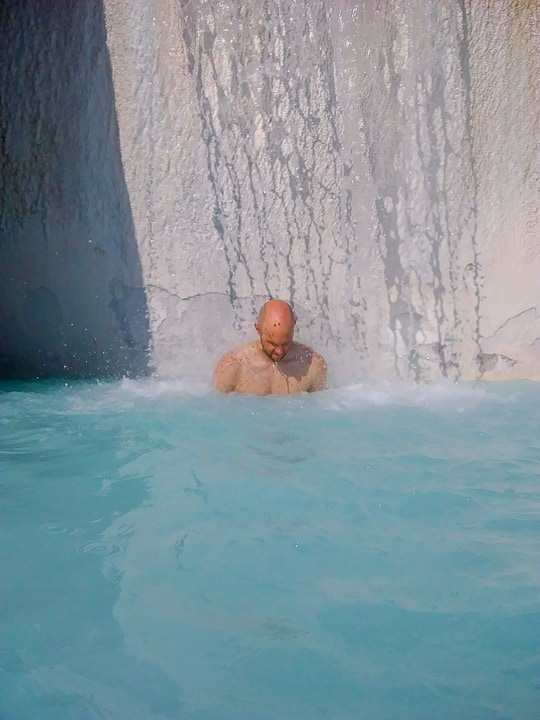 Where to stay?
The Blue Lagoon doesn't have a lot of sites to see around it, so I would recommend staying somewhere else. If you are just on a lay over, they do a have an expensive, but very nice hotel. There are also a hand full of other hotels nearby, but I have no experience with them.
Jewelry
Take off your jewelry before entering the Lagoon. The properties in the water can change the color of your jewelry to brown. Better to be safe and lock that up in your locker, than risk ruining something you care about.
Leaving the Lagoon
You can stay at the Lagoon for as long as you please ( that their open). They have a cafe and restaurant and places to lounge around, if that's what you want to do. Most people stay around 3 hours on average. Before you leave however, if you have purchased anything with your bracelet, you will need to check out and pay for it. This process can get a little crowded depending on the time of day. It took us about 30 minutes in line just to check out of the place. And that electronic bracelet, you have to give back.
Protecting your phone
You definitely want a water safe bag for your cell phone . That way you can take pictures and not worry about your phone potentially taking a dive in the murky blue water. We used this, and it worked great. My best advice is take your pictures, then go put your phone in the lockers so you can enjoy your time.
The Blue Lagoon is a must visit on a trip to Iceland. It's very touristy but totally worth the pictures, and the experience!
Do you have any questions about The Blue Lagoon? Let me know in the comments! <3
If you're planning a trip to Iceland in the summer- be sure to check this guide on what to pack.