These Vegan Thai Peanut Noodles are a go to dinner for this house. I never have to wonder if my kids are going to eat it, they just do. They even request it! Which if you have picky kids, you know how amazing it is to have a go to meal.
The other thing I love about these vegan Thai peanut noodles is how easy they are! This dinner is done in less than 30 minutes, who doesn't love that!
How do you make these tasty Thai peanut noodles?
You start by making an easy peanut sauce. Start by throwing all your peanut sauce ingredients into a pyrex glass measuring cup, stir and microwave it in 30 seconds increments until it's thickened. If microwaves aren't your thing, then feel free to heat up the sauce over the stove, either one works great. I like to use this vegan chicken broth. But you could definetly use vegetable broth as well.
My kids don't mind the cilantro in these Thai peanut noodles, but if your kids don't like green things, then go ahead and leave it out of their portion. Or if you don't like cilantro, you can leave it out also. I love the flavor the cilantro brings, but I understand it's not for everyone.
You could use a different shaped noodle if you wanted, we prefer a spaghetti type noodle with this recipe. I need to try and make it with a rice noodle someday, I bet that would be tasty.
I hear some people think cilantro tastes like soap? We love it now, but it took me a few years and a lot of Chipotle to like it.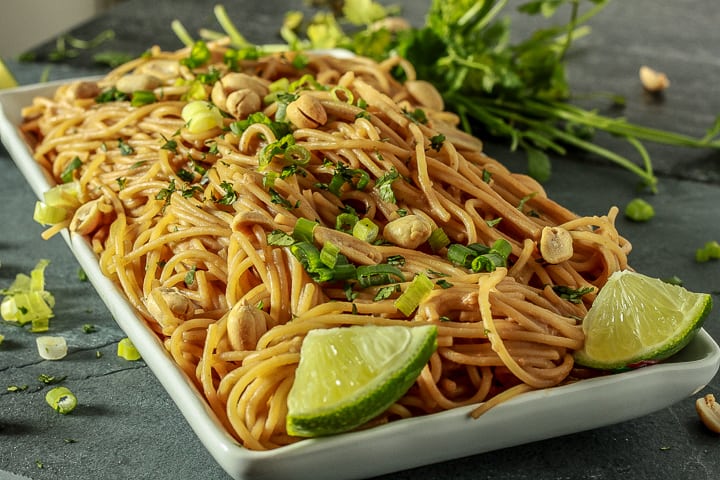 Vegan Thai Peanut Noodles
These vegan Thai peanut noodles is a perfect quick weeknight meal and that everyone will love.
Ingredients
Peanut Sauce
1/2 cup vegan chicken broth or vegetable broth
3 TB peanut butter
1 TB brown sugar
3 TB soy sauce, low sodium preffered
1/2 tsp ginger, powder
3 cloves garlic, minced
1/8 tsp crushed red pepper flakes (more if you want it spicy)
1/2 tsp rice vinegar
1 tsp cornstartch with 1 tsp, mixed with 1 TB water.
Noodles
8-10 oz dry noodles, (we usually use Spaghetti noodles)
3 green onions, chopped
1/2 cup cilantro, chopped
Peanuts
Limes to squeeze on top
Instructions
Cook your noodles until soft, strain and set aside.
2. While your noodles are cooking make your sauce. Mix all the sauce ingredients and cook in the microwave for 1 minute, if it's not thickened, cook in 30-second increments until the sauce is thickened. You could also do this on the stove top, on medium-low heat- stir until thickened. Once your sauce is done, add your noodles back to the main pan, dump your peanut sauce in- stir on low heat until all coated and the sauce is sticking to the noodles. Remove from heat and add the green onions and cilantro- mix and it's ready to serve. You can add peanuts and a squeeze of lime to the top if you desire.
Notes
This recipe was adapted from Our Best Bites the recipe is here.
Nutrition Information:
Yield:

6
Serving Size:

1 servings
Amount Per Serving:
Calories:

669
Total Fat:

8g
Saturated Fat:

1g
Trans Fat:

0g
Unsaturated Fat:

4g
Cholesterol:

0mg
Sodium:

495mg
Carbohydrates:

124g
Fiber:

8g
Sugar:

5g
Protein:

25g
The calories are computer generated and may not be 100% accurate.
If you enjoyed this recipe I would love to hear about it in the comments or #courtneyshomestead Thanks so much for your support!
<3 Courtney