This Delicious No-Bake Peanut Butter Lasagna is the best summer treat! It has a peanut Oreo crust, peanut butter whipped center, topped with a vegan chocolate pudding.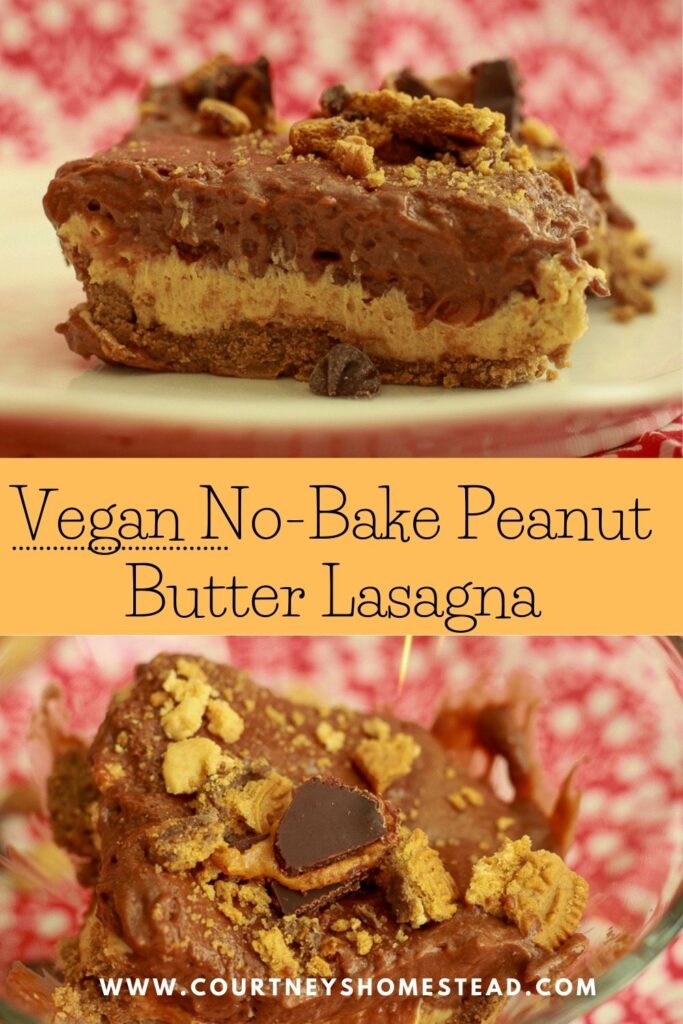 It's perfect for those hot summer days when you want a sweet treat that's cold and not ice cream.
It's seriously creamy. With a peanut butter and chocolate layer that sits on a Oreo crust. What's not to love?
This is a layered dessert, hence the lasagna name (which by the way, my husband HATED this name for the dessert, I think it totally goes).
I love that the dessert is no bake, but you do still have to cook up your pudding on the stove.
But it doesn't take too long.
If it's a hot summer day I would make the pudding in the morning when you still have time for the heat to escape your kitchen.
Then you can assemble it, stick it in the fridge until it's time to devour it.
This does need an hour or two to get cold and come all together. The earlier in the day you make the better.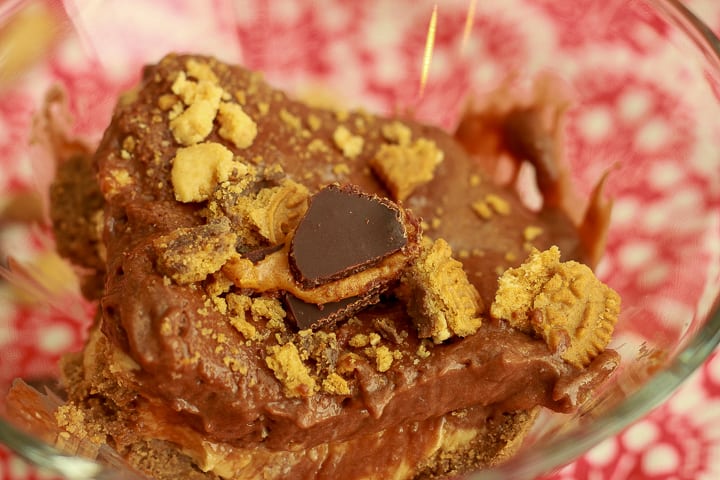 What do you need for this Vegan No-Bake Peanut Butter Lasagna?
Peanut Butter
Powdered Sugar
Brown Sugar
White Sugar
Vegan Cream Cheese
So Delicious Whip Topping
1 package of either regular Oreos or Peanut Butter Oreos *Peanut butter is best*
Cocoa powder
Plant Milk
Salt
Vegan Chocolate chips
Corn starch
Vanilla Extract
How do you make it?
I usually start by making the crust.
You can use any kind of Oreo you see fit.
You can go with the standard Oreo, a peanut butter Oreo, or recently I made it with the Peanut Butter Pie Oreo, it was good!!
You're going to use about 2 tablespoons of Earth Balance Vegan Butter, melted.
Then take your Oreos and crush them either in a food processor, blender, twister jar, or crushing them in a bag.
Whatever your method is, you want them all chopped up finely.
Once they are mixed you will combine them with the melted butter.
Then you'll take your 8x8 pan and press this into the bottom of the pan and set it aside.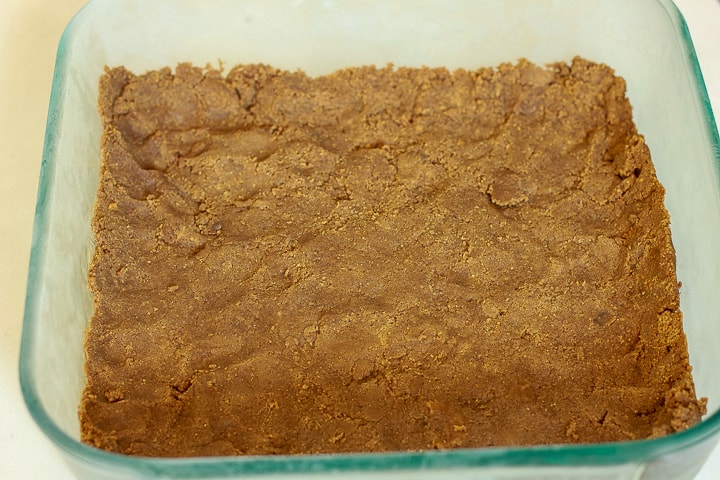 Start making your chocolate pudding.
You're going to take a medium saucepan and mix your sugar, cornstarch, cocoa powder, and salt-whisk.
Then you'll add about half of your milk.
I almost always use soy milk or almond milk.
The soy milk is a bit thicker so I feel like it leads to a slightly thicker pudding, but I have never had trouble with almond milk.
You just add half the amount, to begin with, so that you get it all mixed in, removing the clumps.
Now you can add your peanut butter. Once it's nice and smooth you can add the rest of your plant milk.
You're going to cook this on medium heat, stirring for about 6-10 minutes.
It should coat the back of your mixing spoon well when it's ready to go. It will thicken once it's cooling.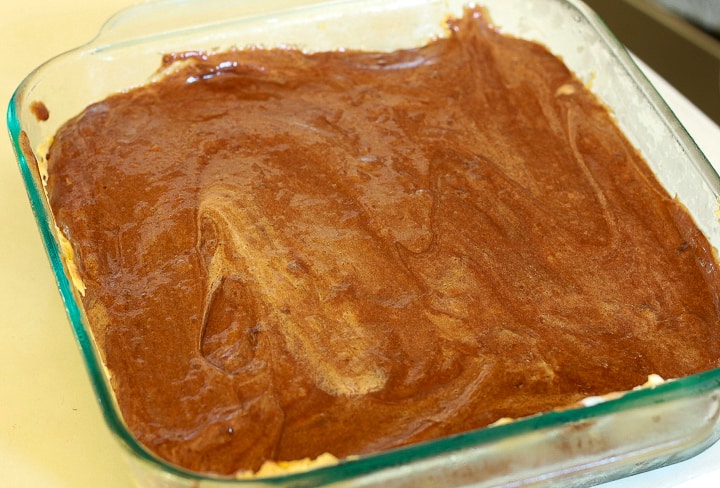 You'll set the chocolate peanut butter pudding aside and let it cool.
Make your peanut butter mixture.
You can put in your stand mixer or with a hand mixer and mix your peanut butter, powdered sugar, brown sugar, vegan cream cheese, and half of the whipped topping.
Whip it all up until it's nice and smooth.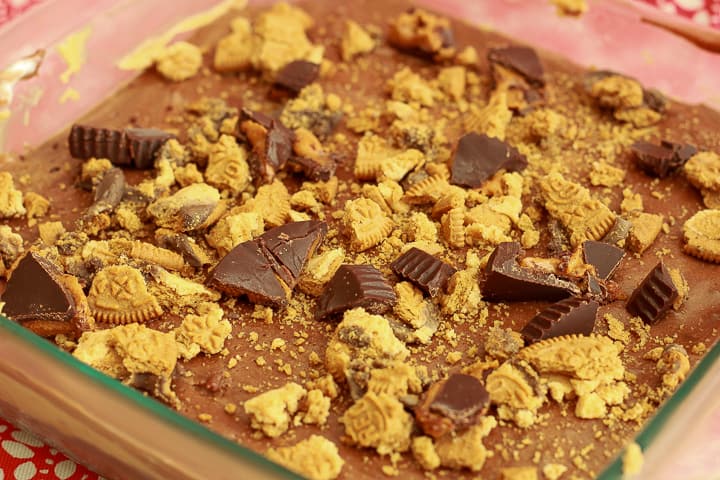 You won't need all of the pudding, I had about ¾ of a cup that I took out of it.
You can use it all if you want as well. It's up to you.
But I am never mad about having a little pudding leftover.
Now you can add the other half of the whipped topping to the peanut butter mixture and mix it together.
Now it's time to put it all together!
Take your done Oreo Crust, put the peanut butter mixture on, and then smooth it out.
Now take the chocolate peanut butter pudding and smooth it out on top of the peanut butter layer.
Stick it in the fridge to get cold and then you'll be ready to serve in a couple of hours.
This vegan peanut butter lasagna screams summer to me.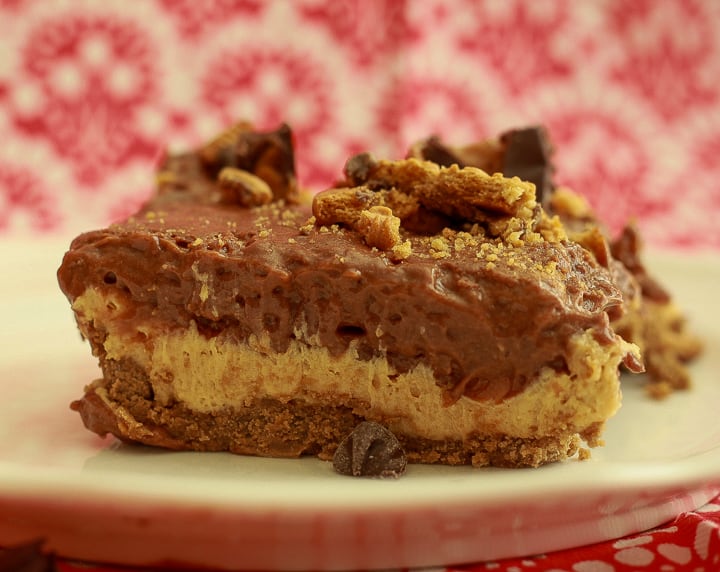 It's SO good.
We brought this to a family dinner and everyone enjoyed it.
We only had one slice left the next day that my husband and I devoured and pretty much licked the plate.
My son was NOT happy when he came home from school and it was all gone. Whoops.
What no-bake treats do you like for the summer? Let me know in the comments! <3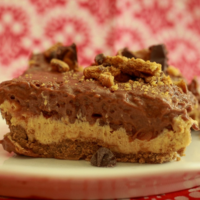 No Bake Peanut Butter Lasagna
This no bake peanut butter lasagna is a great summer treat.
Print
Pin
Rate
Ingredients
Peanut Butter Layer
½

cup

peanut butter

smooth

¼

cup

powdered sugar

¼

cup

brown sugar

½

cup

vegan cream cheese

half container So Delicious CoCo whip topping
Chocolate peanut butter pudding
⅔

cup

white sugar

⅓

cup

unsweetened cocoa powder

2

TB

cornstarch

⅛

teaspoon

salt

1 ¾

cup

plant milk

4

oz

vegan chocolate chips

1

teaspoon

vanilla extract

¼

cup

peanut butter

½

container So Delicious Coco Whip topping
Crust
16

Oreo's

crushed

2

TB

Earth Balance Vegan Butter
Instructions
Start with your crust- Crush Oreos, I always use my Blendtec Twister Jar, but you could use a Ziplock and a rolling pin, crush the cookies. Melt the vegan butter in a medium-size bowl and then add the crushed cookies and stir. Take an 8x8 pan and spray cooking spray on it, then crush the cookie vegan butter mixture evenly on the bottom, set aside.

Now make your chocolate pudding mixture. Take a medium saucepan. Mix the sugar, cocoa powder, salt, and cornstarch. Use a whisk and whisk it until combined. Then add half of the plant milk, stir until smooth, then add the rest of the plant milk and peanut butter. Cook on medium heat, you want it to simmer, stirring constantly for about 8 minutes until thickened. It will thicken up a lot off the heat, you basically want it to coat the spoon well. Now remove from heat and add your chocolate, and vanilla extract, stir. Now set aside until cool.

While that is cooling make your peanut butter mixture. Put all ingredients into a bowl and mix with a hand mixer until smooth. Take this mixture and spread it on top of the cookie crust.

Now take your cooled chocolate pudding and mix the other half of the coco whip, stir. Then smooth this over the peanut butter layer. Stick in the fridge until cooled and then serve. I always top mine with crushed cookies for decoration.
Nutrition
Serving:
1
serving
|
Calories:
554
kcal
|
Carbohydrates:
65
g
|
Protein:
10
g
|
Fat:
31
g
|
Saturated Fat:
2
g
|
Polyunsaturated Fat:
14
g
|
Sodium:
318
mg
|
Fiber:
4
g
|
Sugar:
44
g
Looking for more vegan summer desserts?
If you loved this recipe then give it a 5 star rating and leave a comment! I love to chat with you all. Please feel free to share on social media and tag #courtneyshomestead. I would love to see you over on Instagram or Facebook.