Hawaiian mixed plates are seriously delicious. Something about the creamy hawaiian mac salad, with the sticky white rice and teriyaki vegan chicken all mixed together into a flavor burst in your mouth. That sounds a bit extreme, but for real though, it's that good.
When my husband and I went to Hawaii we were fairly new vegans and decided to go vegetarian for the trip (note I wouldn't do this now). In conclusion, we ate all the mac salad =). Also on this trip my husband and I got into the best shape of our lives, he had a six pack, I well uh didn't. But I still looked good! Within a few days of the trip, my husbands six pack started to fade, probably due to copious amounts of mac salad. #worth it!
Onto the recipe...
I made this again a few a weeks ago and our amazing neighbors came over for dinner. He has deep roots in Hawaii and even stated that this tasted JUST like the mac salad he ate when he lived there. It's nice when you have that kind of back up on a recipe.
I like to use macaroni noodles for my Mac salad. Start by cooking them according to the directions on the back of the box in a pan of salted water.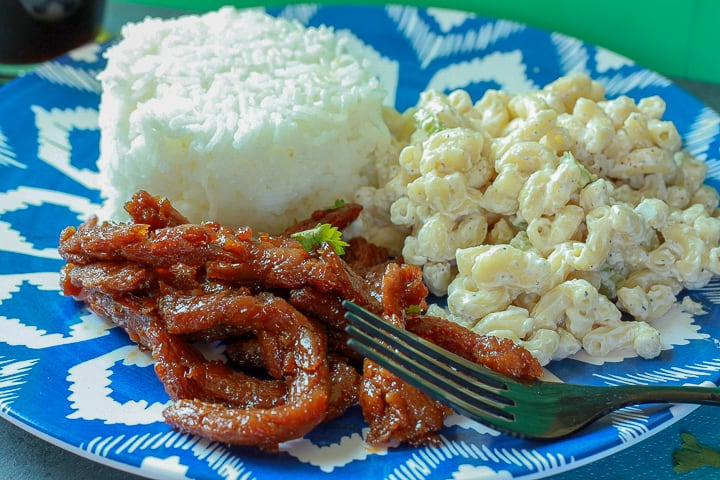 While the noodles are cooking get your onion and celery chopped up, and optional carrots. My husband doesn't appreciate carrots so I left them out.
Now the key to this is right after your strain your noodles, put them in a bowl and pour 2 tablespoons apple cider vinegar and stir. This will soak into the noodles, which is what you want. It will smell a little intense and you might panic that you ruined it, or that's just me. Vinegar does that to me.
When the noodles and vinegar are done doing their thing you can start mixing the rest of the ingredients. I start with a glass pyrex measuring cup and mix all the ingredients in there and then pour it over my noodles and stir. This tastes best after a few hours or even a day later. That seems to be the case with most pasta salads.
We LOVE this Hawaiian vegan mac salad. Have you ever had Hawaiian Mac Salad? Let me know in the comments!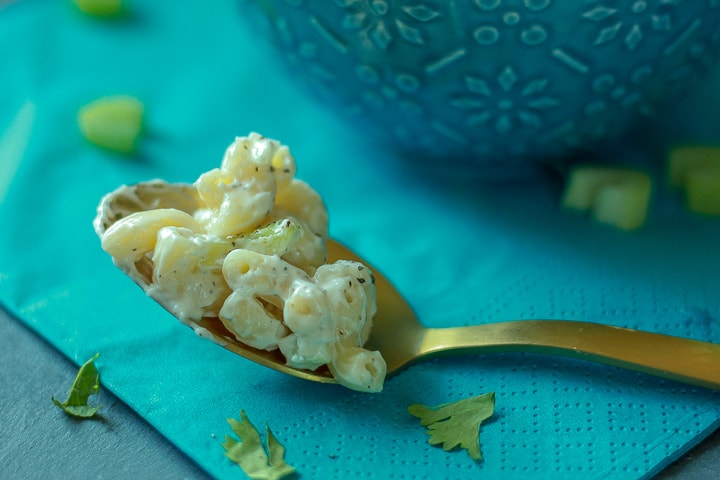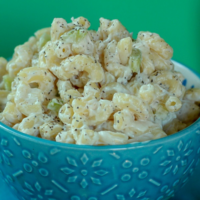 Vegan Hawaiian Mac Salad
This vegan Hawaiian Mac Salad taste will bring you right back to the Island. This stuff is SO good!
Ingredients
2 cups dry macaroni noodles
2 TB apple cider vinegar
1 cup vegan mayo
1 cup plain vegan plant milk
1/2 TB white sugar
1/2 tsp pepper, more to taste
1/2 tsp salt
1/2 cup chopped celery
2 TB onion, finely chopped
Instructions
Cook your noodles in salted water, strain and then add to a large bowl still warm. Pour your 2 TBs apple cider vinegar and stir, let that marinate for a few minutes.
Now add the remaining ingredients into the noodles and stir. At first, it will look like the plant milk won't absorb, but it will. This is best if it has a few hours if not overnight for the flavors to all come together.
Nutrition Information:
Yield:

6
Serving Size:

1 serving
Amount Per Serving:
Calories:

276
Total Fat:

19g
Saturated Fat:

3g
Trans Fat:

0g
Unsaturated Fat:

15g
Cholesterol:

0mg
Sodium:

360mg
Carbohydrates:

23g
Fiber:

1g
Sugar:

4g
Protein:

4g
The calories are computer generated and may not be 100% accurate.
If you loved this recipe let me know in the comments or #courtneyshomestead. Thanks for your support!
<3 Courtney