Have you ever had a Chocolate Chip Pie? Well, if you haven't- you're missing out! It's like having a ooey gooey chocolate chip cookie, but in pie form, with a crust!
I don't know about you, but I love pie crust. I know some people don't agree with that statement, but my favorite part of any pie is the crust. It's just so delicious.
And a bonus when you have leftover pie crust you can make the cinnamon and sugar roll-ups, oh.my.gosh, don't get me started on those.
Please say you do this too?
I had never heard of doing this until I married my husband and their family always makes cinnamon sugar roll up with the leftover pie crust. They are genius! Yummo!
I know some people are intimated about pie crusts in general, I have a super easy, foolproof crust recipe. For reals, it's so easy and SO good. But if you're still intimated by making your own, or just plain don't want to, then buy one. The recipe for the pie crust is below the main recipe.
The chocolate chip portion of this vegan chocolate chip pie comes together just like chocolate chip cookies do. Quick and easy.
How do you make it?
I don't like to dirty unnecessary dishes, so I cream my butter and sugar, then add everything but the flour. You give those a good mix and then mix in the flour. And don't forget your chocolate chips, stir those in at the end. This mixture is a little on the thicker side, so spread it with your spatula to make it nice and even.
This vegan chocolate chip pie is not the most attractive dish you've ever seen. It looks much better after it's had time to cool. When it first comes out of the oven it looks like a bit of an oily mess. Rest assured, that oil soaks back in and it just looks like a crackled top.
Cooking the chocolate chip pie-
It can be a little challenging to tell when this chocolate chip pie is done. You don't want to check it right in the center, you want to check it just outside of it for a clean toothpick. This pie is naturally a little ooey and gooey as stated above. It does firm up when it's out of the oven. And to be honest, even it's a little underdone, you top that baby with vegan ice cream and no one will care, it's too delicious.
This is best after it has cooled for a while, just so it has time to set up. When you're ready to serve it- we like our slices heated up.
Have you ever had a chocolate chip pie? Let me know in the comments!

Vegan Chocolate Chip Pie
Yield:
1 9 inch pie or 8 slices
This vegan chocolate chip pie will melt in your mouth.
Ingredients
1 uncooked, pie crust **Recipe below
2 flax eggs ( 2 TB flax meal with 4 TB water)
1 tsp vanilla extract
1/8 tsp salt
1/2 cup white sugar
1/2 cup brown sugar
1/2 cup all purpose flour
1 stick Earth Balance Vegan butter, soft
1.5 cups chocolate chips
1 cup nuts optional
Instructions
Preheat your oven to 325 degrees.
2. Take your uncooked pie crust and prepare it in a pie pan. Stick in the fridge or freezer while you're preparing the filling.
3. Make your flax egg and set aside.
4. Take your mixer fitted with the paddle attachment and mix your softened butter, sugars, salt, vanilla, once mixed add flax egg and mix well. Add your flour and mix until combined, then stir in your chocolate chips and nuts if using. Take out your pie pan, pour the filling into it and spread with a spatula until its even (it is a thick mixture).
5. Bake in the oven for 45- 60 minutes. It will get a golden crackly top on it, it may not look done and some of the oil separates a bit, once cool it's not oily on the top. When a knife comes out clean about halfway into the pie, it's done. This is best served warm with vegan ice cream. We usually let it cool for a few hours and then heat it up before serving.
Nutrition Information:
Yield:

8
Serving Size:

1 serving
Amount Per Serving:
Calories:

526
Total Fat:

29g
Saturated Fat:

11g
Trans Fat:

0g
Unsaturated Fat:

17g
Cholesterol:

0mg
Sodium:

210mg
Carbohydrates:

66g
Fiber:

5g
Sugar:

43g
Protein:

8g
The calories are computer generated and may not be 100% accurate.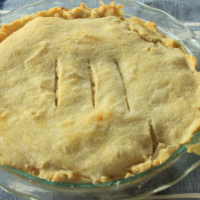 Vegan Pie Crust
Yield:
2 pie crusts or 1 thicker one
This is the ultimate vegan pie crust. It's so easy to work with, you won't need to fear pie crust any longer!
Ingredients
1 3/4 cup all purpose flour
1 tsp salt
2 TB sugar, white
1/2 cup neutral oil
4 TB Ice water
Instructions
Get a bowl of ice water ready and set aside.
2. Mix your flour, salt, and sugar together until combined. Take your oil and 4 TB ice water and pour it into your flour mixture *this will look messy and like it won't come together* Mix with a wooden spoon until it's combined and a dough ball. It shouldn't be overly sticky. I like to roll mine out on a Silpat with a thing of surran wrap on top to prevent any sticking. When rolling, make sure to add even pressure so you don't end up with thin spots. Roll it out to about 2 inches bigger than your pie pan. Carefully place the dough in your pie dish and cut the remaining dough that's hanging over. Fill with your favorite pie filling and bake according to the directions on the pie.
Nutrition Information:
Yield:

2
Serving Size:

1 grams
Amount Per Serving:
Calories:

942
Total Fat:

57g
Saturated Fat:

4g
Trans Fat:

0g
Unsaturated Fat:

50g
Cholesterol:

0mg
Sodium:

1166mg
Carbohydrates:

96g
Fiber:

3g
Sugar:

13g
Protein:

11g
The calories are computer generated and may not be 100% accurate.
This pie recipe was adapted from here- https://www.melskitchencafe.com/chocolate-chip-cookie-pie/
If you tried this recipe and loved it, let me know in the comments or #courtneyshomestead thanks so much for your support!
<3 Courtney