Now I know the BEST gets thrown around a lot in the blogging world, and I do believe that everyone feels like theirs is the best. But these have been claimed the BEST cupcake ever, any genre of cupcake, that I have made. Not just the best vegan peanut butter cup cakes, like the best cupcake of their life. That says a lot.
Obviously, if you don't love peanut butter and chocolate- this will not be the best cupcake of your life. But if you are a peanut butter chocolate lover, then rest assured, you may need to give away half the batch to save yourself.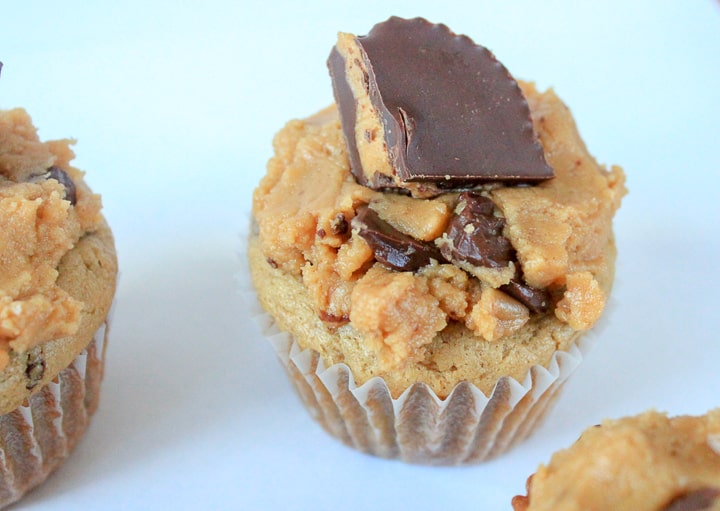 What makes these peanut butter cupcakes so good??
Well, you start off with a super light and delicious peanut butter cupcake, which you add cut up chunks of peanut butter cups. Then you make a chocolate ganache, which will be injected into the cupcake, yeah, these babies are filled. You top them with an amazing peanut butter frosting, which again you throw some chunks of peanut butter cups into and top with a piece of a peanut butter cup.
That's a lot to take in. But the combination yields one delicious decadent dessert. I have made this recipe for a lot of occasions and people LOVE them. If you want to impress someone, bring these.
More about the recipe…
This is not a quick recipe however. You can make it much quicker if you buy peanut butter cups. Justins dark chocolate peanut butter cups are vegan, but I opted to make my own for this recipe (cheaper and just as delicious). If you choose to do that, it does add some time onto it. You can find that recipe here.
If you have never filled cupcakes before- which you have to, to make this recipe a shining star. This is what I use here.I know that seems a little odd, but these work the best for injecting cupcakes and knowing how much you put in. Before injecting the cupcakes you want to make that sure that they are cooled down, otherwise you'll have a melty puddle in them.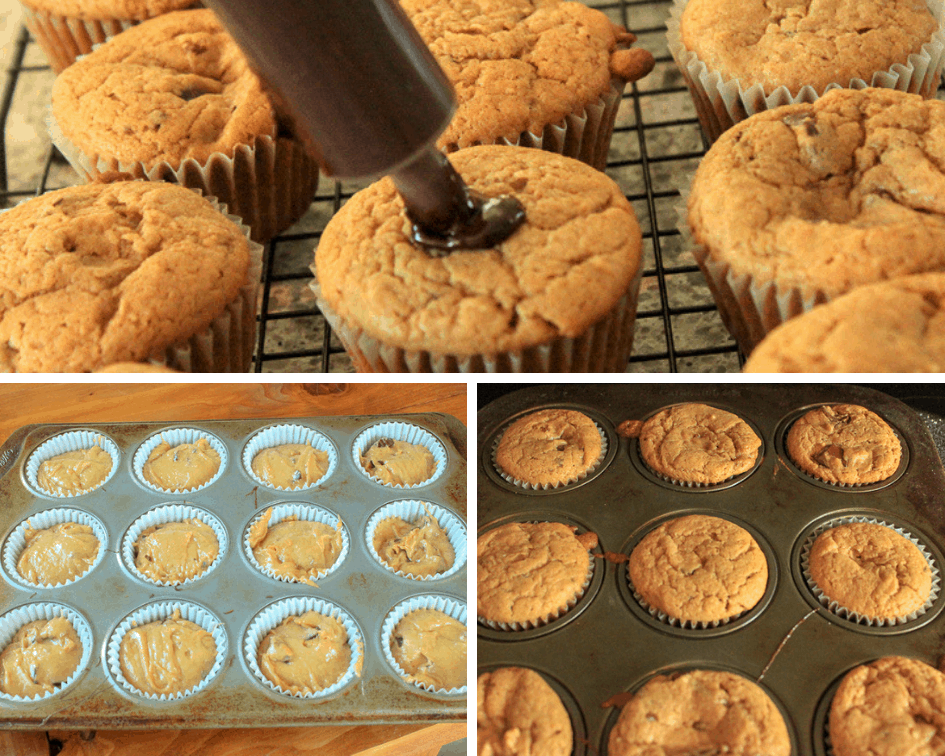 The frosting for these vegan peanut butter cupcakes is super easy to whip up. It's a thick frosting, I used a cookie scoop for uniform size and then just patted it out and placed it on top of the cupcake. I don't think you could pipe this stuff, it's too thick, but oh so dreamy.
You don't have to top this with a piece of peanut butter cup, but it just makes it look complete.
Have I convinced you to give these vegan peanut butter cupcakes a try yet??
I should probably note, that even those these are a vegan peanut butter cupcake recipe, I guarantee you, that whoever you make these for will NEVER EVER guess that they are vegan.
Do you love peanut butter and chocolate? Let me know in the comments! <3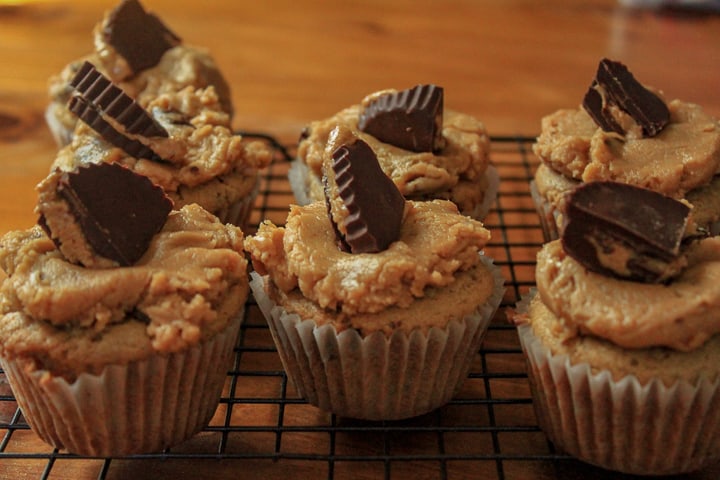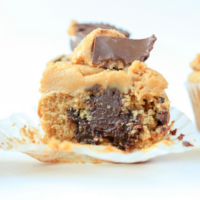 -The BEST Vegan Peanut Butter Cup Cupcakes-
Cool/Filling time:
45 minutes
Total Time:
1 hour
24 minutes
These are the ultimate vegan cupcakes. A peanut butter cupcake, the middle pipped with a chocolate ganache, and topped with a peanut butter frosting.
Ingredients
Peanut butter cupcakes
2 cups brown sugar
2 flax eggs (2 TB flax plus 4 TB water)
1/2 cup oil, neutral
1 cup peanut butter
1.5 cups plant milk
1 tsp vanilla extract
2.5 cups all purpose flour
1 tsp baking soda
2 tsp cream of tarter
1/4 tsp salt
8 peanut butter cups, chopped up
Ganache
2 cups chocolate chips
1/3 cup plant milk
1 TB oil
Peanut Butter Frosting
1 stick or 113 grams vegan butter, room temperature (earth balance)
1 cup creamy peanut butter
3 cups powdered sugar- up to 1 cup more if needed
1/4 cup plant milk
2 TSP vanilla extract
8 peanut butter cups, chopped, more if you want
Topping
6 whole peanut butter cups, cut into 4's for topping the cupcakes.
Instructions
Preheat your oven to 350. Either line a muffin tin with cupcake liners, or grease and flour the tin.
2. Make your flax egg and set aside.
3. In a mixing bowl, either with your stand mixer or hand mixer. Mix the brown sugar, peanut butter, and oil. Mix this until it's fluffy.
4. Now add the flax eggs and the vanilla, baking powder, cream of tarter and salt. Mix.
5. Add your flour and milk alternately, until they are both all mixed in. Now mix in your chopped peanut butter cups. Fill your muffin tin, I use a big scoop to make sure they are even. Bake for 15-20 minutes. Start checking for a clean toothpick at 15 minutes. You don't want to over bake them. Let them sit for about 5 minutes in the muffin tin, then place them on a cooling rack.
6. While your cupcakes are cooking you can make the Ganache. Place all the ingredients into a glass bowl and microwave for 30 seconds, stir, stir stir, do another 30 seconds, and at that point, it should be ready after a lot of stirring. If you are still having a lot of solid chunks, than microwave at 50% power at 15 second intervals, you don't want your chocolate the seize up. Stir until no solid chunks, it may be a bit grainy, but that's okay. Put in the fridge until your cupcakes are cool enough to fill.
7. While waiting you can make your frosting. Take a clean mixing bowl, mix your peanut butter and and butter until creamed. Add the rest of the ingredient, but add the powdered sugar one cup at a time on low speed ( so you don't have a powder sugar dusting in your kitchen). Once all mixed, add your chopped peanut butter cups. Set aside.
8. Once your cupcakes are cooled, you can start filling. I use this, and it is THE best for filling, I have tried so many different things. But if you don't have one- you could use a piping bag and pipe them into your cupcakes. If you don't have piping bags, you'll have to get creative- a zip lock bag would work, with a corner cut out, but it will get messy (this is not my recommended way, but you gotta do what you gotta do). I fill the cupcakes with about 1.5 ML's, don't over fill because your cupcake will explode. Once they are all filled- you can top them with frosting.
9. I use a medium cookie scoop and scoop a ball out, flatten it in my hand and add it to the top of the cupcakes. Top with a little piece of peanut butter cup and enjoy your hard work!
Nutrition Information:
Yield:

24
Serving Size:

1 cupcake
Amount Per Serving:
Calories:

512
Total Fat:

31g
Saturated Fat:

10g
Trans Fat:

0g
Unsaturated Fat:

18g
Cholesterol:

0mg
Sodium:

296mg
Carbohydrates:

56g
Fiber:

3g
Sugar:

37g
Protein:

10g
The calories are computer generated and may not be 100% accurate.
Cupcake recipe- adapted from All recipes- around 8 years ago, so I am not sure who to credit.

If you made this and enjoyed it, I would love to hear about it in the comments or #courtneyshomestead. Thanks so much for your support! <3 Courtney