Vegan Hostess Cupcakes are easy to make and seriously impressive. These aren't to be missed with a delicious vegan chocolate cupcake with a creamy vanilla filling topped with a layer of rich ganache.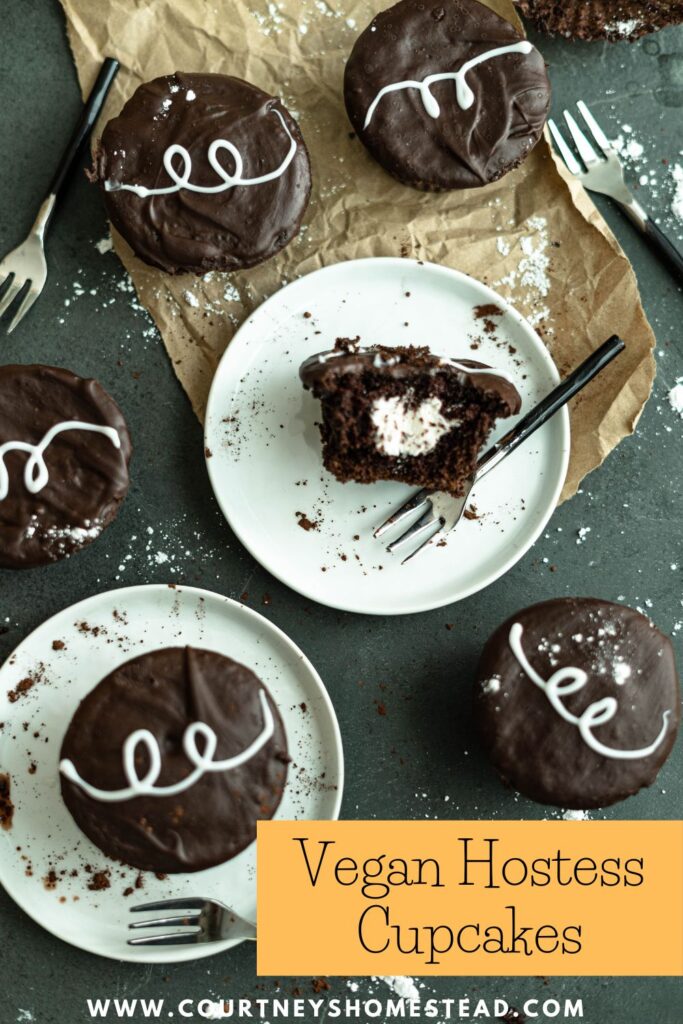 Some of the links in this post are affiliate links and if you make a purchase through them, I will earn a small commission. Keep in mind that I link these companies and their products because of their quality and not because of the commission I receive from your purchases. The decision is yours, and whether or not you decide to buy something is completely up to you. Please see full disclosure policy here
These vegan hostess cupcakes are a party staple at our house.
They are one of the most requested cupcakes I make.
In fact, I am making them for my son's birthday currently.
These are the vegan cupcakes you make when you want to impress people.
Have you ever had a filled cupcake?
They are the best! If you haven't checked out my vegan peanut butter cup cupcakes then you really should!
They are filled as well.
It's always fun to see the surprise on people's faces when they bite in, and there is a little something extra inside for them.
Vegan Hostess Cupcakes Recipe Q&A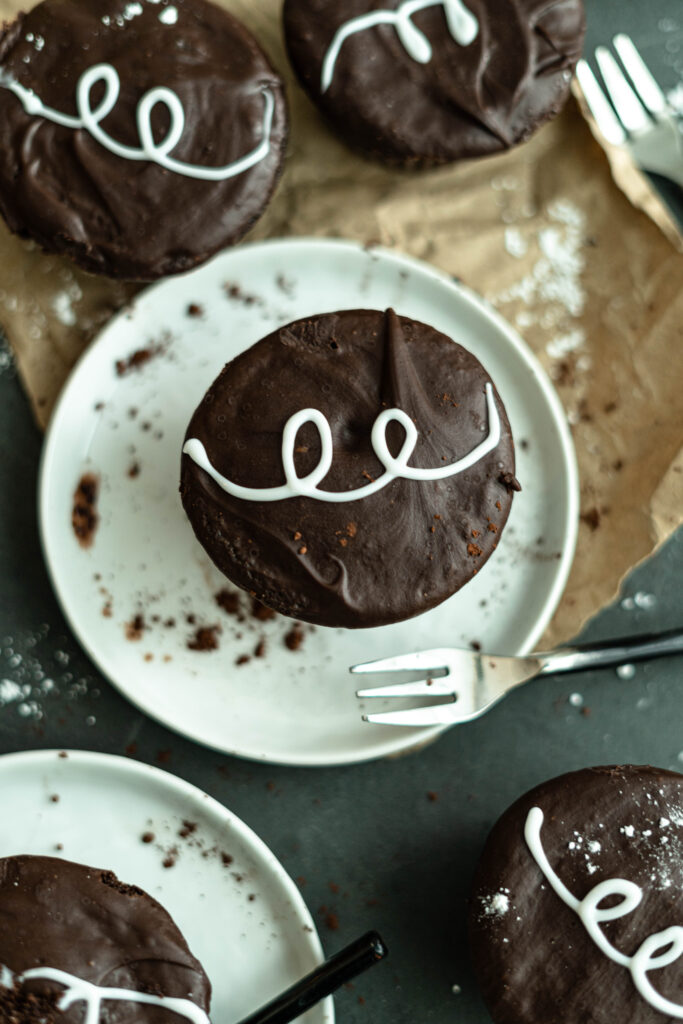 What's a hostess cupcake?
A hostess cupcake has a decadent chocolate cupcake, with a creme filling, and topped with a chocolate ganache, then has a swirl of vanilla frosting on the top of the cupcake, defining it as a hostess cupcake.
Hostess cupcakes have been around since 1919 and are manufactured by Hostess Brands.
They are not vegan-friendly in their original form, but this recipe is!
How do you put filling in a cupcake?
There are several ways you can fill a cupcake.
The easiest way is to get a pastry bag with a medium tip on it. Fill the pastry bag, inject the tip into the middle of the cupcake and fill it until you've put enough filling in it.
To use a large syringe. This is my favorite method. You take a syringe (amazon affiliate link) that's typically used for tube feeding (you can buy these on amazon), fill the syringe, and inject it into a cooled cupcake in the center. This method is excellent because you can see how many CCs you put into the cupcake.
If you don't want to buy any equipment, you can take a knife, cut out a small circle, and core the cupcake right in the center of the cupcake; just make sure not to cut all the way to the bottom. You will save the top, fill the cupcake with a spoon and then place the top back on. Sometimes you need to cut off a little bit of the cake to let the cake lay flat.
You can buy a specific cupcake corer from the store. And it does the same thing as the previous one but does uniform cuts.
Can you make these gluten-free?
Yes, make the chocolate cupcake with all-purpose gluten-free flour in a 1:1 ratio.
What do you need for these Vegan copycat Hostess cupcakes?
Check out the recipe card at the bottom of this post for the full recipe.
dairy-free milk (soy milk, almond milk, oat milk, whatever nondairy milk you like)
flour
sugar
unsweetened cocoa powder
baking powder
baking soda
salt
vegan butter
white vinegar or apple cider vinegar
vanilla extract
vegan sour cream
vegan shortening
powdered sugar
vegan chocolate chips
oil
How do you make these vegan hostess cupcakes?
The chocolate cupcake recipe is super easy.
Preheat your oven to 350 degrees. Line a cupcake pan with cupcake liners and set it aside.
Take your stand mixer fitted with the paddle attachment.
You can also use a large bowl and an electric mixer if that's what you have.
Add all your cupcake ingredients into the bowl and beat starting on low to mix and then medium until all smooth.
Pour batter into the prepared muffin tin; you should get 12 cupcakes.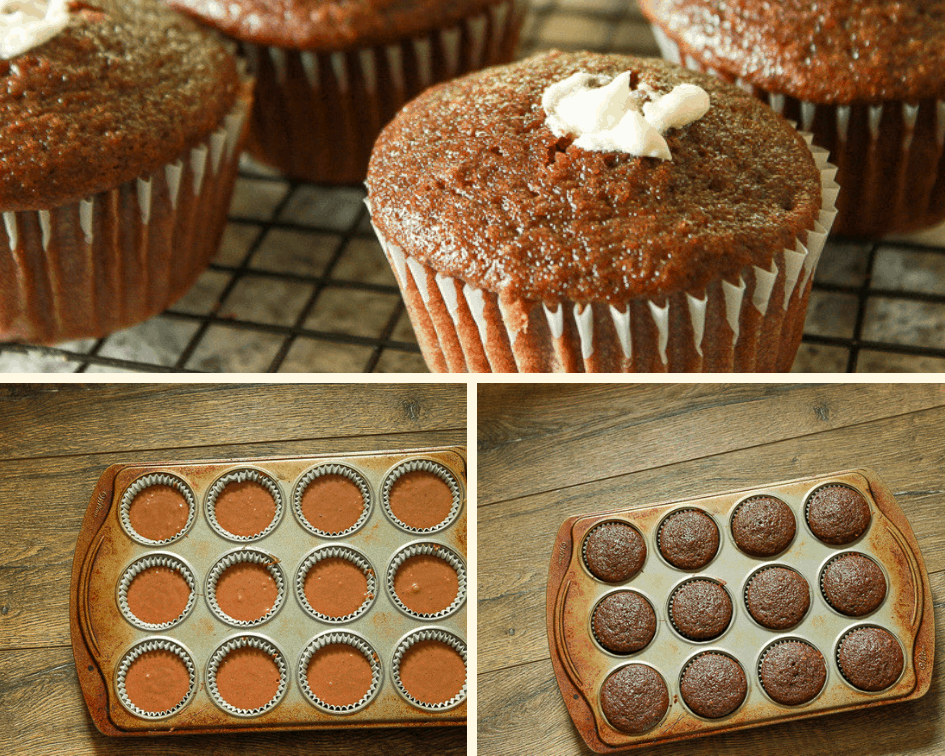 Cook for 18-20 minutes; they will be done with a toothpick in the middle comes out clean.
Place the cooked cupcakes on a wire rack to cool.
While your cupcakes are cooking, that's the time to make the filling.
Let's make the creamy filling-
Clean out your mixing bowl and add all your cream filling ingredients.
I know some people don't do shortening, and you could probably do vegan butter, but it's going to be a lot looser than the shortening is.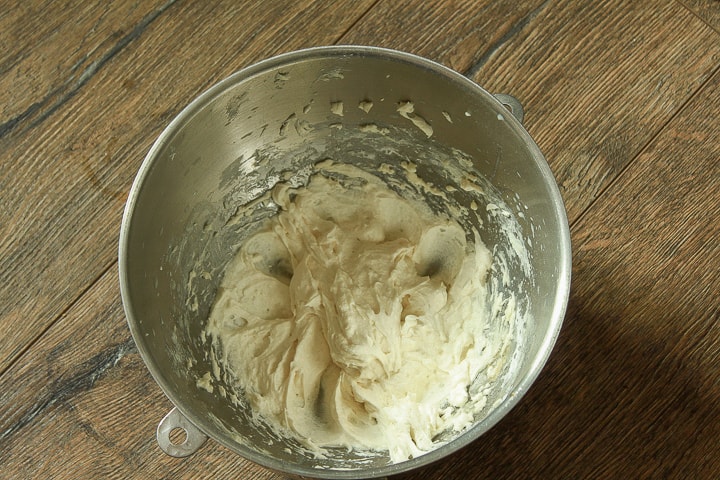 I haven't tried it, so I can't say it will be okay for sure. But I would lessen the plant milk if I went with vegan butter.
You'll want to whip this in your hand mixer, I usually use the big whisk attachment, but the paddle will do as well.
Once it's all fluffy, you can set it aside.
When the cupcakes are cooled, that's the part that takes forever you will fill the cupcakes.
Filling the vegan chocolate cupcakes-
I take the syringe and pull up the frosting or spoon mixture into the syringe.
What's nice about the syringe is you can see how much you pulled up and how much you will inject.
Then you will inject it into the middle of the cupcake.
You don't want to go too far down with your tip because you don't want to blow the bottom out.
I put about 10.5 Mls into each cupcake.
Sometimes the vanilla cream filling spills out over the top; if so, clean off the top of the cupcakes with just a swipe before making the ganache.
Make the vegan ganache frosting-
Take a small microwave-safe bowl and put your vegan chocolate chips, non-dairy milk, and oil in it.
Cook for 30 seconds, then stir.
It will likely be done, but cook in 30-second intervals until just barely melted.
Then you will stir vigorously until it all starts to thicken.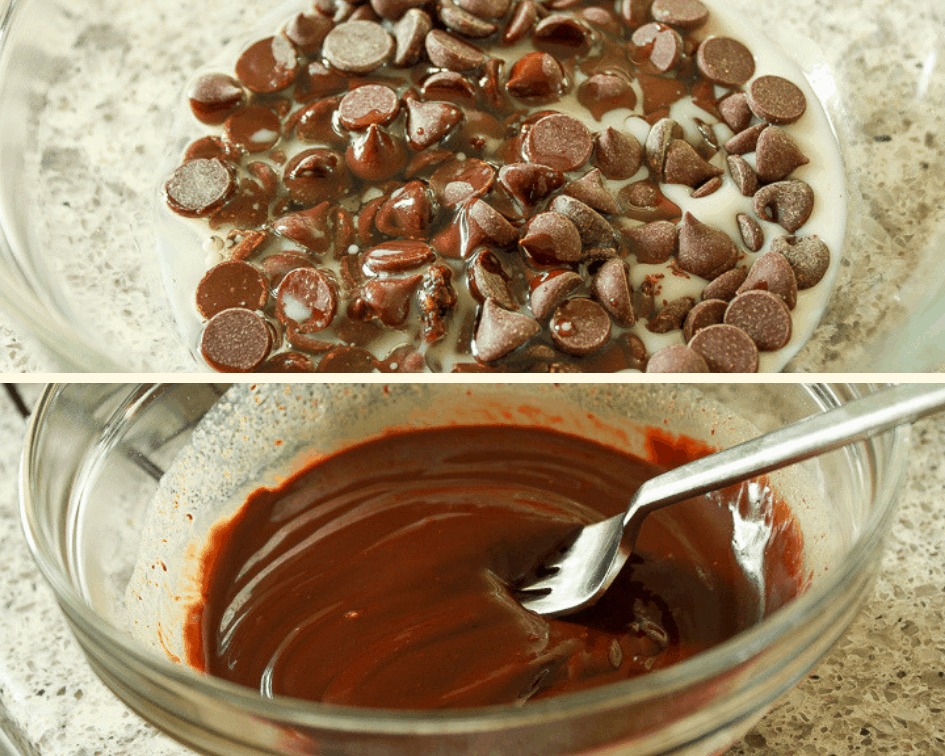 You will panic like I do every time, thinking the plant milk will never mix but rest assured it will.
It turns into a thick melted chocolate delicious ganache.
I let it cool for a few minutes in the fridge and then dip the cupcake tops into the ganache, turn upright quickly and move on to the next one.
It will create the perfect amount of chocolate ganache on top; this will dry and not be wet at all.
Now make the iconic original hostess cupcakes swirl-
To do this, you need to save some leftover vegan cream filling.
You can spoon it into a smaller piping bag with a small piping tip or a plastic sandwich baggie. If you use that, you'll cut the corner of the sandwich baggie and use it as you would a piping bag.
Pipe the swirls onto the top of each cupcake; this might take some practice to get the swirl right.
I rarely add the swirls to these because I don't need to; everyone just enjoys having amazing homemade cupcakes.
Now you're ready to serve these bad boys.
If you have any trouble, which I suspect you won't, or if you're nervous about filling cupcakes, just message me, and I am happy to walk you through it!
How do you serve these chocolate cream-filled cupcakes?
These are best served at room temperature.
How do you store these?
Store cupcakes in an airtight container for up to two days on your counter, any longer than that store in the fridge.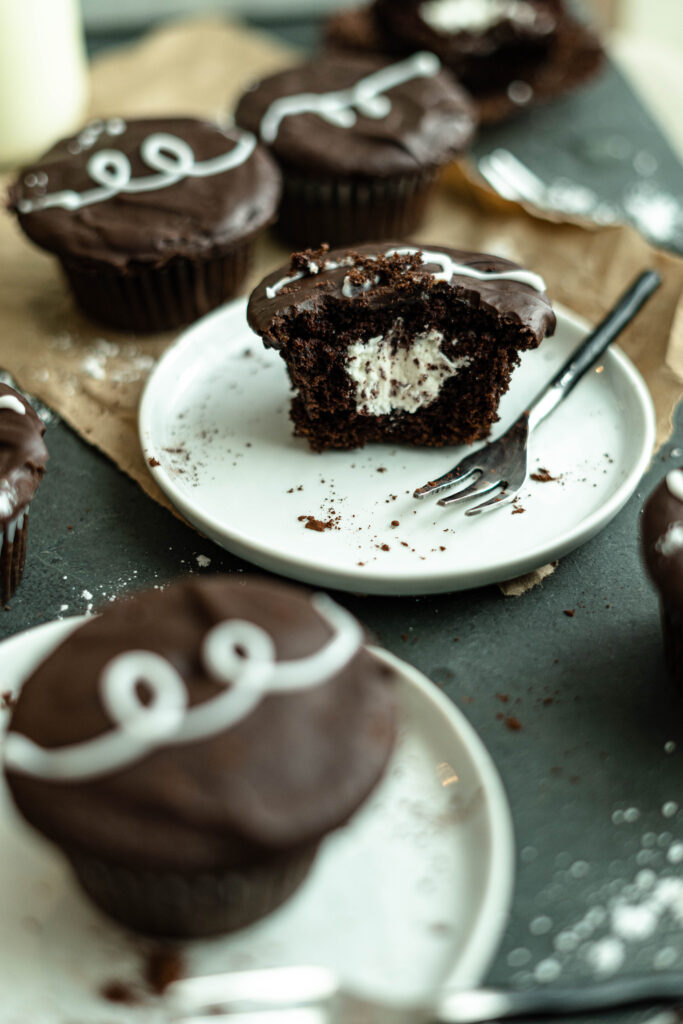 Can you freeze cupcakes?
You sure can. Make sure the frosting is set, and then freeze them in a gallon freezer bag in single rows.
 Make sure it's sealed well, and then freeze for up to 3 months.
Defrost on the counter.
Want some other vegan cupcake recipes?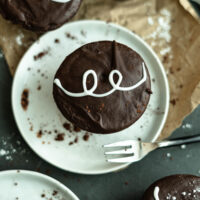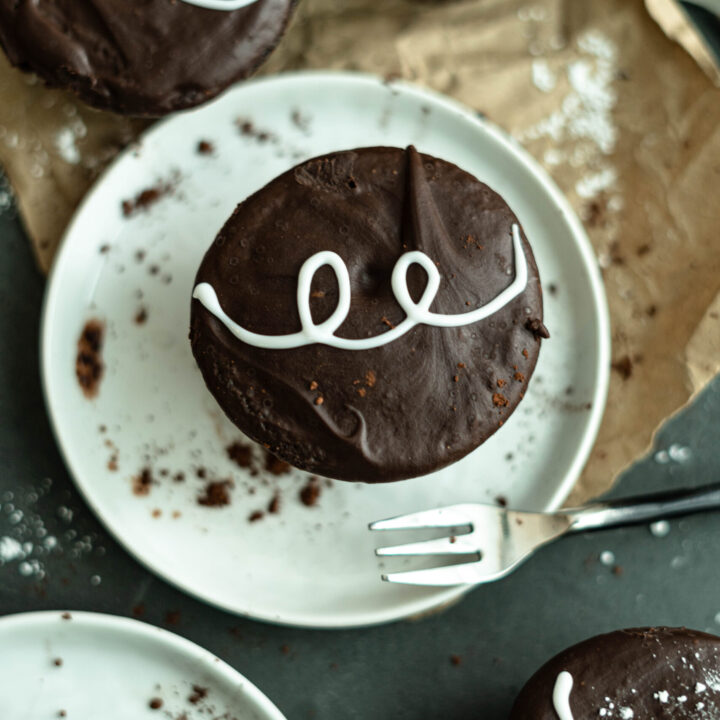 Vegan Hostess Cupcakes
These vegan chocolate cream-filled cupcakes are a party favorite! They come together quickly and taste amazing!
Print
Pin
Rate
Servings:
10
-12 cupcakes
Ingredients
Chocolate Cake
1

cup

plant milk

1

teaspoon

white vinegar

1 ¼

cup

all purpose flour

1

cup

white sugar

¼

cup

unsweetened cocoa powder

½

teaspoon

baking powder

½

teaspoon

baking soda

½

teaspoon

salt

⅓

cup

Earth Balance Vegan Butter

1

TB

Vanilla extract

⅓

cup

vegan sour cream
Cream Filling
½

cup

vegan shortening

1 ½

cup

powdered sugar

1

teaspoon

vanilla extract

1

TB

plant milk
Chocolate Ganache
½

cup

vegan chocolate chips

2

TB

plant milk

1

TB

neutral oil
Instructions
Preheat your oven to 350 degrees. Line a muffin tin with liners and set it aside.

Take your stand mixer fitted with the paddle attachment. Throw all your cupcake ingredients into the bowl and beat starting on low to mix and then medium until all smooth. Pour into your muffin tin; you should get 12 cupcakes. Cook for 18-20 minutes; they will be done with a toothpick in the middle comes out clean.

While your cupcakes are cooking, make your filling. Clean out your mixing bowl and throw your cream ingredient in; beat with the whisk attachment until fluffy; this can take 5 minutes or longer. While you are waiting for the cupcakes the cool, you can place this in the fridge.

Once the cupcakes are cool, you can start filling. Take your injector and fill it *there is more detail on this on the post above* then stick the tube in the middle of the cupcake and squeeze about 10.5 ML into the cupcake. You will see it puff up as you are filling, don't overfill. Whip the excess cream off the top of the cupcakes and repeat with the remaining cupcakes.

Make your chocolate ganache, put ingredients into a small bowl, and heat in the microwave at 30 seconds intervals, stirring between until melted. Do not overcook. It will look like it won't mix, but it will continue to mix as you stir it. Put it in the fridge once mixed for 5 minutes. Then dip your cupcakes into the ganache and flip over quickly. Repeat with remaining cupcakes and let dry.

If you want to make the swirl design, use the leftover cream filling in a piping bag fitted with a small tip and swirl on the design. This is not necessary, just for looks.
Notes
See the blog post for recipe Q&A and more ways to fill cupcakes.
Nutrition
Serving:
1
cupcake
|
Calories:
452
kcal
|
Carbohydrates:
57
g
|
Protein:
4
g
|
Fat:
24
g
|
Saturated Fat:
3
g
|
Polyunsaturated Fat:
13
g
|
Sodium:
287
mg
|
Fiber:
1
g
|
Sugar:
42
g
If you loved this recipe, then give it a 5 star rating and leave a comment! I love to chat with you all. Please feel free to share on social media and tag #courtneyshomestead. I would love to see you over on Instagram or Facebook.
Amazon Affiliate links below-