These vegan chocolate cream cupcakes are a party staple at our house. They are one of the most requested cupcakes. In fact I am making them for my sons birthday currently. They have a delicious light chocolate cupcake with a cream filling and a chocolate ganache topping. Sounds fancy, and it kinda is.
Have you ever had a filled cupcake? They are the best! If you haven't checked out my peanut butter cup cupcakes than you really should! They are filled as well. It's always fun to see the suprise on peoples faces when they bite in and there is a little something extra inside for them.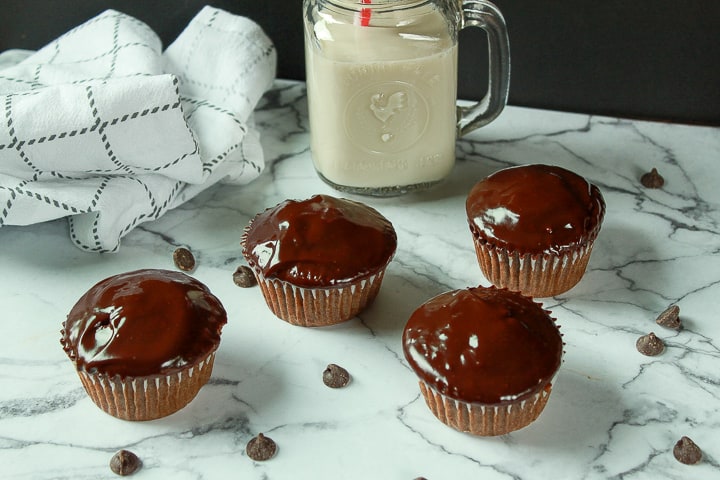 Filling cupcakes can be a little intimidating when you've never done it or sound to time-consuming, but it's really not bad at all. I always use syringes which you can order off of Amazon, or you can use something that's made just for filling cupcakes. But I have found my favorite to be these syringes.
What do you need for these Vegan Chocolate Cream Filled Cupcakes?
plant milk
flour
sugar
cocoa powder
baking powder/soda
salt
vegan butter
vinegar
vanilla extract
vegan sour cream
vegan shortening
powdered sugar
vegan chocolate chips
oil
How do you make them?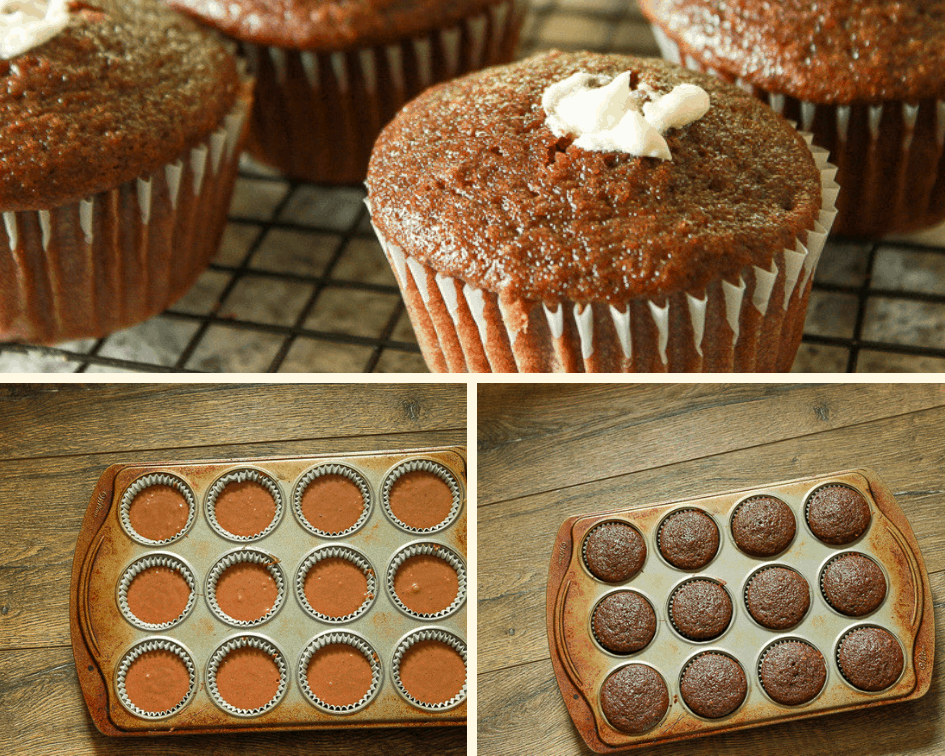 The cake base is super easy. You'll throw everything in your stand mixer fitted with the paddle attachment and mix until incorporated. I love dump and go recipes, don't you? Then you'll fill your muffin tins, these make 12 cupcakes. I also use liners because I HATE when things stick. You'll bake these in a 350 degree oven for 18-20 minutes until a toothpick is inserted and comes out clean, you know the drill.
While your cupcakes are cooking that's the time to make the filling. Clean out your mixing bowl and add all your cream filling ingredients. I know some people don't do shortening and you could probably do vegan butter, but it's going to be a lot looser than the shortening is. I haven't tried it so I can't say it will be okay for sure. But I would lessen the plant milk if I went with vegan butter. You'll want to whip this in your hand mixer, I usually use the big whisk attachment, but the paddle will do as well. Once it's all fluffy you can set it aside.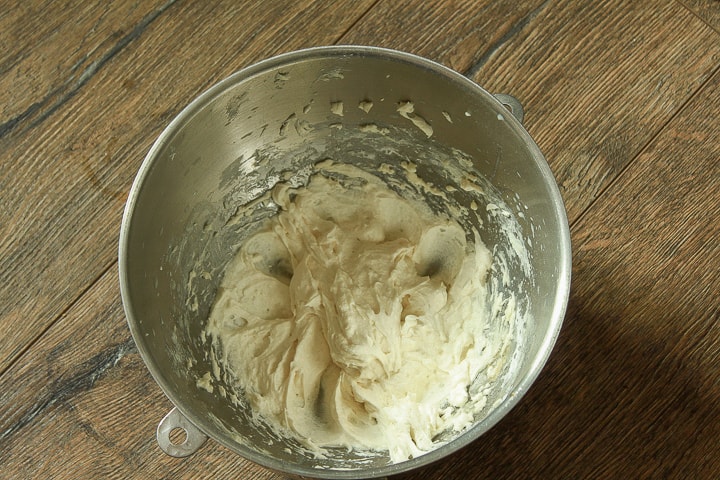 When the cupcakes are totally cooled, that's the part that takes forever. You can start filling the cupcakes. I take the syringe and pull up the frosting. What's nice about the syringe is you can see how much you pulled up and how much you will inject. Then you will inject it into the middle of the cupcake. You don't want to go too far down with your tip, because you don't want to blow the bottom out. I put about 10.5 MLs into each cupcake.
Clean off the top of the cupcakes with just a swipe before making the ganache.
Take a small microwave-safe bowl and put your chocolate chips, plant milk, and oil in it. Cook for 30 seconds, then stir. It will likely be done, but cook in 30-second intervals until just barely melted. Then you will stir vigourously until it all starts to thicken. You will panic like I do everytime thinking the plant milk will never mix but rest assured it will. It turns into a thick chocolate. I let it cool for a few minutes in the fridge and then just dip the cucpake tops into the frosting turn upright quickly and move onto the next one. It will create the perfect amount of chocolate ganache on top, this will dry and not be wet at all.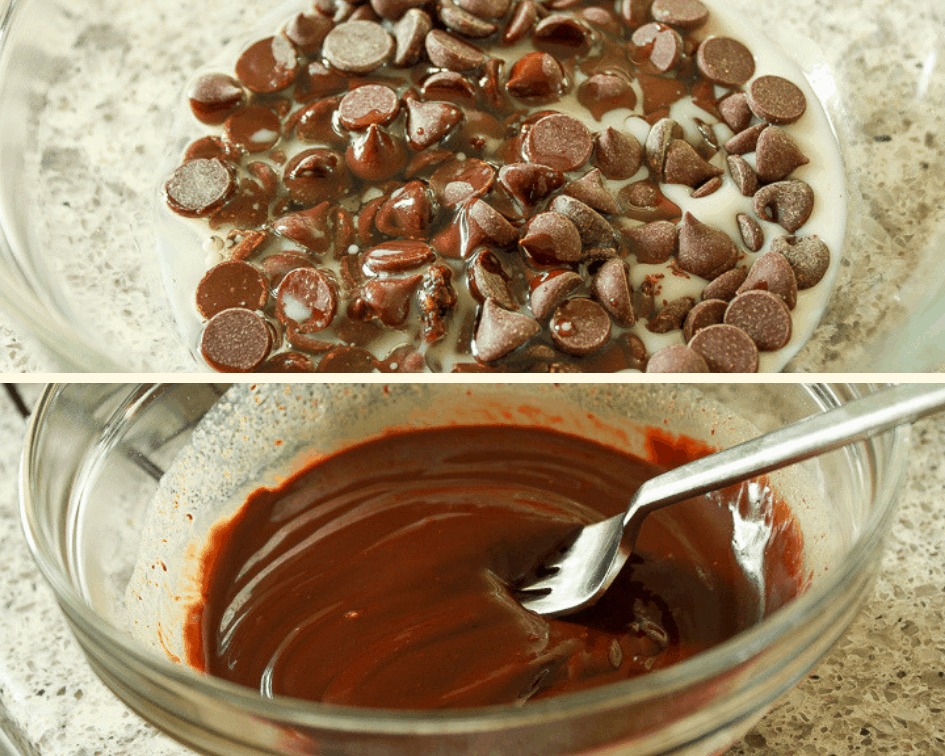 Now you're ready to serve these bad boys. If you have any trouble, which I suspect you won't or if you're nervous about filling cupcakes just message me and I am happy to walk you through it!
Have you ever had filled cupcakes? Let me know in the comments!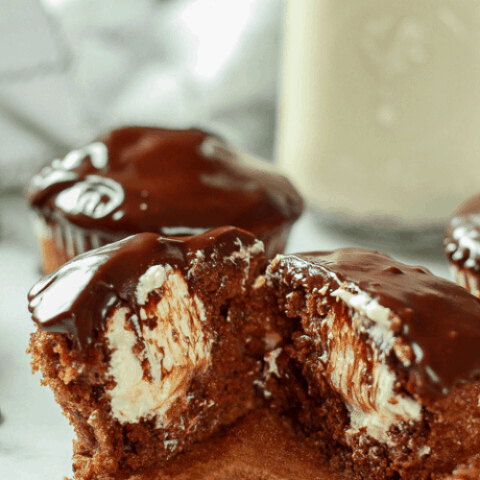 Vegan Chocolate Cream Cupcakes
These vegan chocolate cream filled cupcakes is a party favorite! They come together quickly and taste amazing!
Ingredients
Chocolate Cake
1 cup plant milk
1 tsp white vinegar
1 1/4 cup all purpose flour
1 cup white sugar
1/4 cup unsweetened cocoa powder
1/2 tsp baking powder
1/2 tsp baking soda
1/2 tsp salt
1/3 cup Earth Balance Vegan Butter
1 TB Vanilla extract
1/3 cup vegan sour cream
Cream Filling
1/2 cup vegan shortening
1 1/2 cup powdered sugar
1 tsp vanilla extract
1 TB plant milk
Chocolate Ganache
1/2 cup vegan chocolate chips
2 TB plant milk
1 TB neutral oil
Instructions
Preheat your oven to 350 degrees. Line a muffin tin with liners and set aside.
Take your stand mixer fitted with the paddle attachment. Throw all your cupcake ingredients into the bowl and beat starting on low to mix and then medium until all smooth. Pour into your muffin tin, you should get 12 cupcakes. Cook for 18-20 minutes, they will be done with a toothpick in the middle comes out clean.
While your cupcakes are cooking make your filling. Clean out your mixing bowl and throw your cream ingredient in, beat with the whisk attachment until fluffy, this can take 5 minutes or longer. While you are waiting for the cupcakes the cool you can place this in the fridge.
Once the cupcakes are cool you can start filling. Take your injector and fill it *there is more detail on this on the post above* then stick the tube in the middle of the cupcake and squeeze about 10.5 ML into the cupcake. You will see it puff up as you are filling, don't overfill. Whip the excess cream off the top and repeat with the remaining cupcakes.
Make your chocolate ganache, put ingredients into a small bowl and heat in the microwave at 30 seconds intervals, stirring between until melted. Do not overcook. It will look like it won't mix, but it will continue to mix as you stir it. Put it in the fridge once mixed for 5 minutes. Then dip your cupcakes into the ganache and flip over quickly. Repeat with remaining cupcakes and let dry.
Nutrition Information:
Yield:

10
Serving Size:

1 cupcake
Amount Per Serving:
Calories:

452
Total Fat:

24g
Saturated Fat:

3g
Trans Fat:

0g
Unsaturated Fat:

13g
Cholesterol:

0mg
Sodium:

287mg
Carbohydrates:

57g
Fiber:

1g
Sugar:

42g
Protein:

4g
The calories are computer generated and may not be 100% accurate.

<3 Courtney