Follow my blog with Bloglovin
Peanut butter cups are one of my favorite treats. I mean what's not to love with a peanut butter and chocolate combo.
This recipe for vegan peanut butter cups is super easy, super tasty and will make you never miss the ole Resses Peanut Butter Cups.
My favorite old time peanut butter cup was the holiday ones, you know the "egg" or "pumpkin" shaped ones. Mmmm the peanut butter to chocolate ratio was much stronger, just how I like it.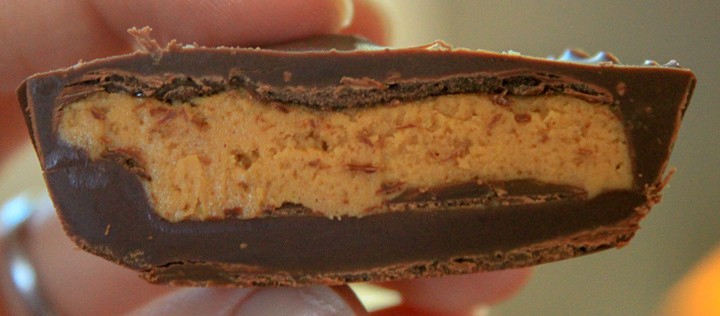 They do have vegan peanut butter cups, like Justins– and they are SO good, but I didn't want to take an extra trip to the store. So, insert homemade peanut butter cups!
Now about the recipe- this is made with the obvious peanut butter, you could switch out the peanut butter for a different nut butter, but I haven't personally tried it. It has a touch of brown sugar in it to bring a different flavor profile (and it's a good one), and powdered sugar to seal the deal.
Shaping these bad boys, well…. this dough is a bit sticky, which can make shaping them a bit of an annoyance, but not terrible. There are a couple of different ways you can go about it.
Peanut butter dough methods;

1. You can just go at it (this is how I usually do it) and get sticky hands, but do your shapes and stick them on a silpat lined pan and stick them in the fridge or freezer.
2. You could stick the dough in the freezer for 10 minutes, and then shape them, they will still be a bit sticky, but not quite as bad.
3. You can take a silpat, put your dough on it, take surran wrap- put it over the top of the dough, roll them out to your desired thickness, and hope you have a biscuit cutter the right size for your muffin tin. That option is the most pretty option as in uniform size.
4. If you have molds, let them freeze until they pop out easily, pop them out and then proceed with the recipe.
5. I have never tried this, but I read about it and I am sure it would work- put the dough in a piping or ziplock bag and pipe into your mold or cupcake liner, after your first layer of chocolate.
Five options is making it sound like these peanut butter cups are way harder than they are. They really aren't, once you have your method down, it's easy peasy. And you're sailing into peanut butter cup heaven.
This recipe goes hand in hand with the BEST peanut butter cup cupcakes recipe here.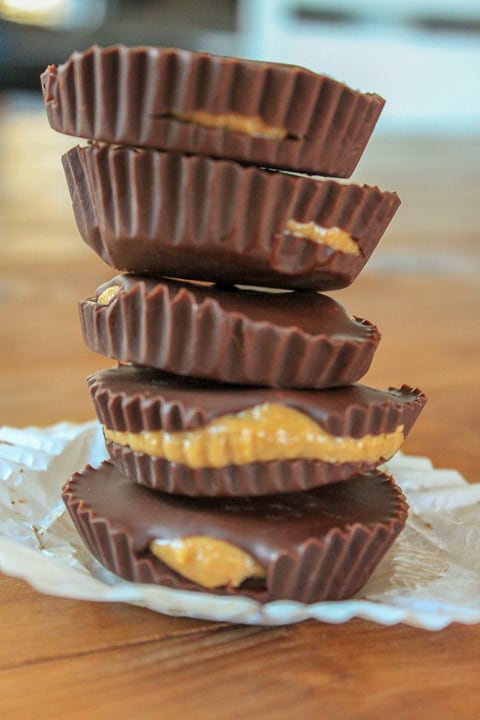 Vegan Peanut Butter Cups
Yield:
18 -20 peanut butter cups
These homemade vegan homemade peanut butter cups taste similar to Resses Peanut Butter Cups.
Ingredients
Peanut butter mix
1 Cup Peanut butter
2 TB brown sugar
3/4 cup powdered sugar
2 TB vegan butter, softened (I use Earth Balance)
1/4 tsp salt
1/4 tsp vanilla extract
Chocolate coating
3 cups chocolate chips
3 tsp oil
1/8 tsp salt
Instructions
Start by getting a parchment paper or silpat sheet on a cookie sheet that will fit in your freezer. Set aside
2. Get your stand or hand mixer and mix all of your ingredients. Mix until well combined.
3.Take your dough and put either on a silpat or parchment paper. Roll out the dough by placing surran wrap over it (so it doesn't stick, this is pretty sticky), once rolled out to your desired thickness, use a small biscuit butter and cut them out for whatever size your peanut butter cup will be. Alternately- you can stick the dough in the freezer for 10 minutes, then shape them in your hand, put the shapes on the cookie sheet and place in the freezer while melting the chocolate.
4. Get a microwave safe bowl and put all your chocolate ingredients, cook for 30 seconds, stir for about 15 seconds, then put back in for 30 seconds, stir for another 15-20 seconds. If it still has some chunks that aren't melting, proceed with caution- you don't want your chocolate to seize. You can cook it for another 15 seconds on 50% power. The amount of time it needs is also going to depend on how big your bowl is. If after the first 30 seconds, things are getting pretty melty, switch over to the 50% power until done.
5. Pour your melted chocolate either in molds or cupcake liners in a muffin tin. Pour a little less than 1 tablespoon (again depending on size, you might have to play with it, if using molds) into each liner. Give the tin a little bit of a shake, so all the chocolate covers the bottom. Then take your peanut butter shapes and press them into the mold of the chocolate. Then take the remaining chocolate and cover the peanut butter mixture. I would stick them in the fridge or freezer to harden for a few minutes and then they are good to go!
Nutrition Information:
Yield:

18
Serving Size:

1 peanut butter cup
Amount Per Serving:
Calories:

265
Total Fat:

18g
Saturated Fat:

7g
Trans Fat:

0g
Unsaturated Fat:

9g
Cholesterol:

0mg
Sodium:

130mg
Carbohydrates:

28g
Fiber:

3g
Sugar:

22g
Protein:

4g
The calories are computer generated and may not be 100% accurate.
If you made this and enjoyed it, I would love to hear about it in the comments or #courtneyshomestead. Thanks so much for your support! <3 Courtney