Painting Ikea cabinets is totally doable, follow along to learn more!
Can you paint Ikea Cabinets?
Yes! The answer is yes and they even turn out well!
When we did our huge kitchen remodel, we needed to add 3 cabinets and a pantry.
We wanted to keep this project as affordable as we could, so we turned to our friends at Ikea.
Ikea is a great place to get cabinets, countertops and all sorts of great home things, as I am sure you are well aware. The only bummer part is your stuck to the colors they provide.
For us, we were painting our cabinets white, and Ikea's white was off white, it wasn't going to fly with our white as white cabinets.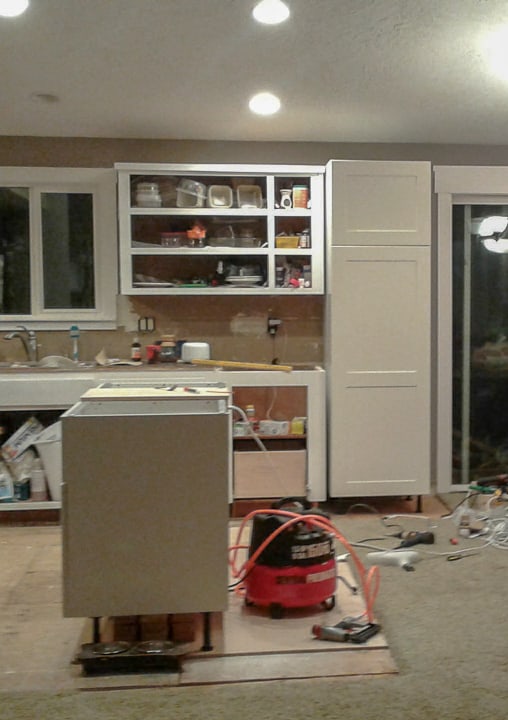 So, we decided on the double color kitchen.
I was terrified to paint Ikea cabinets.
I didn't know what would happen or how they would hold up, and after you spend that kind of dough on something- you don't want to screw it up.
It's safe to say, I did it and I am SO glad I did. It's been over a year since I painted them and it's holding up great! And it's SO easy. *See the bottom of the post for a further out update.
The most important part about painting your cabinets is the type of paint you use.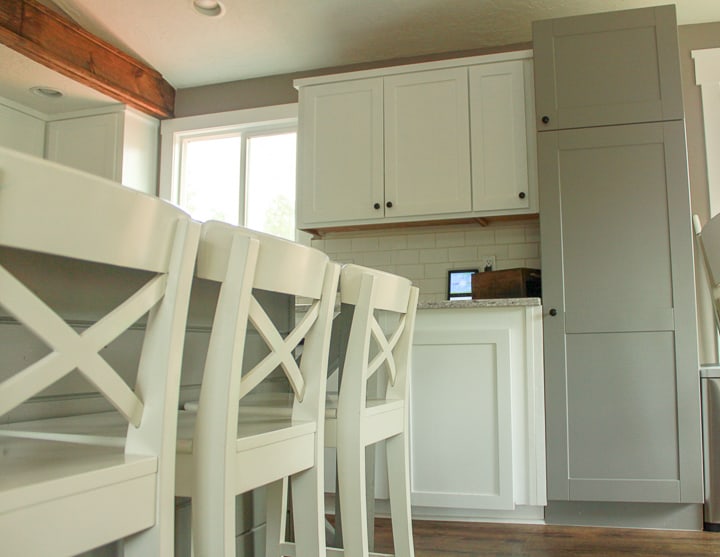 What time of paint do you need to paint Ikeas laminate cabinets?
I used Benjamin Moore Advance paint. I used this for all of my cabinets and it's seriously worth the price!
Let's get to the good part, painting Ikea cabinets.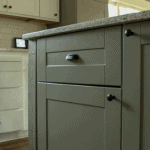 Print Recipe
How to paint Ikea Cabinets
Here are the steps to painting Ikea cabinets.
Equipment
Small cabinet paint roller

Cabinet paint brushes
Ingredients
Degreaser

Oil Based Primer

tape

Your favorite cabinet paint *I like Benjamin Moore Advance Paint
Instructions
Start by making sure your cabinets are super clean. They should be as they are likely new, but if not you need a good degreaser.

If they already have hardware on them, remove the hardware.

Tape off anything you don't want to paint. I only painted the fronts of the doors and the base. The inside of the cabinet I did not paint, I didn't care that they were white. And this way, it saves them chipping from banged pots and you don't have to remove the doors.

Use a good primer. I used an oil-based primer and did 2-3 coats on them. Luckily primer dries fast, follow the directions on the dry time- super important.

Once you have your primer set, you can jump into the painting. I used a small roller brush, like this one here. And carefully rolled being careful to not overcoat one area more than the other.

Let the first coat dry for 24 hours per the instructions on the paint. You really have to wait the time, I am super impatient with these kinds of things and want to hurry to the next time, but just don't. The curing time is super important to make sure your cabinets hold up. I ended up doing 3 top coats, just to make sure the paint was really on there good. For the next couple of weeks be careful with them. It takes weeks to fully cure and you could ding them up if you aren't careful.
Notes
* The times above are just estimates as it all depends on how many cabinets and what size they are.

This is a really easy and totally worth it project if you need to change the color of Ikea Cabinets.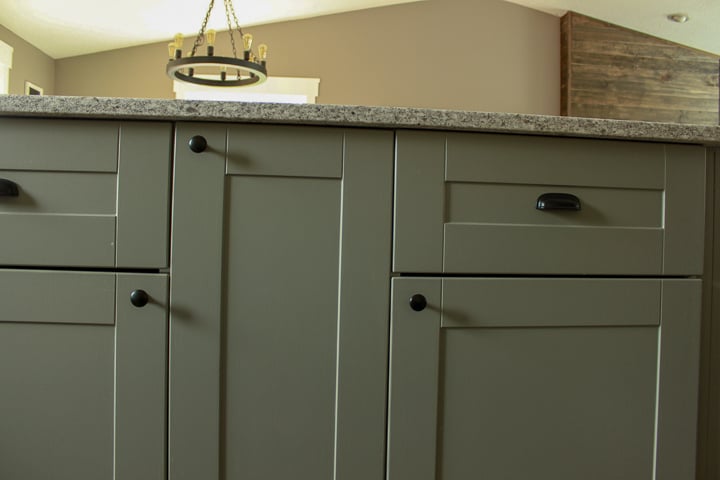 How does painting Ikea Kitchen Cabinets hold up?
I have two boys and a dog, and these cabinets are the island and the pantry, the most frequented cabinets I have. They are holding up the same if not better than my all wood cabinets that I painted, although those are doing quite well.
Update- as of 4/2021- The cabinets are still holding up great! I did get a bit of a scratch but it covered up great with touch-up paint. The other tall cabinet hasn't gotten any dings or scratches.

If you have any questions about painting your Ikea cabinets let me know in the comments!
If you're looking for more fun DIY projects.