Thai food is one cuisine everyone is our house loves. So, I decided I should try and come up with some Thai recipes that my family approves of. Insert this vegan Thai pineapple fried rice. I wouldn't say it taste exactly like the restaurants as they use way more oil than I choose to use in my cooking, but it's a pretty good second.
I took pictures in a pineapple, but I did use a can of pineapple when making the recipe. I use the pinapple juice when making the rice to add a little more flavor to it. This is optional. If you would rather use a whole pineapple than just use more water in place of the pineapple juice.
What's your favorite Thai dish? I LOVE yellow curry, and I keep trying to come up with a recipe. However, it keeps coming out way too spicy. If you have a good yellow curry recipe please send it my way.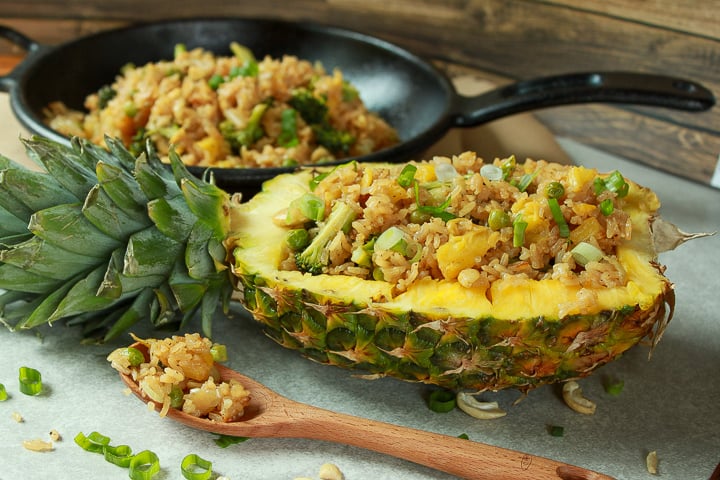 What do you need to make this vegan Thai pineapple fried rice?
Pineapple + juice from can
soy sauce
onion
broccoli
oil
black pepper
garlic
sesame oil
cashews
How do you make this?
You're going to start by making your rice. Fried rice is typically best when you can make it a day or so ahead of time, but it can be made the same day as well. You're going to throw your rice, soy sauce, water and pineapple juice in your rice cooker. Cook the rice.
Now chop up your onion and broccoli.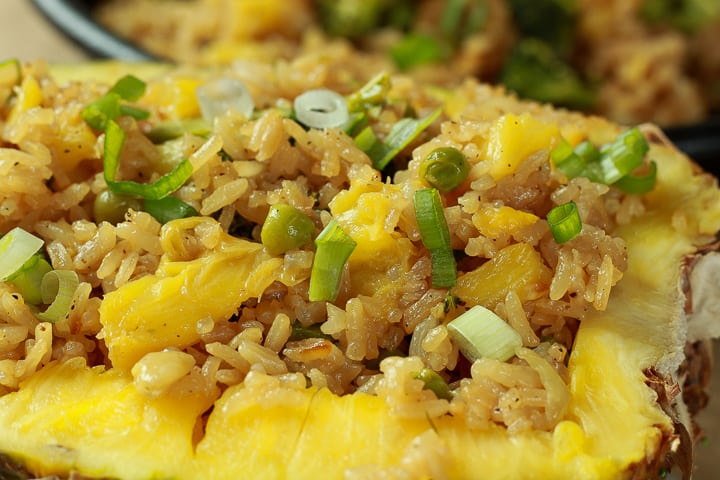 Cook your onion in 1 TB of canola oil, once the onion is cooked add the garlic and cook for 30 seconds or so. Now cook your broccoli or any other vegetables you want to add. You may need to add water so that the vegetables don't stick. Cook the vegetables until they are the desired texture.
Now take a small bowl and mix together the remaining 2 TB soy sauce, sesame oil, and pepper. Now take the rice and dump it into the wok or pan your vegetables are in. Pour the sauce over, add the cashews and mix until incorporated. Cook until warm and sauce is throughout the rice. If you want to add more oil than feel free to do so. This isn't a overly greasy fried rice.
What's your favorite Thai Food? Let me know in the comments!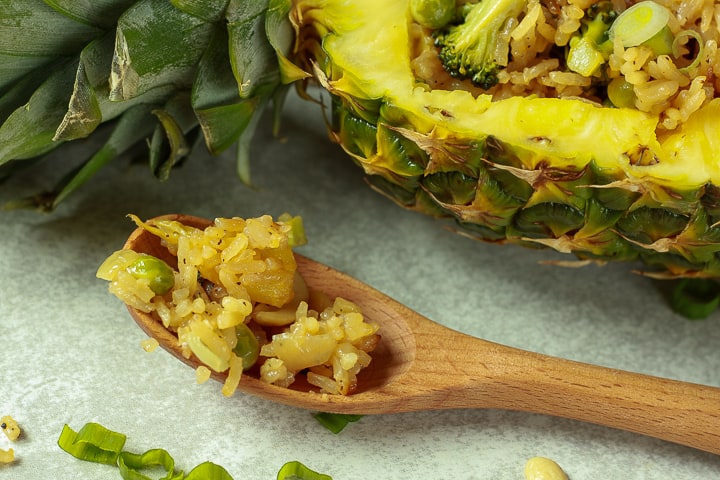 Vegan Thai Fried Rice
This easy vegan Thai pineapple fried rice is delicious and full of flavor.
Ingredients
1 cup white rice
1 can pineapple pieces with juice
3 TB soy sauce, low sodium
1 small onion,chopped
1/2 cup peas
1 cup broccolli, chopped
1 TB canola oil
1/2 tsp pepper, ground
3 cloves garlic, minced
1 TB sesame oil
1 cup cashews, roasted, salted
Instructions
Take your rice cooker and cook the rice, 1 TB soy sauce, 1 cup pineapple juice, 1 cup water, cook according to the rice cooker. This is even better if the rice is a day old.
Take your 1Tb canola oil and saute the onion and garlic then add the vegetables. Cook until semi soft. Add the rice, pepper, remaining 2 TB soy sauce, 1 TB sesame oil, pinapple chunks and cashews. Stir until combined and warm throughout.
Nutrition Information:
Yield:

4
Serving Size:

1 serving
Amount Per Serving:
Calories:

402
Total Fat:

23g
Saturated Fat:

4g
Trans Fat:

0g
Unsaturated Fat:

18g
Cholesterol:

0mg
Sodium:

666mg
Carbohydrates:

43g
Fiber:

4g
Sugar:

15g
Protein:

10g
The calories are computer generated and may not be 100% accurate.

<3 Courtney