This easy vegan pineapple fried rice is the perfect meal for busy weeknights. It's full of flavor, with sweet pineapple, rice, soy sauce, and simple seasoning you will love.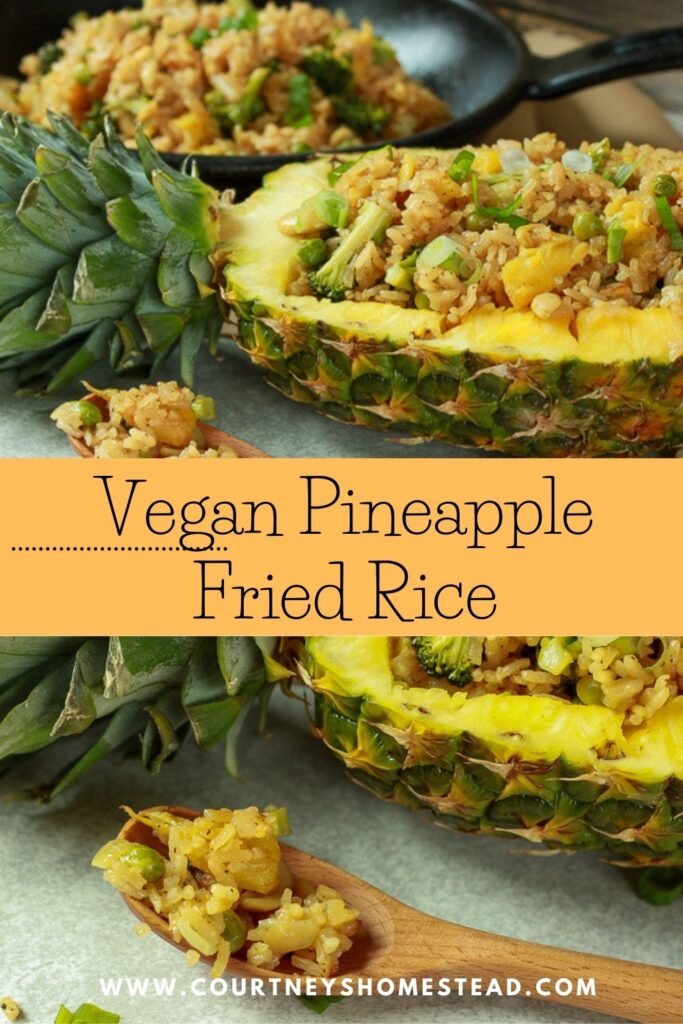 Thai cuisine is one cuisine everyone in my whole family loves.
So, I decided I should try and develop some Thai recipes that my family approves of.
Insert this vegan Thai pineapple fried rice.
I wouldn't say it taste exactly like the restaurants as they use way more oil than I choose to use in my cooking, but it's a pretty good second.
I took pictures in a pineapple, but I used a pineapple can and fresh pineapple when making the recipe.
But fresh pineapple is delicious and more flavorful.
I use pineapple juice when making the rice to add a little more flavor to it. This is optional.
If you would rather use a whole pineapple, use more water in place of the pineapple juice.
What's your favorite Thai dish?
I LOVE yellow curry, and I keep trying to develop a recipe. However, it keeps coming out way too spicy. I'll keep working on it.
You can serve this as a main course or as a side dish.
Adding some vegan chicken or crispy baked tofu is a great way to make it a whole dish for dinner.
Vegan Pineapple Fried Rice Recipe Q&A-
What's the best type of rice to use?
The best rice to use is whatever your favorite rice is.
I usually use jasmine rice, which you find at most Thai restaurants, but you can use basmati rice if that's what you have.
You can use brown rice, but brown rice has a more distinct flavor. I prefer white rice.
Is fresh pineapple or canned pineapple better?
Fresh pineapple is always more flavorful, but you can absolutely use canned.
How do you make a pineapple bowl?
Making pineapple boats is easy. Follow these instructions;
You can either cut the pineapple stem off or keep it on.
Cut the pineapple down the middle
Cut out the pineapple chunks out, being careful not to go all the way through
The pineapple shell should be left, and you can fill it with your cooked vegan fried rice.
How do you pick out a fresh pineapple?
The pineapple shell should be hard but have a tiny bit of give when pressing on it with your fingers.
The pineapple color should be golden yellow; some green is okay, orange is too ripe.
It should smell sweet at the bottom of the pineapple, but not like sweet vinegar. It should be good to go; if it smells sweet. If it smells vinegary, it will be overly ripe.
Can you make this pineapple fried rice oil-free?
If you want to make this oil-free, it won't have as much flavor as the oil, but it is possible. You can replace the oil with tahini or vegetable broth.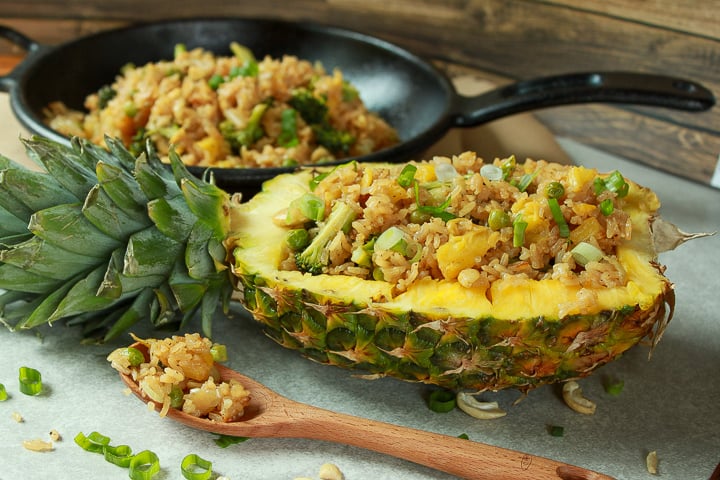 Can this Thai fried rice be made gluten-free?
Yes, if you want to make it gluten-free, remove the soy sauce with gluten-free tamari.
Do you have to use leftover rice for fried rice?
Fried rice is always better made with cold rice.
It makes it so that the flavors absorb better and the rice crisps up.
However, not everyone plans ahead, and it will work with fresh rice, but for a more authentic flavorful fried rice doing it with cold rice is better.
What do you need to make this vegan Thai pineapple fried rice?
Check out the recipe card at the bottom of this post for the full recipe.
Pineapple + juice from a can you cant omit the juice if you use fresh pineapple
soy sauce or gluten-free tamari
onion
broccoli
oil
black pepper
garlic
sesame oil
cashews
How do you make this vegan pineapple fried rice?
You're going to start by making your rice.
Fried rice is typically best when you can use day-old rice or so plan ahead of time, but it can be made the same day as well.
You're going to put your rice, soy sauce, water, and pineapple juice in your rice cooker.
Then cook the rice.
Now chop up your onion and broccoli.
Get a large pan and cook your onion in 1 TB of canola oil on medium heat; once the onion is cooked, add the garlic and cook for 30 seconds or so.
Now cook your broccoli or any other fresh vegetables you want to add.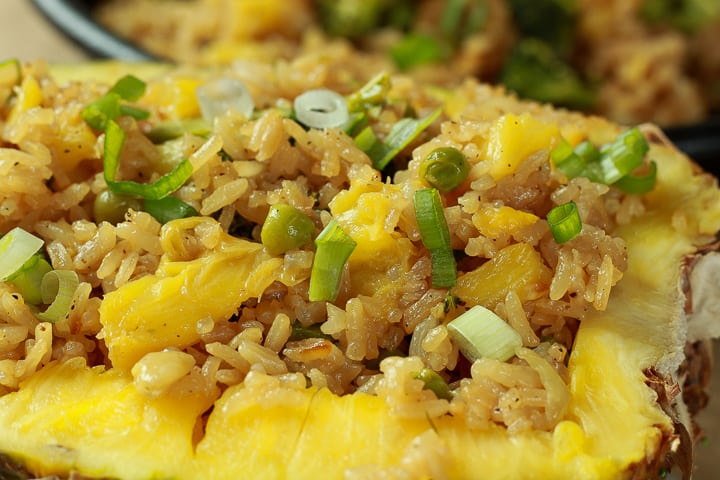 You may need to add water or more oil so that the vegetables don't stick.
Cook the vegetables until they are the desired texture.
Now take a small bowl and mix the remaining 2 TB soy sauce, sesame oil, and pepper.
Take the cooked rice and dump it into the wok or large pan your vegetables are in, and heat on medium-high heat.
Pour the sauce over, add the cashews, juicy pineapple chunks and mix until incorporated.
Cook until warm and sauce is throughout the rice.
If you want to add more oil, feel free to do so. This isn't overly greasy fried rice.
You can garnish this with chopped green onions, sesame seeds, a squeeze of lime, or spring onion.
How do you serve this Thai pineapple rice?
This is best served warm as either a complete meal or a side dish.
How do you store this vegan fried rice recipe?
Wait for it to cool to room temperature, then place it in an airtight container in the fridge for up to 5 days.
Reheat in the microwave; you can add a splash of water, so it doesn't dry out, or you can reheat on the stove top with some additional oil.
Want some other vegan rice dishes?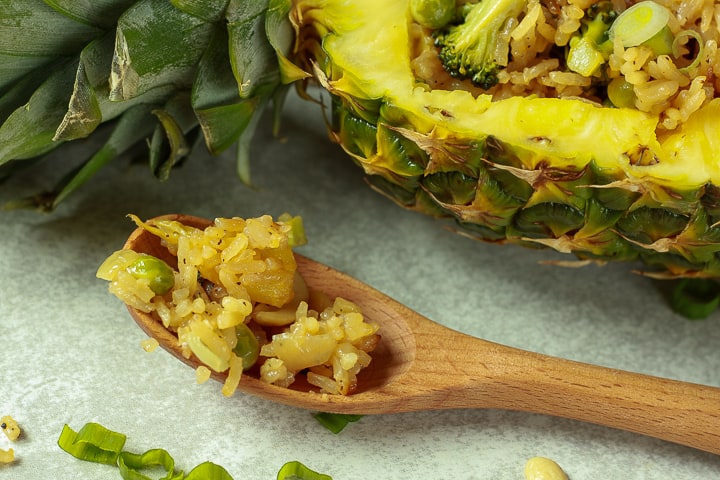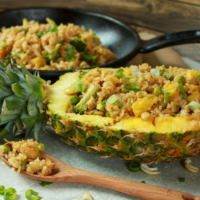 Vegan Pineapple Fried Rice
This easy vegan Thai pineapple fried rice is delicious and full of flavor.
Print
Pin
Rate
Ingredients
1

cup

white rice

1

can pineapple pieces with juice

3

TB

soy sauce

low sodium

1

small onion

chopped

½

cup

peas

1

cup

broccolli

chopped

1

TB

canola oil

½

teaspoon

pepper

ground

3

cloves

garlic

minced

1

TB

sesame oil

1

cup

cashews

roasted, salted
Instructions
Take your rice cooker and cook the rice, 1 TB soy sauce, 1 cup pineapple juice, 1 cup water, cook according to the rice cooker. This is even better if the rice is a day old.

Take your 1Tb canola oil, saute the onion and garlic, and add the vegetables. Cook until semi-soft. Add the rice, pepper, remaining 2 TB soy sauce, 1 TB sesame oil, pineapple chunks, and cashews. Stir until combined and warm throughout.
Notes
See the post for recipe Q&A
Nutrition
Serving:
1
serving
|
Calories:
402
kcal
|
Carbohydrates:
43
g
|
Protein:
10
g
|
Fat:
23
g
|
Saturated Fat:
4
g
|
Polyunsaturated Fat:
18
g
|
Sodium:
666
mg
|
Fiber:
4
g
|
Sugar:
15
g
If you loved this recipe then give it a 5 star rating and leave a comment! I love to chat with you all. Please feel free to share on social media and tag #courtneyshomestead. I would love to see you over on Instagram or Facebook.