This dish is just what the name says- Tasty Teriyaki Tofu. For real though, it's good and you should probably try it out, if you're into tofu.
Tofu is one of those weird dishes, where it can either be really good or really bad. I guess any recipe can be like that, but I feel like tofu hits it hard in that department.
What I like about tofu is that it takes on pretty much any flavor, if you season it well. But there are tricks to tasty tofu.
One of those tricks being, getting the water out. It's a must, the tofu sits in a liquid bath and is full of liquid until you squeeze it out. I use this, and it works pretty well, but you can put it between plates and heavy books to achieve the same result. I just wanted another kitchen gadget, something to make life easier.
Another trick, but not one I did with this recipe is; freezing your tofu. Buy it from the store, chuck it in the freezer, once frozen defrost it, use your press to squeeze the liquid out and then marinate like you normally would and bam, textures totally different. You should try it. You could do that for this recipe, but I just didn't think about it in time.
Back to the teriyaki part. I make my own teriyaki sauce for this and it's pretty darn good, and pretty darn quick. Both things I enjoy in a recipe =)
I used tiny heart shapes to cut this tofu up, it happened to be valentines day, so hearts are what we went for. But you could just cut it up into little pieces and although you may not have a heart staring back at you, it won't affect the flavor of this teriyaki tofu.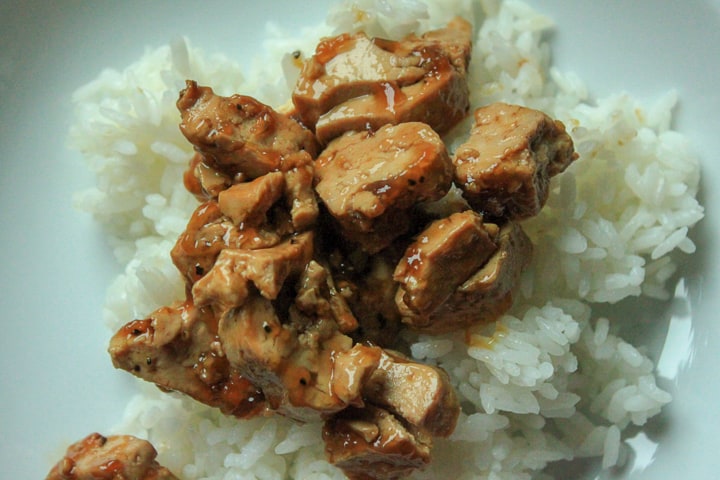 Tasty Teriyaki Tofu
This tasty teriyaki tofu cooks in a teriyaki sauce until thickened.
Ingredients
14 oz block extra firm tofu
Teriyaki Sauce
2/3 cup soy sauce
1 TB Mirin
1/4 cup white sugar
2 cloves garlic,minced
1/2 teaspoon ginger, powder
1/4 teaspoon black pepper
1 TB cornstartch
1 TB water
Instructions
Preheat your oven to 350 degrees, lightly spray a 8x8 pan with cooking spray and set aside.
2. Press your tofu with a tofu press, let this press for 10-15 minutes
3.Once pressed you can cut the tofu into bite sized pieces and place in the 8x8 pan. Cook for 20 minutes in the oven.
4. While to tofu is cooking, make your teriyaki sauce. You can either do this in the microwave or the stove. Add all the ingredients, except for the cornstarch and water. Mix the cornstartch together, and once smooth- add it to the rest of the ingredients and mix until smooth. At this point either cook it in the microwave for 1 minute, stir, and do another minute (stove- get to a low boil, then switch to low until thickened a bit). Set aside.
5. After the tofu is done, add the teriyaki sauce to the cooked tofu, mix and put it back in the oven. Cook it for 15 minutes, stir and then cook an additional 10 minutes. Serve with rice and vegetables.
Nutrition Information:
Yield:

4
Serving Size:

1 serving
Amount Per Serving:
Calories:

166
Total Fat:

6g
Saturated Fat:

1g
Trans Fat:

0g
Unsaturated Fat:

4g
Cholesterol:

0mg
Sodium:

2353mg
Carbohydrates:

18g
Fiber:

2g
Sugar:

15g
Protein:

13g
*without rice The calories are computer generated and may not be 100% accurate.
If you made this and enjoyed it, I would love to hear about it in the comments or #courtneyshomestead. Thanks so much for your support!
<3 Courtney