I love a good carrot cake, something about the combination of flavors and textures really do it for me. This cake is ultra tender, not a dry crumb to be found.
I feel like I forget about carrot cake when I am thinking of desserts, and I really shouldn't. Typically, I only make carrot cake once a year, for Easter. But, my dad also really loves it – so if he remembers to remind me, we sometimes have another appearance in September. I don't know if this is often enough for this vegan carrot cake.
This vegan carrot cake, is seriously delicious. It's not filled with the typical things people put in carrot cakes ie; pineapple, coconut, etc.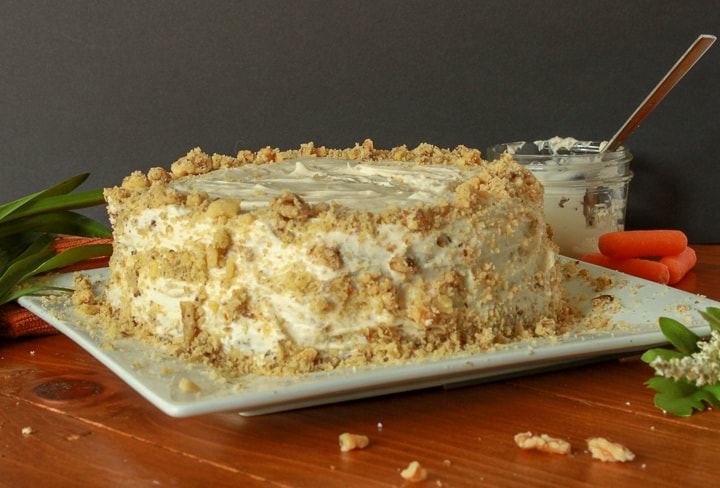 We are personally not a fan of pineapple in in any cake, are we the only ones? I don't know what it is about it, but it's a no go for me, and I love fresh pineapple!
I like coconut, but I didn't want it in my vegan carrot cake.
We debated on nuts, but my kids can be a little weird when nuts are in desserts. But, if you love nuts, by all means add them. It would taste delicious with walnuts or pecans. We decorated the outside with crushed walnuts and it added a wonderful flavor. But the pesky 5 year old wouldn't touch it because of said crushed walnuts, it's always got to be something.
I used a food processor to shred my carrots, I would have preferred the hand grated texture, but I didn't want to take the time to hand shred them. So, insert the food processor for a super fast shred.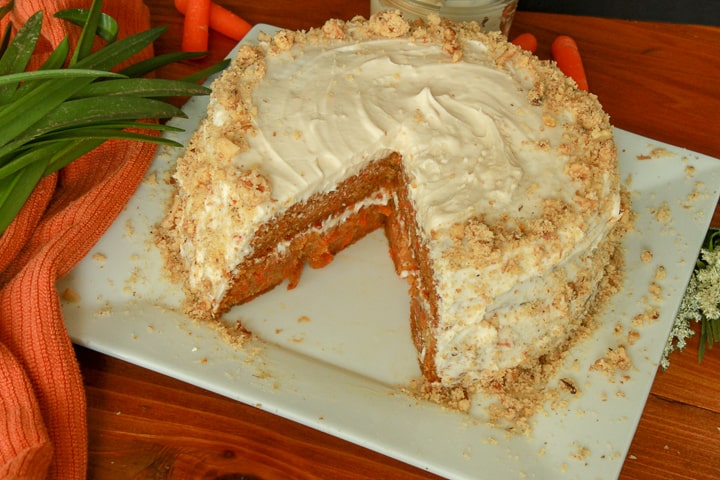 Mmm frosting…
Let's talk about the frosting for a minute. It has a typical vegan cream cheese frosting, so pick whichever is your favorite vegan cream cheese. I also use Earth Balance butter to add to the creaminess. My favorite part about this frosting is the 1/4 tsp of almond extract. It's just enough to make this frosting pop and pairs perfectly with the delicious cake.
Watch your cooking time on this, because it doesn't have eggs, only flax eggs, it can be a little tricky to tell when it's done. Start checking it at 25 minutes, a tooth pick should come out clean when done. I have made this before when it was a little underdone on accident, but honestly, it still tasted great, and was totally gobbled up.
What's your favorite vegetable cake? Let me know in the comments!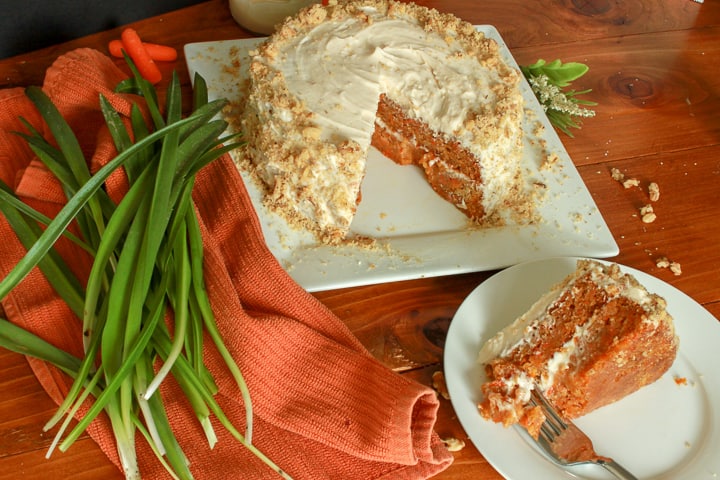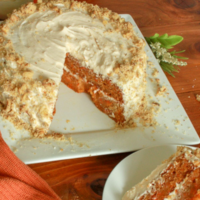 Delicious Vegan Carrot Cake
Total Time:
1 hour
30 minutes
This tastes like a classic vegan carrot cake, it's insanely moist and always pleases a crowd.
Ingredients
Carrot Cake
3 flax eggs (3 TB flax meal, 6 TB water)
3/4 cup vegan buttermilk (1 TB vinegar- fill the rest up with plant milk)
3/4 cup oil
1 3/4 cup white sugar
2 tsp vanilla extract
1.5 tsp cinnamon,ground
1/4 tsp nutmeg,ground
1/4 tsp salt
2 cups all purpose flour
2 tsp baking soda
3 cups carrots, shredded
1 cup walnuts, or pecans**Optional
Vegan Cream Cheese Frosting
4 oz vegan cream cheese
4 oz Earth Balance, vegan butter, softened
3/4 tsp vanilla extract
1/4 tsp almond extract
3 cups powdered sugar
1 TB plant milk
Decoration
1/2 cup crushed walnuts or pecans **Optional
Instructions
Preheat your oven to 350 degrees, grease and flour two cake pans ( I use 9 inch round) set aside.
2. Make your flax eggs and set aside. Make your vegan buttermilk. Take your measuring cup, add 1 TB white vinegar, fill it the rest of the way up- to 3/4 cup. let this sit for 5 to 10 minutes.
3. Take a hand mixer or stand up mixer and add all your dry ingredients, mix. Then add all your wet ingredients and mix until incorporated. Mix in your shredded carrots. Once mixed- pour into your prepared pans and cook for 25-35 minutes, checking with a tooth pick to come out clean. Put on a cooling rack to cool, once cooled enough, you can pop them out of the pan on a cooling rack, until cool enough to frost.
4. Make your frosting. In a clean mixing bowl, whip together your vegan cream cheese, earth balance butter, vanilla and almond extracts. once they are creamed add the powdered sugar. You may need the 1 TB of plant milk, or you may not, it depends on what brand you used for the vegan butter and vegan cream cheese.
5. Once your cakes are cooled, you can frost them as desired.
Nutrition Information:
Yield:

8
Serving Size:

1 slice
Amount Per Serving:
Calories:

979
Total Fat:

54g
Saturated Fat:

8g
Trans Fat:

1g
Unsaturated Fat:

43g
Cholesterol:

0mg
Sodium:

594mg
Carbohydrates:

119g
Fiber:

5g
Sugar:

88g
Protein:

10g
The calories are computer generated and may not be 100% accurate.
If you loved this recipe, I would love to hear about it in the comments or #courtneyshomestead Thank so much for your support!
<3 Courtney