Who misses a classic french toast? I know I did, so I finally got around to toying with some recipes and I feel like I nailed it. This classic vegan french toast will make you never miss the old egg coated recipes.
What I love most about this recipe is it's super easy to make. I love breakfast foods that can be whipped out in a jiffy. I am all about that pancake and waffles life, but sometimes it's good to have some variety.
Let's talk bread for a minute. Typically you want a thick bread, otherwise the coating just soaks right through the bread, you don't want that. You just want a very quick dab into the bread. I don't even want to use the word dip because I don't fully emerge the bread, it just like a quick dab, flip quick dab and onto the hot skillet.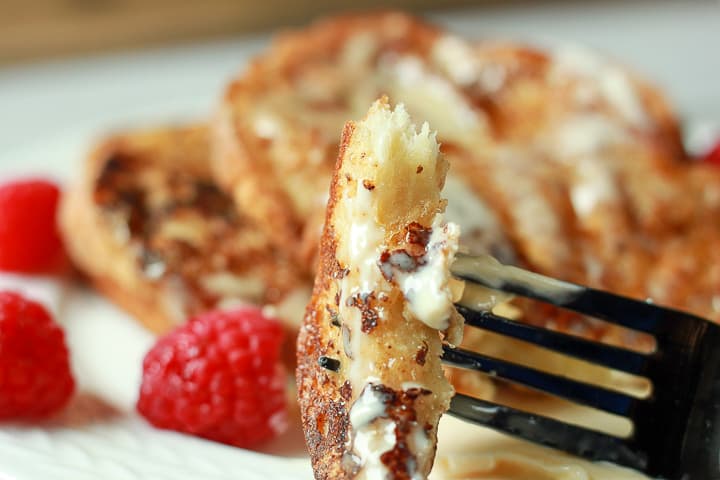 If you soak your bread in it you'll end up with only a few pieces of french toast and you'll want to share or maybe you won't. I'll leave the sharing as optional.
For this you need a grinder of some sort to grind the chia seeds, this helps with coating the bread. I use a small coffee grinder like this one here, but never I use it for coffee, so it keeps the coffee flavor out. This recipe also has a little but of all purpose flour in it. It's almost like a batter to really coat the toast, just trust me- it's good.
What do you need to make this classic vegan french toast?
chia seeds
plant milk
cinnamon
nutmeg
vanilla extract
salt
brown sugar
flour
baking powder
cooking spray or vegan butter *for the skillet
thick bread
How do you make it?
Start with making your coating for the french toast. I grab a medium liquid measuring cup to mix all the ingredients.
Mix your plant milk, vanilla, cinnamon, nutmeg, a pinch of salt, brown sugar, flour and baking powder. Grind your chia seeds and mix them into this mixture. Stir until mostly combined, there may be some flour chunks and thats okay. Set this aside.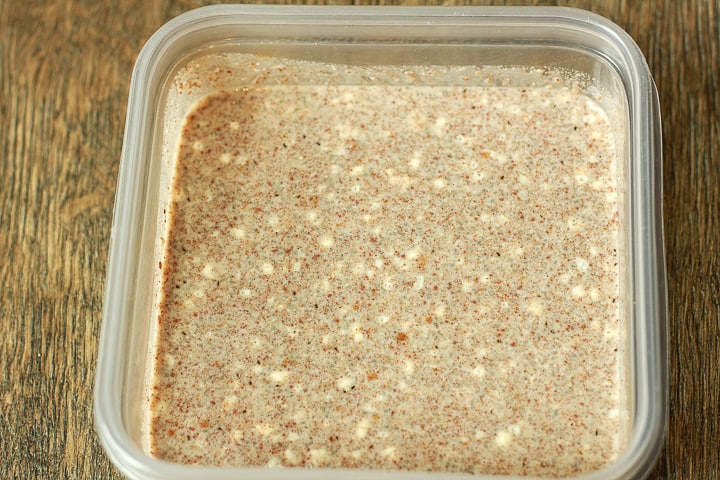 Start heating your skillet. You can use a variety of pans, I like to use a pancake skillet so I can get them done pretty quickly. Once it's heated you can either use cooking spray or a quick rub of vegan butter.
Now get your thick bread ready. Do not fully submerge the bread we're talking a quick dab on each side and get to cooking. These take a few minutes each side depending on how hot your pan is. Just keep checking the bottom for that golden brown not too mushy feel and then flip and do the same.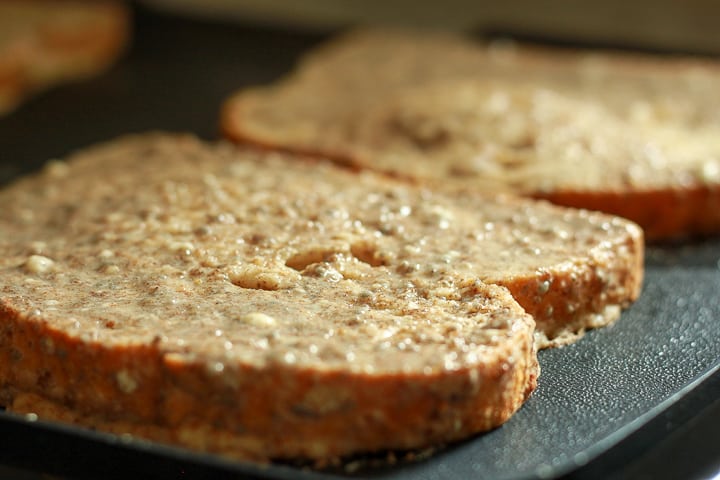 The options to top these with are endless; powdered sugar, maple syrup, berries, peanut butter, our favorite is maple butter. If you've never had it's incredible!!!
What do you like to top your classic vegan french toast with? Let me know in the comments! <3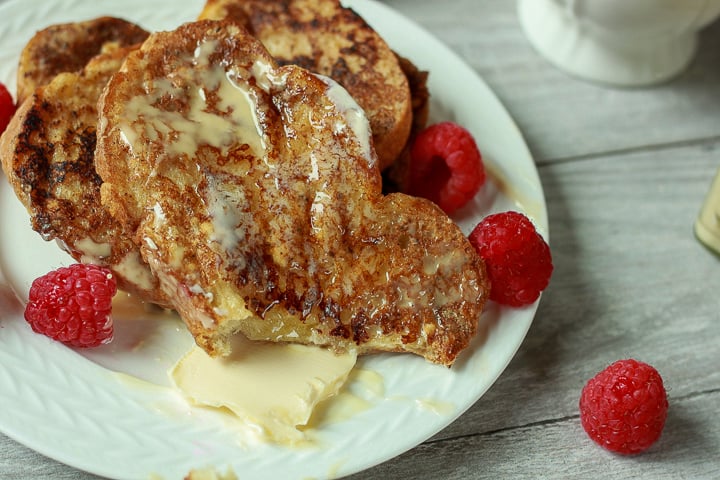 Awesome Vegan French Toast
Yield:
10 toasts (depending on size)
This vegan french toast tastes just like the classic.
Ingredients
10 slices thick toast (amount will vary on size of toast)
1.5 TB ground chia seeds
1 cup plant milk
1 tsp cinnamon, ground
1/4 tsp nutmeg
1 tsp vanilla extract
pinch salt
2 TB brown sugar
1/4 cup flour
1 tsp baking powder
cooking spray or vegan butter for cooking
Instructions
Take a small mixing bowl and mix your plant milk, cinnamon, nutmeg, vanilla, salt, brown sugar, flour, baking powder and ground chia seeds, whisk together until combined. Let this sit and thicken while you heat up your skillet.
Spray cooking spray or melted vegan butter to grease the skillet.
You can either use this bowl or use a flat bottom pan or I use a square tupperware container to pour your batter into.
Take a piece of toast and quickly dip each side into the mixture and put it on the hot skillet, cook for 2ish minutes on one side and flip and cook for about the same checking to make sure it doesn't burn. The cooking time will depend on how hot your skillet is. Finish with remaining toast.
Serve with maple syrup, berries, powdered sugar, maple butter (my fav), or whatever topping you desire.
Nutrition Information:
Yield:

10
Serving Size:

1 french toast
Amount Per Serving:
Calories:

118
Total Fat:

3g
Saturated Fat:

1g
Trans Fat:

0g
Unsaturated Fat:

2g
Cholesterol:

0mg
Sodium:

203mg
Carbohydrates:

19g
Fiber:

1g
Sugar:

4g
Protein:

3g
The calories are computer generated and may not be 100% accurate.

<3 Courtney