The pumpkin patch is one of my favorite Fall activites. I used to love to get the pumpkin and apple cider donuts in my pre vegan days. There is just something about them that are SO perfect and delicious. And I am not ready to let those glory days go, so for my family I make vegan versions and you wouldn't be able to tell the difference. They are SO good.
These donuts are fried which I understand some people can't get down with. But for a special Fall treat, it's worth it! These donuts are pretty easy to make, however, they take about 45 minutes to an hour of active working time. It's fun to have the kids help, just not with the oil part.
If you have never fried anything before and this makes you nervous, don't be. To be successful at this all you need is a candy thermometer, you can't make fried donuts without one, I am talking from expierence. I tried and the whole batch went in the garbage, it was a sad day.
You'll want to try to keep the heat right around the 350-360 degree mark by adjusting the burner as needed. Otherwise, your donuts will be dry or not cooked in the middle, nobody wants that.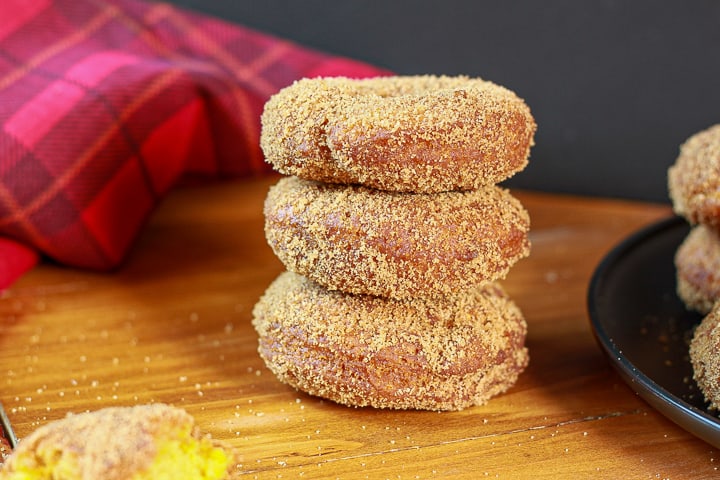 What do you need to make these Vegan Pumpkin Donuts?
Pumpkin
All purpose flour
Brown and white sugar
baking powder + baking soda
pumpkin pie spice
cinnamon
salt
plant milk
vinegar
vegan butter
vanilla extract
How do you make these donuts?
These vegan pumpkin donuts are fairly easy to make they just have quite a few steps to them.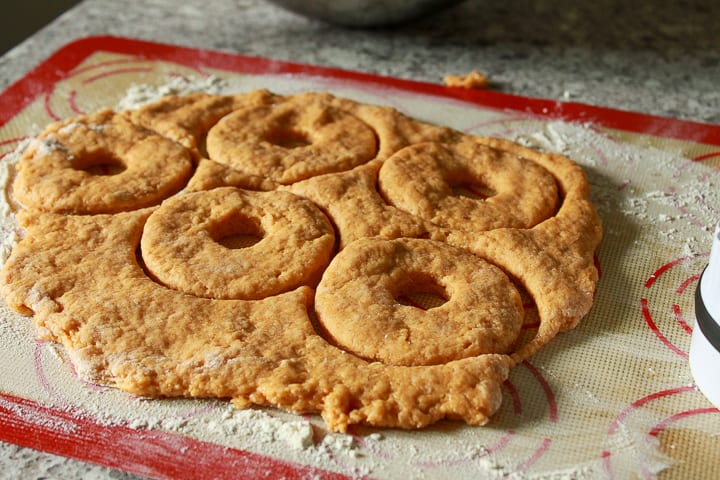 You're going to start by making some vegan buttermilk. This is super easy don't sweat it. Take your plant milk and add 2 tsp of vinegar. You can use regular vinegar or apple cider vinegar. Stir this and let it sit while you get the rest of your ingredients together.
Take a stand mixer fitted with the paddle attachment. Place all your donut ingredients, plus the vegan buttermilk above and stir until incorporated.
Take a Silpat and lightly flour it. Then take half of your donut dough and roll it out. I usually just use floured hands to pat it down. You want these about a half an inch thick. Now you can take a donut cutter or if you don't have one, use a biscuit cutter or even a big rimmed cup and make circles. You just need something in the middle to make the traditional donut shape. I use a pastry cap because it's a perfect size.
I usually have another lightly floured Silpat standing by and place the cut out donuts on. Then repeat with the rest of the dough.
Now you're going to get the oil are squared away. Oil is hot and messy, but for deliciious donuts, oil is where it's at. Take a pan and fill it a couple inches high with oil and a little bit of vinegar. The vinegar helps the donuts not absorb so much of the oil. Be careful when adding the vinegar to the oil it can get a little excited and start boiling faster.
You have to have some kind of thermometer I always use a candy thermometer. You need it to hover around 350 degrees, otherwise, your donuts will not cook properly.
While waiting for the oil to heat up, take a small bowl (big enough for a donut to dip in) and mix the brown sugar and spices, set aside.
Once they reach 350 degrees you can start adding donuts. You want to only cook 2-3 at a time, you don't want them to be over crowded. The cooking time will depend on how thick your donuts are. You may want to test a donut out. Mine cooked from 45 seconds to 1 minute on each side.
I also use a set of metal thongs that can handle the heat when flipping or removing my donuts.
Take a brown paper bag and place the fresh out of the oil donuts, this will help the bag absorb some of the oil. Let the donut cool for 30 seconds or so and then take your sugar/spice mixture and dip the donuts front and back into the mix until evenly coated, then place on a cooling rack. Repeat this process with all of the donuts.
What's your favorite part about the pumpkin patch? Let me know in the comments!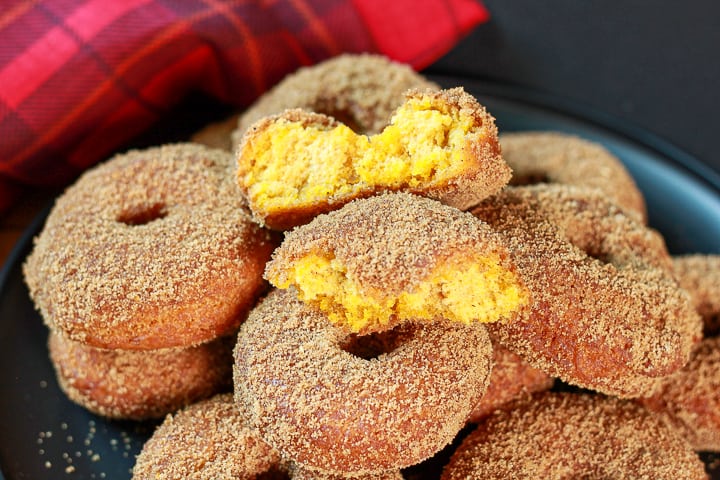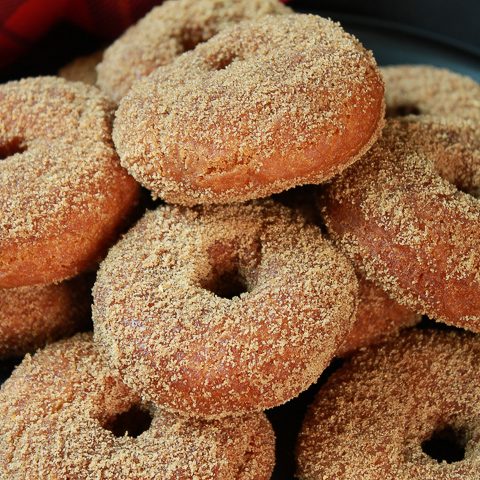 Vegan Pumpkin Donuts
Yield:
26 donuts depending on size
These vegan pumpkin donuts will bring you right back to the pumpkin patch! It's crispy on the ouside soft and most in the middle makes these donuts so delish!
Ingredients
1/2 cup pumpkin, canned
3 1/2 cups all purpose flour
3/4 cup brown sugar
1/4 cup white sugar
2 tsp baking powder
1 tsp baking soda
2 tsp pumpkin spice
1/2 tsp salt
1/2 cup plant milk
2 tsp vinegar
1/4 cup vegan butter, melted
1 tsp vanilla extract
Topping
3/4 cup brown sugar
1 tsp pumpkin pie spice
1 tsp cinnamon, ground
Other
Oil for frying
1/2 tb vinegar
Instructions
Start by making a buttermilk by taking your half cup plant milk and vinegar, stir and set aside.
Take your stand mixer and place all the donuts ingredients into the bowl and mix until incorporated.
Take a Silpat and lightly dust it with flour then place half of your donut dough on the floured surface. Flatten the dough with either a rolling pin or your hands. You want the dough about half an inch thick. Then take a donut cutter and cut out your donuts. Do so until all the donuts are cut out. Once they are cut out start your oil.
Make your donut topping by mixing the brown sugar and spices in a small bowl, set aside.
Take a pan and fill it a couple of inches full of oil and 1/2 tablespoon of white vinegar. You need a candy thermometer for this. Let the oil come to 350 degrees. Only cook a couple of donuts at a time, I cooked two at a time. Cook on one side for about 45 seconds to one minute depending on the thickness of your donuts. You may want to test this out on a donut. Then flip the donut and cook for another 45 to one minute.
Place the cooked the donuts on a brown paper bag to help absorb the oil. Let it rest for about 30 seconds and then dip in your spices and sugar bowl, dipping both sides and set aside. Repeat until all the donuts are done.
Nutrition Information:
Yield:

26
Serving Size:

1 donut
Amount Per Serving:
Calories:

134
Total Fat:

3g
Saturated Fat:

1g
Trans Fat:

0g
Unsaturated Fat:

1g
Cholesterol:

0mg
Sodium:

151mg
Carbohydrates:

26g
Fiber:

1g
Sugar:

12g
Protein:

2g
* This does not take into account the oil they are fried in. The calories are computer generated and may not be 100% accurate.

<3 Courtney