These vegan pumpkin donuts are one of my favorite treats this time of year. These cinnamon sugar pumpkin donuts have the perfect amount of pumpkin spice with a great crust of cinnamon and sugar. These are fried donuts and totally worth it!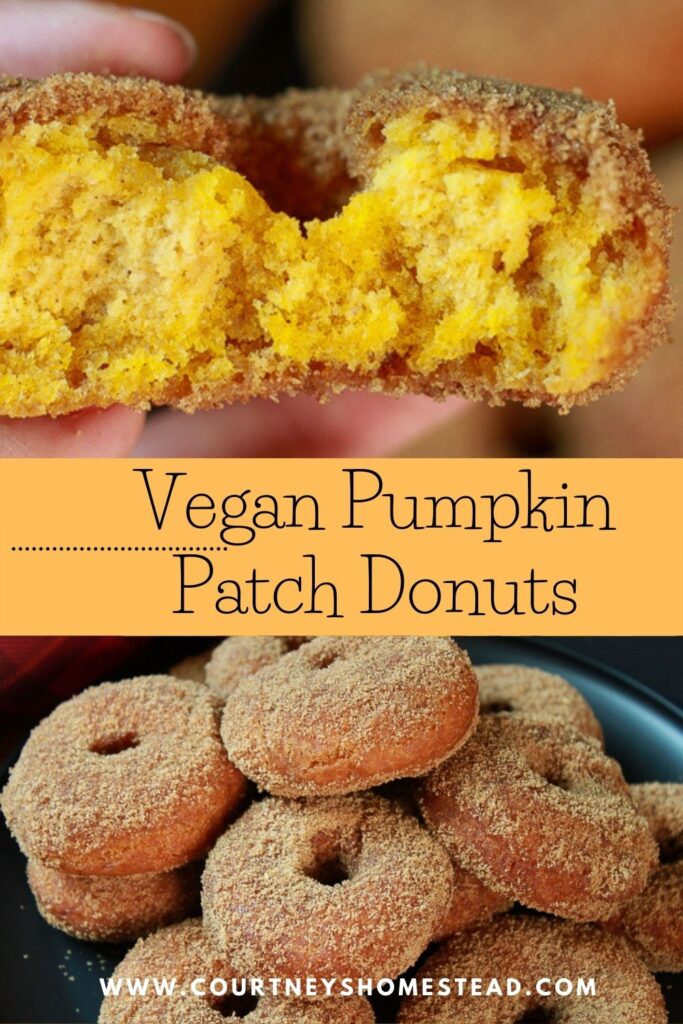 The pumpkin patch is one of my favorite Fall activities. I used to love to get the pumpkin and apple cider donuts in my pre-vegan days.
There is just something about them that is SO perfect and delicious. And I am not ready to let those glory days go, so I make vegan versions for my family, and you wouldn't be able to tell the difference.
They are SO good.
Pumpkin donuts are a great way to kick off pumpkin spice season.
These donuts are fried, which I understand some people can't get down with. But for a special Fall treat, it's worth it!
These are pretty easy pumpkin donuts to make. However, they take about 45 minutes to an hour of active working time. So, take the amount of time into consideration before starting them.
It's fun to have the kids help, just not with the oil part.
Vegan Pumpkin Donuts Recipe Q&A
Can you make these gluten-free?
I have never tried it, but I would think you can sub out the regular flour for a gluten-free all purpose flour.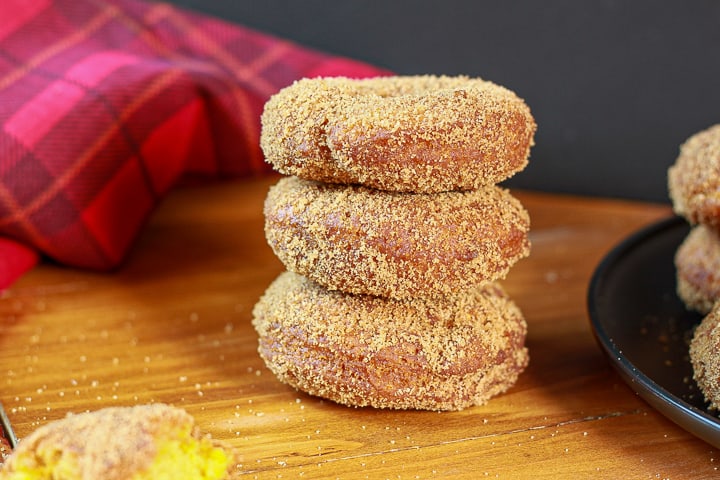 Can you make these baked donuts instead of fried vegan donuts?
Again, I've never tried it, but I think it could work. You would need a donut pan and a piping bag or ziplock bag you can turn into a piping bag and pipe the donut batter into a prepared donut pan.
I would bake them at 400 F for 8-10 minutes.
What's the best oil to fry donut recipes in?
A neutral oil is best. A neutral oil means that it doesn't have much flavor on its own.
Olive oil would be way too much flavor. The best oil is either canola oil or sunflower oil.
Can I make a donut glaze instead of a cinnamon sugar coating?
You can, but these are supposed to be more like the pumpkin patch donuts, which around here they serve them with the cinnamon sugar coating, and it's SO good!
Can I use homemade pumpkin puree?
You can, but often homemade pumpkin can be a bit more watery, so you'll have to accommodate that in the recipe.
What do you need to make these Vegan Pumpkin Donuts?
For the full recipe with ingredients, amounts look a the recipe card at the bottom of the post.
All simple ingredients;
real pumpkin *Not pumpkin pie filling
all purpose flour
Brown and white sugar
baking powder + baking soda
pumpkin pie spice
cinnamon
salt
dairy free milk (almond milk, soy milk, oat milk, whichever you like)
vinegar
vegan melted butter
vanilla extract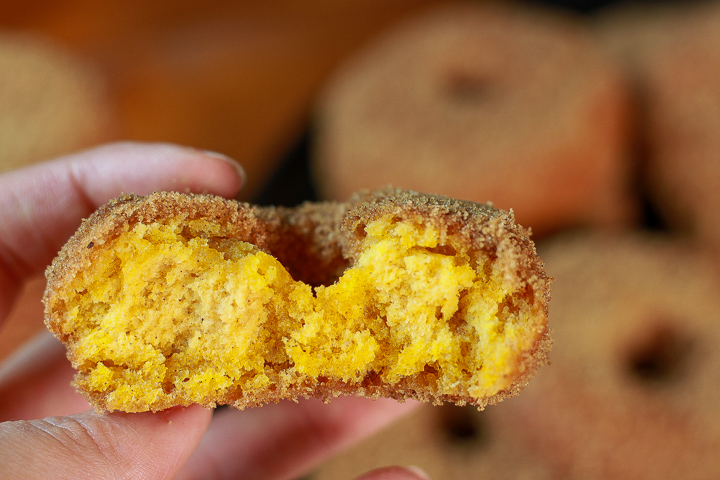 How do you make these vegan pumpkin spice donuts?
These vegan pumpkin donuts are pretty easy to make. They just have quite a few steps to them.
You're going to start by making some vegan buttermilk.
This is super easy; don't sweat it.
Take your plant milk and add 2 tsp of vinegar.
You can use regular vinegar or apple cider vinegar.
Stir this and let it sit while you get the rest of your ingredients together.
Take a stand mixer fitted with the paddle attachment and a large mixing bowl. Place all your donut ingredients (wet ingredients and dry ingredients simultaneously) and stir until incorporated.
You can also do this with a large bowl and wooden spoon.
Now that your dough batter is done, let's start shaping them.
Take a Silpat and lightly flour it.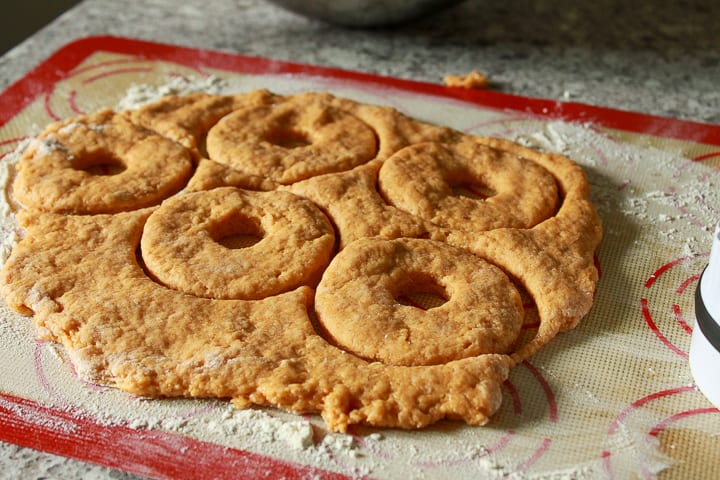 Then take half of your donut dough and roll it out.
I usually use floured hands to pat it down.
You want these about half an inch thick to 3/4 inch thick.
Now you can take a donut cutter, or if you don't have one, use a biscuit cutter or even a big rimmed cup and make circles.
You need something in the middle to make the traditional donut shape.
I use a pastry cap because it's a perfect size.
I usually have another lightly floured Silpat standing by and place the cut-out donuts on.
Then repeat with the rest of the dough.
Now you're going to get the oil squared away.
Oil is hot and messy, but for delicious donuts, oil is where it's at.
Take a pan and fill it a couple of inches high with oil and a little bit of vinegar.
The vinegar helps the donuts not absorb so much of the oil.
Be careful when adding the vinegar to the oil; it can get a little excited and boil faster.
You have to have an oil-safe thermometer. I always use a candy thermometer.
You need it to hover around 350 degrees; otherwise, your donuts will not cook properly.
While waiting for the oil to heat up, take a small bowl (big enough for a donut to dip in) and mix the brown sugar and spices, set aside.
This will be your cinnamon sugar coating.
Once the oil reaches 350 degrees, you can start adding donuts.
You want only to cook 2-3 at a time; you don't want them to be overcrowded.
The cooking time will depend on how thick your donuts are.
You may want to test a donut out. Mine cooked from 45 seconds to 1 minute on each side.
I also use a set of metal thongs that can handle the heat when flipping or removing my donuts.
Take a brown paper bag and place the fresh out of the oil donuts onto the bag; this will help the bag absorb some excess oil.
Let the donut cool for 30 seconds or so. Then take your sugar/spice mixture and dip the front and back of the donut into the mix until evenly coated.
Then place on a cooling rack or wire rack. Repeat this process with all of the donuts.
How do you serve these vegan donuts?
These are best served as soon as they are cool enough to eat. They taste great with a cup of coffee or just by themselves. They are a great breakfast treat.
How do you store these?
These are best stored in an airtight container on the counter at room temperature for up to 4 days. Although, they will taste best the day they are made.
Can you freeze donuts?
Donuts don't taste as good frozen, but it can be done if you want to.
If you still want to freeze them, you can do so by; taking a cookie sheet, lining it with parchment paper, and placing the donuts on it; to freeze.
Then take your frozen donuts and put them in a freezer-safe container or freezer gallon Ziploc bag. Defrost on the counter outside of its package.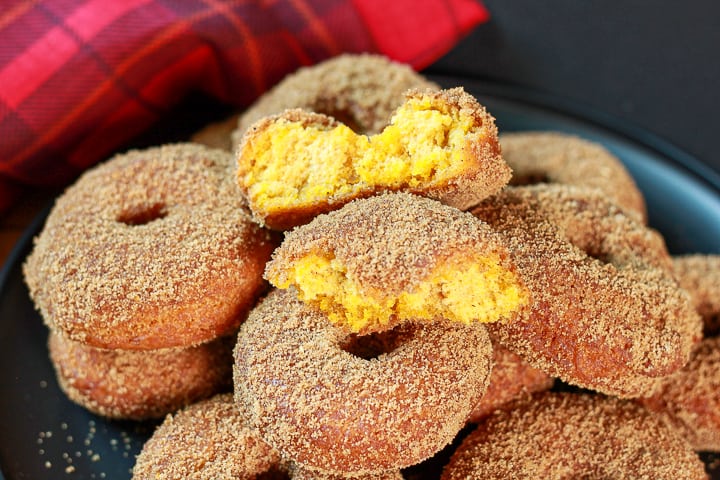 Want some other vegan donut recipes?
Want some more pumpkin recipes?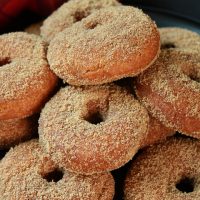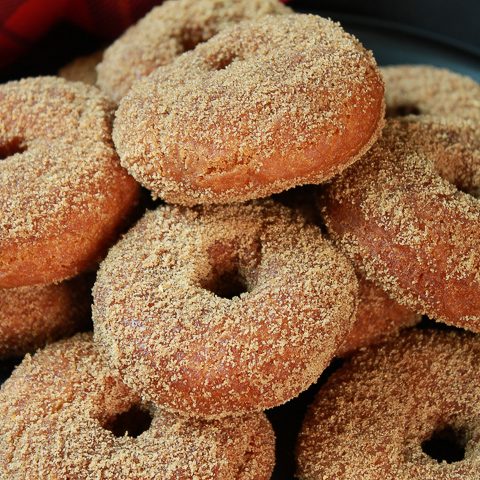 Ingredients
1/2

cup

pumpkin

canned

3 1/2

cups

all purpose flour

3/4

cup

brown sugar

1/4

cup

white sugar

2

tsp

baking powder

1

tsp

baking soda

2

tsp

pumpkin spice

1/2

tsp

salt

1/2

cup

plant milk

2

tsp

vinegar

1/4

cup

vegan butter

melted

1

tsp

vanilla extract
Topping
3/4

cup

brown sugar

1

tsp

pumpkin pie spice

1

tsp

cinnamon

ground
Other
Oil for frying

1/2

tb

vinegar
Instructions
Start by making vegan buttermilk by taking your half cup of plant milk and vinegar, stir and set aside.

Take your stand mixer, place all the donuts ingredients into the bowl, and mix until incorporated.

Take a Silpat, lightly dust it with flour, and then place half of your donut dough on the floured surface. Flatten the dough with either a rolling pin or your hands. You want the dough about half an inch thick. Then take a donut cutter and cut out your donuts. Do so until all the donuts are cut out; start your oil once they are cut out.

Make your donut topping by mixing the brown sugar and spices in a small bowl set aside.

Take a pan and fill it a couple of inches full of oil and 1/2 tablespoon of white vinegar. You need a candy thermometer for this. Let the oil come to 350 degrees. Only cook a couple of donuts at a time; I cook two at a time. Cook on one side for about 45 seconds to one minute, depending on the thickness of your donuts. You may want to test this out on a donut. Then flip the donut and cook for another 45 seconds to one minute.

Place the cooked donuts on a brown paper bag to help absorb the oil. Let it rest for about 30 seconds, and then dip in your spices and sugar bowl, dipping both sides and setting aside. Repeat until all the donuts are done.
Notes
See the blog post for recipe Q&A
Nutrition
Serving:
1
donut
|
Calories:
134
kcal
|
Carbohydrates:
26
g
|
Protein:
2
g
|
Fat:
3
g
|
Saturated Fat:
1
g
|
Polyunsaturated Fat:
1
g
|
Sodium:
151
mg
|
Fiber:
1
g
|
Sugar:
12
g
If you loved this recipe then give it a 5 star rating and leave a comment! I love to chat with you all. Please feel free to share on social media and tag #courtneyshomestead. I would love to see you over on Instagram or Facebook.
<3 Courtney
Some of the links in this post are affiliate links and if you make a purchase through them, I will earn a small commission. Keep in mind that I link these companies and their products because of their quality and not because of the commission I receive from your purchases. The decision is yours, and whether or not you decide to buy something is completely up to you. Please see full disclosure policy here