Gyros were something I never tried growing up. I had a very limited amount of foods that I would eat prior to meeting my husband when I was 18. He opened my eyes to all sorts of foods I would have never touched, like these vegan gyros. I can relate to my 5-year-old in a lot of ways, in his limited pallet.
Gyros were one of those things that I would have never ever in a million years tried. They had way too much going on for me to even try them. But the first time that I actually got brave enough to try one it was game over. They are SO good. If they weird you out as they did me then it's worth trying! Even my 8 year old loves them. I am so glad I have one child that is adventurous in the food department.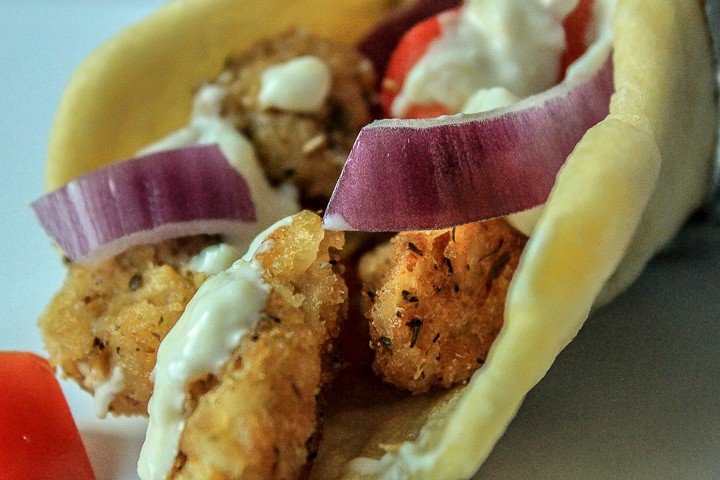 These vegan gyros taste best with a homemade wrap. If you want to make your own, they are easy to make but they do take time to rise, so check out the recipe on this blog- https://www.melskitchencafe.com/soft-wrap-bread/ she has a delicious recipe. She is not a vegan blogger, but the recipe happens to be vegan. I couldn't even alter it to make them any better, so I am going to send you there for the wrap part if you choose to make your own.
The wrap makes a huge difference. It seems like a lot of pita bread is dry if you do buy it from the store make sure you get the soft stuff. It makes all the difference.
I use a fake vegan chicken for these vegan gyros like Gardein. You want to defrost the strips a bit. Then cut them into slices. Throw them into either a bowl or a gallon zip log bag. I mix all the marinade ingredients and then mix it with the fake chicken strips and let marinate in the fridge. You can do this overnight or just for a few hours. Once it's done marinating you can cook them up in the oven. All the marinade will have soaked into the strips.
You then cook the marinated strips according to the the package directions on your fake meat.
Let's talk about tzatziki sauce for a second.
You need plain unsweetened yogurt to make the magic happen. Just pick whichever is your favorite vegan yogurt.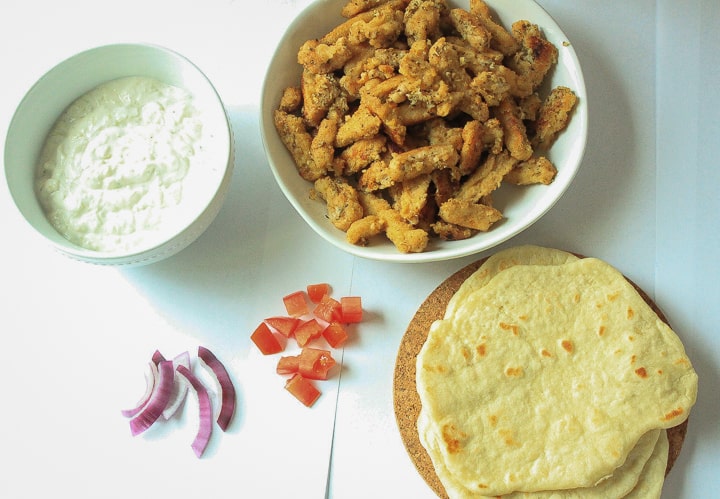 You need a peeled cucumber with the seeds removed. The seeds actually provide a lot of the wateriness cucumbers have, so by removing them it will make your time squeezing the water out a little quicker. I slice mine down the middle and take a spoon to scoop out the seeds and dispose of them. Once this is done you want to shred your cucumber. Then it's time to get the water out. You are going to be doing a lot of squeezing. You want the cucumber to be as dry as possible. Just do your best.
Once that's done you can mix all your tzatziki ingredients together, with your mostly dried cucumber shreds. I would do this when you marinate the vegan chicken strips so that the sauce has time to build the flavor. It's not as good when first mixed. Feel free to add more seasoning if yours isn't where you want it.
We like red onion and tomatoes on our gyros. Feel free to top with whatever Gyro topping you want, but these are our gotos.
What toppings do your put on your vegan Gyros? Let me know in the comments!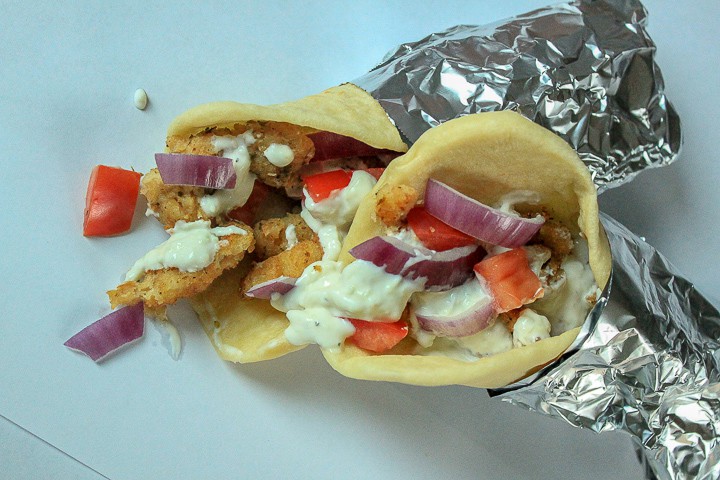 Delicious Vegan Gyros
Total Time:
1 hour
35 minutes
These delicous vegan gyros are full of flavor wrapped in a pillow soft wrap.
Ingredients
1 bag vegan chicken strips
Tzatziki sauce
10 oz plain vegan yogurt
2 cloves garlic, minced
1 medium cucumber, peeled and seeds removed
1 tsp red wine vinegar
1 tsp lemon juice
1 tsp oil
1/4 tsp salt
1/2 tsp dried dill
1/4 tsp pepper
Marinade
4 cloves garlic, minced
2 TB lemon juice
2 tsp red wine vinegar
2 TB olive oil, extra virgin
2 TB plain vegan yogurt
1 TB dried oregano
salt and pepper to taste
Toppings
Soft Pita Bread
Red Onion, cut into slices
Tomatoes cut into chunks
Instructions
If you're making your own soft wrap bread then start that first. An awesome recipe for soft wrap bread is here- https://www.melskitchencafe.com/soft-wrap-bread/
If you're using store-bought, then start below.
Start by thawing your vegan chicken strips just enough so you can cut them. Cut them into strips and set them aside while you make the marinade.
Mix all ingredients of the marinade and mix the fake chicken strips into it. Cover and put in the fridge for at least 1 hour. You can do overnight if you have the time.
Make tzatziki sauce. Start by shredding your peeled and seeded cucumber. I use a cheese grater. You want the strain all the liquid you possibly can from the cucumber. I start by just hand squeezing multiple times and then finish squeezing with paper towels to help soak up the water. Set it aside- you will likely have to squeeze this again. Mix all the additional ingredients until incorporated, then add the cucumber shreds and mix well. Cover and stick in the fridge to marinate. It's best if it sits for a few hours or even overnight.
Cook your vegan chicken strips according to the back of the package- mine takes 15-20minutes @ 425 degrees. All the marinade should be soaked into the strips.
Once that's done you should be ready to assemble. Start by taking a pita or soft wrap bread, then put some vegan chicken strips, tomato, onion and tzatziki sauce and enjoy!
Nutrition Information:
Yield:

4
Serving Size:

1 grams
Amount Per Serving:
Unsaturated Fat:

0g
This recipe was adapted from this recipe from Mels Kitchen here.
If you made this recipe and loved it let me know in the comments or #courtneyshomestead Thanks so much for your support!
<3 Courtney