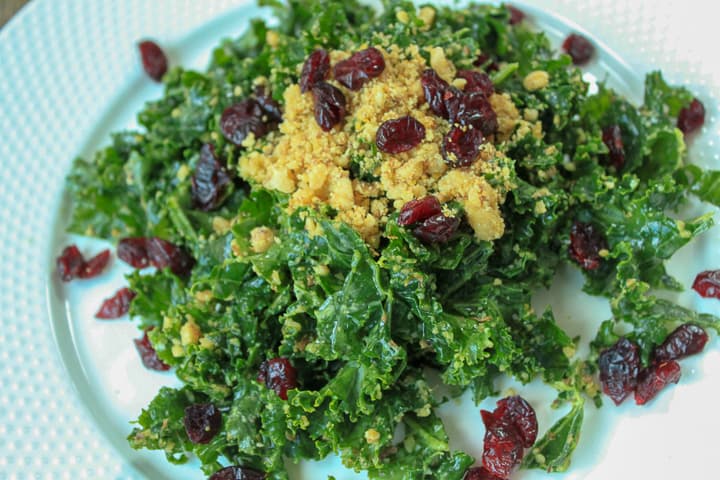 This is hands down the best kale salad I have ever had. Kale can be one of those leaves that are intense. More intense than I care for. But not this one. This one is perfect.
It has a delicious lemon-olive oil-garlic dressing that compliments the bitter kale so well. And you top it off with a walnut Parmesan and sweet dried cranberries or cherries. It hits so many different flavor profiles.
The trick with getting kale to taste less bitter is.. massage. Sounds weird right? Who massages their Kale, this girl right here! Massaging it breaks down the fiber a bit and really makes the flavor more enjoyable and I feel like the dressing can really soak in.
This recipe is not my original recipe. It's from an amazing blog I have followed for years. Her food is delicious and gorgeous and you should definitely check it out! I have modified her recipe slightly, mainly decreasing the oil, and changing the nut she uses. If you want to see the original recipe https://ohsheglows.com/2013/11/25/the-best-shredded-kale-salad/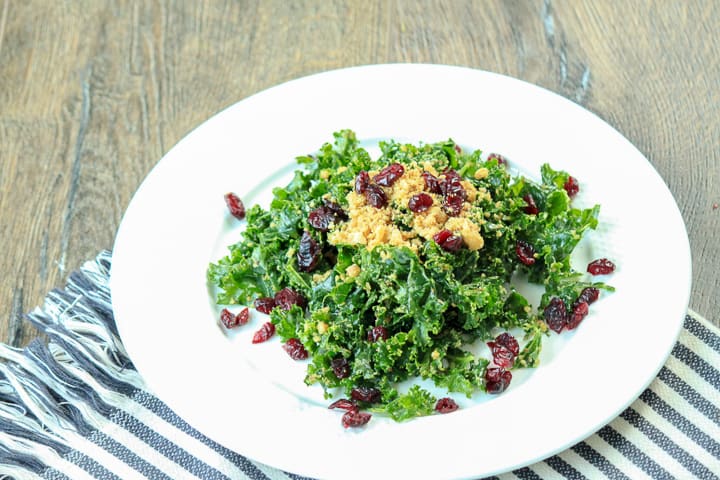 - Delicious Kale Salad-
This vegan kale salad is so good. It has a lovely dressing, a cashew parmesn topping and sprinkled with cranberries.
Ingredients
1.5 bunches Dinosaur kale
Dressing
2 cloves garlic
3 tablespoons lemon juice
2 tablespoons olive oil
1/4 teaspoon salt
ground pepper to taste
2 handfuls dried cranberries or cherries
Walnut Parmesan
1 cup toasted or raw walnuts
1 tablespoons nutritional yeast
1/2 tablespoon olive oil
1/2 teaspoon garlic powder
salt to taste
Instructions
Start by destemming and ripping off the kale leaves, I shred them by hand and really give them a good massage before throwing them into the bowl to soften them up. Once this is all chopped, continue to give the kale a good massage to really break down the roughness ( This seriously makes kale SO much better) Set aside.
2. Mix all your dressing ingredients in a food processor or a Blendtec twister jar and process until smooth. You can pour this over your kale and give it a good mix. Set aside.
3. Clean out your twister jar or food processor and throw in your Walnut Parmesan mix. Process just until it's a course meal.
4. Mix your Salad/dressing with your walnut Parmesan and throw the cranberries in. It's best to let this salad marinate for 15 to 30 minutes and then serve.
Nutrition Information:
Yield:

4
Serving Size:

1 serving
Amount Per Serving:
Calories:

369
Total Fat:

26g
Saturated Fat:

3g
Trans Fat:

0g
Unsaturated Fat:

22g
Cholesterol:

0mg
Sodium:

302mg
Carbohydrates:

34g
Fiber:

6g
Sugar:

23g
Protein:

7g
The calories are computer generated and may not be 100% accurate.
If you made this and enjoyed it, I would love to hear about it in the comments or #courtneyshomestead. Thanks so much for your support! <3 Courtney