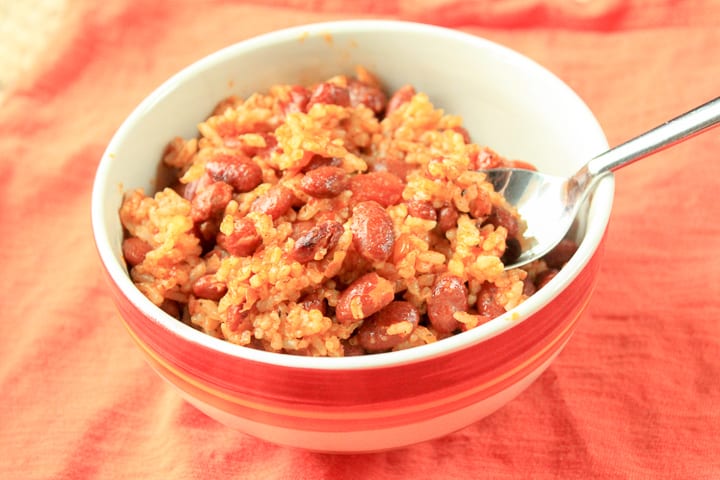 Who doesn't love a good dish of Mexican inspired beans and rice? I am a big fan of anything Mexican flavored. I have gone through a lot of boring beans and rice dishes in my day. This Mexican rice and beans is not that. It's full of complex flavors and really give this dish a good flavor.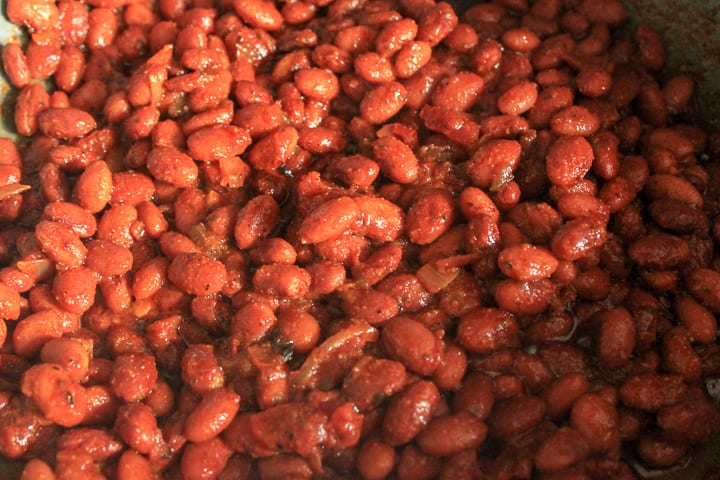 It has salsa to help with the flavor profile, so whichever salsa you choose, make sure you like the flavors. This has a high rating at the dinner table for the small ones, as long as your salsa isn't too spicy.
We had these Mexican rice and beans dish several different ways, and I am not sure I can pick a favorite. It's great with tortilla chips, in a burrito or taco, or just by it's self. You could add vegan sour cream/cashew cream or avocado if you wanted to or even add it to a salad. It makes a large amount, so if you want to get crazy and serve this a different way for a couple nights out of the week, less cooking=less dishes= YES!
How do you like the eat your beans and rice? Let me know in the comments!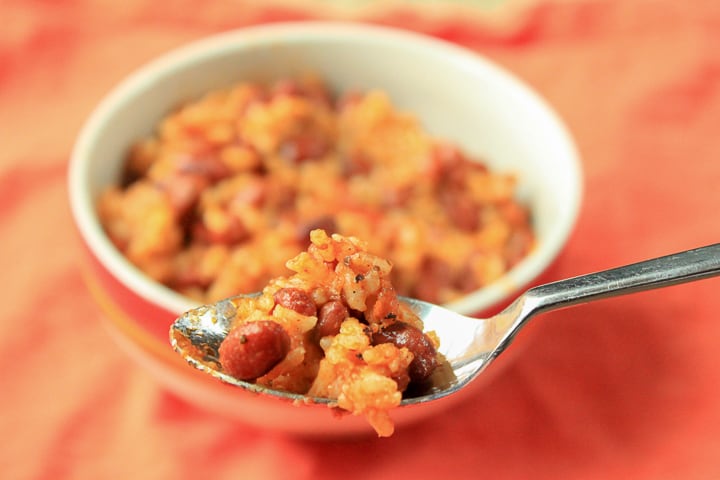 -Mexican beans and rice-
Delicious rice and beans. This can be eaten by itself, with tortilla chips, in a burrito, or even on a salad.
Ingredients
2 cups cooked white or brown rice
2 tablespoons olive oil
half chopped onion
2 cans black or pinto beans
1 teaspoon chili powder
1 teaspoon smoked paprika or regular
1 teaspoon cumin
1 teaspoon Salt and Pepper
1 cup salsa
2 cloves garlic
1/4 cup chopped cilantro
1 tablespoon vegan mayonaise
Instructions
Rinse and drain your beans and set them aside.
2. Chop up your onions and saute them in 1 TB of oil for a few minutes, after a few minutes add the garlic. After about 30 seconds add your salsa. Let the salsa cook down for a few minutes.
3. Add your spices and additional 1 TB of oil and stir. Let those cook with the salsa for another few minutes. Then add your rinsed beans and stir. Let this simmer for about 15 minutes.
4. After the 15 minutes remove from heat- add your chopped cilantro and 1 TB of mayo, stir in until well distributed. Then add the cooked rice and stir well.
This is excellent with chips as a dip, or in burritos, or as a burrito bowl.
Notes
This recipe was adapted from this recipe- https://simplegreenmoms.com/mexican-rice-beans/
Nutrition Information:
Yield:

8
Serving Size:

1 serving
Amount Per Serving:
Calories:

143
Total Fat:

5g
Saturated Fat:

1g
Trans Fat:

0g
Unsaturated Fat:

4g
Cholesterol:

0mg
Sodium:

401mg
Carbohydrates:

21g
Fiber:

4g
Sugar:

2g
Protein:

4g
The calories are computer generated and may not be 100% accurate.
If you made this and enjoyed it, I would love to hear about it in the comments or #courtneyshomestead. Thanks so much for your support! <3 Courtney