This Avocado Thai Peanut Salad checks all the delicious boxes for me. It's everything I am looking for in a salad. It's full of flavor, healthy ingredients, light enough for summer, but hearty enough for winter. You need to try it.
It has chickpeas that you roast in the oven with this delicious rub, I could seriously just munch on the chickpeas. But they do pair perfectly with the flavors of the salad.
You make your own peanut dressing, which is super easy and super delicious.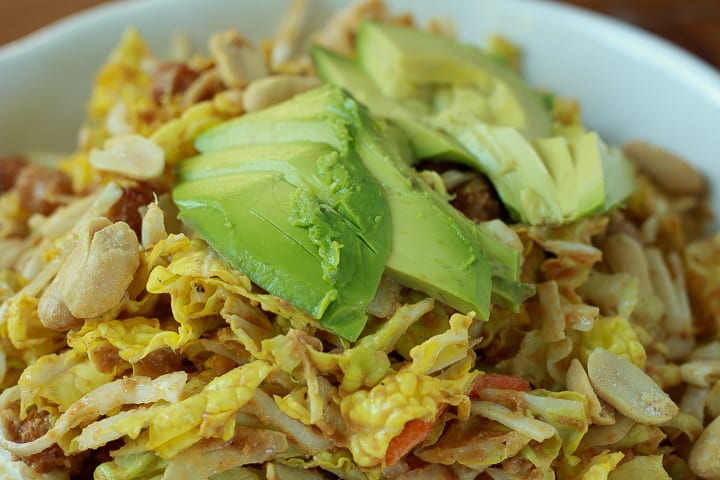 I had never had napa cabbage before experimenting with this recipe. It's good! I like the flavor of cabbage which is pretty much what it tastes like, but it has a nice tender salad like texture instead of the more course cabbage texture. This salad has some regular cabbage as well. So it leaves you with different fun textures.
What's all in this Avocado Thai Peanut Salad?
Chickpeas with seasoning- salt, pepper, smoked paprika
Napa Cabage
Cole Slaw Package
Avocado
Peanuts
Peanut Butter
Soy Sauce
Lime Juice
Garlic
Rice Vinegar
Oil
How do you make it?
Take a can of chickpeas, rinse and drain it. Then put them on a sprayed baking sheet. Rub the oil on them and then the seasoning. You'll cook this in a 400 degree oven for 15-20 minutes. Then remove and set aside.
While the chickpeas are cooking make your dressing. This is crazy easy. You'll just throw your dressing ingredients together and mix. Bam done. Set this aside while you're making the other stuff happen.
Cut up your Nappa cabbage into bite-sized pieces. Place it in a medium bowl and then add your already sliced coleslaw. When I say coleslaw I mean just the vegetables no actual dressing. You could get regular cabbage and just slice it up, but it's nice to just have it already done for you. Throw it in the bowl and mix it with the Nappa Cabbage. Set that aside.
Now mix all that goodness together and top with sliced avocados and peanuts. And get ready for delicious dinner!
Have you ever had a peanut salad? Let me know in the comments!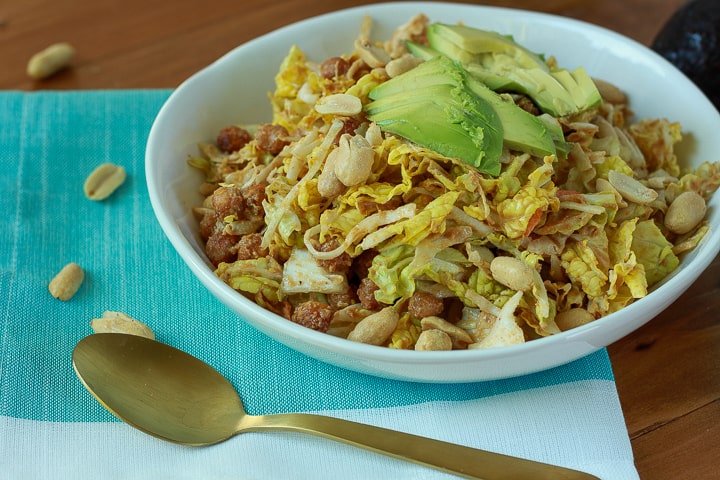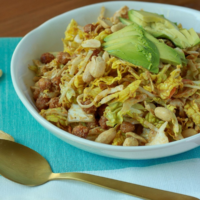 Vegan Avocado Thai Peanut Salad
Yield:
2 servings as a dinner
This tasty summer salad is made with a delicious peanut butter dressing.
Ingredients
Chickpeas
1 can chickpeas, rinsed and drained.
1/2 tsp salt
1/2 tsp pepper
1/2 tsp smoked paprika
Salad
3 cups Napa Cabbage
2 cups coleslaw mix
2 avocados, diced or slices
1/4-1/2 cup roasted, salted, peanuts
Dressing
1/4 cup peanut butter
1 TB soy sauce
1 TB Lime juice
1 clove garlic
2 TB rice vinegar
1 TB neutral oil
Instructions
Preheat your oven to 400 degrees. Get a cookie sheet and spray it with cooking oil. Take your rinsed and drained chickpeas and evenly coat them with the salt, pepper, and smoked paprika. Cook in your preheated oven for 15-20 minutes, set aside.
Mix your salad dressing, by adding all ingredients and stirring. To make stirring and flavor better, heat in the microwave for 30 seconds and stir until smooth set aside.
Cut up your Napa cabbage into bite-sized pieces, throw in your coleslaw mix, stir.
When ready to serve put it all together. Add the salad, chickpeas, and dressing mix. Before serving add the avocado slices and peanuts. Serve immediately.
Nutrition Information:
Yield:

2
Serving Size:

1 serving
Amount Per Serving:
Calories:

1134
Total Fat:

82g
Saturated Fat:

4g
Trans Fat:

0g
Unsaturated Fat:

63g
Cholesterol:

0mg
Sodium:

2003mg
Carbohydrates:

86g
Fiber:

28g
Sugar:

30g
Protein:

25g
The calories are computer generated and may not be 100% accurate.

<3 Courtney